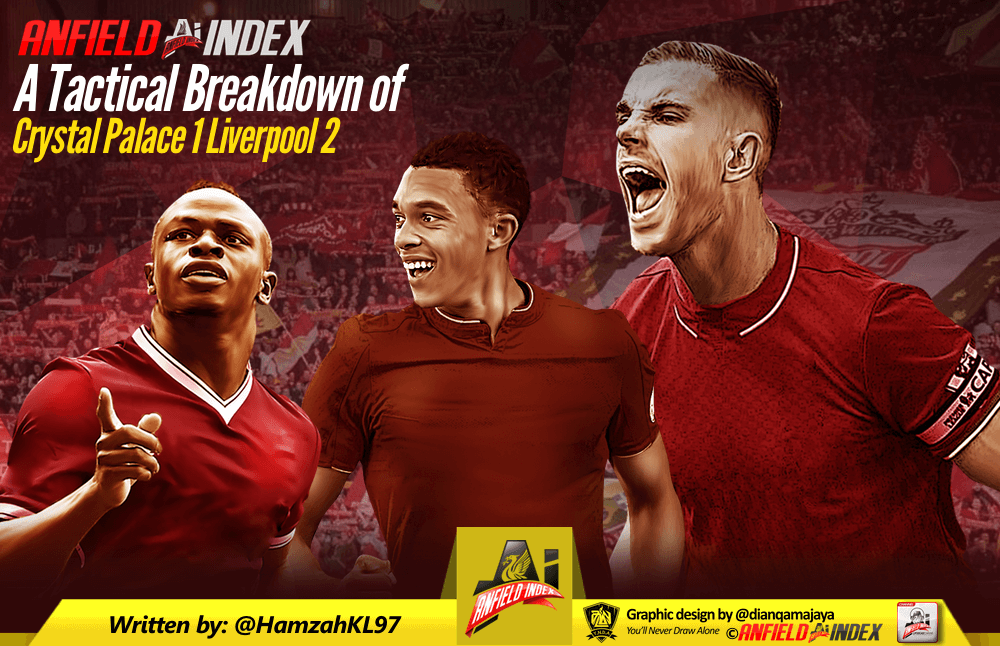 Crystal Palace 1-2 Liverpool: A Tactical Breakdown
After the international break, it's always interesting to see how a team performs, and Liverpool appeared to start brightly against Palace, but soon it became clear that if Liverpool were to take anything from this game, they needed to really work for it, as simple passes went astray, and frustration built up. If you watched the game, it was plain to see what Palace were trying to do, with runners working off Benteke's second ball, what we're focussing on though is Liverpool, and how those tactics may have affected Liverpool's own tactics.
Tactically, there was a clear game plan from the very start of the first half. However, what we saw in the first half was a clear deviation from that plan, as individual players reacted to the game. There were four main observations which I had, which differed to what we normally see from Liverpool:
Full-backs higher and wider than usual
Henderson (the six) higher than usual, giving the centre-backs the freedom to use the ball and bring it forward into the opposition half – meaning Henderson is now available as an option in the second passing phase, rather than instigating the first one.
Milner and Wijnaldum wider than usual, attacking the channel inside the LW and RW
A more static front two – Salah and Firmino found themselves sitting on the Palace defensive line, but did not drop as much as they usually do
The first point is the best example of variance in tactical execution between the first and second half. Trent Alexander-Arnold, at the very start of the game, positioned himself up, near Salah, and hugged the touchline. It was clear that this tactic was being used to stretch out the Palace defence, as Liverpool had the ball – with Robertson doing likewise on the left flank. The obvious risk to this was that it left space in behind for Zaha to attack. Furthermore, Salah contributes less defensively than Mané in terms of support to the fullback, so it was clear it would be a challenging task, however, one which could get the best out of Alexander-Arnold, as a gifted offensive fullback.
After Zaha broke through on the Liverpool right flank, Alexander-Arnold immediately dropped his offensive position. He did this in order to give himself a better chance of reducing the space available for Zaha to exploit, but there were two advantages to him being positioned high and wide, the first being the width mentioned earlier, but the other advantage was that through his offensive positioning, he effectively pinned Zaha back, as if Zaha were to roam forward when Liverpool had the ball, Salah and Alexander-Arnold could create a 2 vs 1 overload. Once Zaha won the penalty, it was clear in Alexander-Arnold's mind at least, that he needed to sit back and defend – inadvertently inviting more pressure on himself.
After around three attacks, Zaha has nullified Trent Alexander-Arnold offensively. In the most recent Liverpool attack, he was nowhere near the high position he took up at the start of the game. Now he's constantly afraid to commit forward.

— Hamzah (@HamzahKL97) March 31, 2018
Only once Klopp restated the importance of Alexander-Arnold remaining high up the field did we begin to see him flourish and contribute offensively, with Zaha's ability to attack limited.
On the penalty –  Loris Karius received a lot of criticism from the Sky pundit team during the matchday coverage. However, despite the claim that Karius should stay on his line, the decision to attempt to come and collect the ball was the right one – his presence put Zaha off enough to shoot wide. Perhaps Karius should have had a higher starting position, but this was primarily an issue with the first and second balls, and hence Henderson and Alexander-Arnold, not the goalkeeper, who to his credit made a very good save earlier in the match. I'm still yet to have come to a full judgement on Karius, but this was by no means a poor performance, despite the penalty, for that was not a situation of his making.
Below is a heatmap for Alexander-Arnold and Robertson, and it's clear to see Robertson found it far easier to work the left channel offensively, but in the second-half, Alexander-Arnold did exceptionally well, as he drove forward and held his position as Liverpool looked to score. As Liverpool struggled for the second, as Palace pushed back, naturally, he had to drop, but insofar as Liverpool possessional play is concerned in the second-half, Alexander-Arnold addressed and improved considerably upon those tactical issues in the first-half.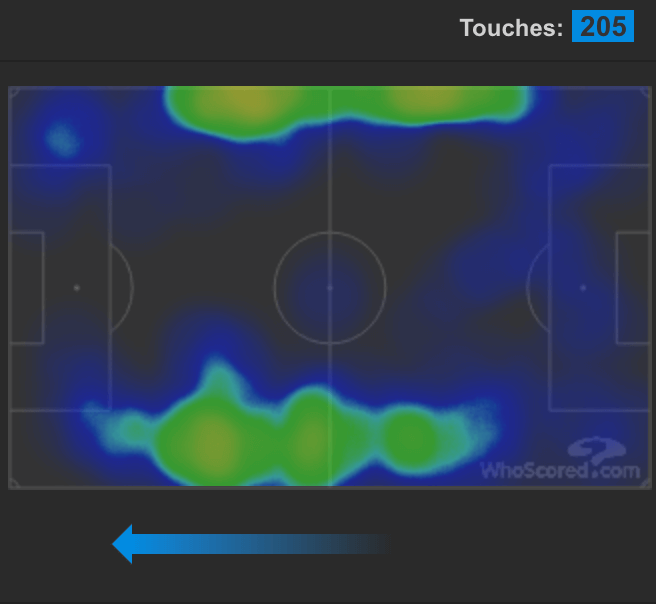 In fairness, we should hail Alexander-Arnold's effort at right-back, against one of the fastest and best one-on-one wingers in the league. To recover from such a setback in the first-half is both admirable and impressive. Replicating that sort of performance against Sané will certainly be one of, if not the biggest, the challenge of young Alexander-Arnold's Liverpool career so far, but it'll be interesting to see the battle, during Liverpool's match with City.
One positional issue I've found with Henderson sitting as the six, in recent months, is that he probably sits a bit too deep. Often, he'll take the ball from the feet of the centre-backs. In terms of passing, there's very little to be gained from him doing so, as it deprives the team of another passing option beyond the opposition's first defensive line. One of Van Dijk's strengths, in particular, is his on-ball ability, to dribble forwards and pass – in this game, Henderson appeared to give him and Matip more freedom to do so. After Palace's first goal, he appeared to drop, but as the game progressed, he appeared to give the centre-backs a bit more autonomy on the ball.

With regard to the two CM's positioning, the average position map is not particularly revealing, for they reacted to the changing phases of the game, as Liverpool started out on the front foot at the start of both halves, then found themselves stuck in a to-and-fro quagmire. Initially, we saw Milner and Wijnaldum position themselves between the LW and RW and the LB and RB – a position we've seen used to good effect since the very first game of the season (see Can assist vs. Watford (a)). In the second-half though, we saw the midfield position itself in a more staggered manner, as Milner roamed more, and Wijnaldum linked up play, before being replaced by Oxlade-Chamberlain who was more direct, and drove forward in a strong cameo.
As for the tactical shift made after Lallana's injury, I cannot speak for Klopp, but I imagine the decision to bring Lovren on was one of contingency and circumstance, rather than an intended gameplan to shift to 3 at the back to chase a game. If we see it again, I'll try to break it down – but as far as this game was concerned, it did not look like an intentional offensive play.

Mané found himself at the centre of Liverpool's performance during his time on the pitch. Initially, Liverpool struggled to get a grip on the game and to exert control, with the two best chances of the first-half coming from set-pieces. However, Mané was a bright spark, and as we know is one of Liverpool's best assets when it comes to playing against low-block or counter-attacking sides because of his dynamism and trickery. Mané was a menace, and while he did not succeed early on, he roamed, as Firmino and Salah stayed in rather rigid positions.
In recent months, we've seen Liverpool use two up top, but rarely in the manner that they did so against Palace, with their rigid positioning more akin to a Guardiola style than Klopp, with them looking to pin back opposition players, and let the full-backs and midfielders run beyond them. However, their low involvement early on is likely a result of the ineffectiveness of said fullbacks and midfielders, as Palace countered Liverpool.
What we did see though, and what this reflected, was a concerted effort and clear awareness of the struggles Liverpool have had attacking centrally against a low-block. The 38pc and 35pc of attacks down the right and left sides respectively show an appreciation of the issues Liverpool are facing and attempts to address them too.
Tactically, this game was as enjoyable as any, albeit perplexing in a manner that only a match at Selhurst Park can be. It was hardly a dominant performance by Liverpool, but it was a clinical one, with a few flashes of close-touch, fast-passing brilliance illustrating that while Liverpool were not near their best, they don't always need to be either. Admittedly, Liverpool were fortunate that former number 9 Christian Benteke missed two key chances, and both Matip and Van Dijk did not seem assured, but after all, this is football, and performances like these do happen. What's most pleasing is, that despite the sub-par performance, the tactics were sound, and when implemented were effective, and that the team has managed to get the three points in a game that in recent years the team may have caved. Indeed, it was a remarkable show of resilience considering the team went 1-0 down at one of the most challenging away grounds in the league.
xG map for Crystal Palace – Liverpool. The Reds escape with some good attacking play and whatever that was Benteke did. pic.twitter.com/1MXpQxn3GQ

— Caley Graphics (@Caley_graphics) March 31, 2018
City will be a completely different challenge to Palace, and Liverpool may need both Can and Oxlade-Chamberlain to return to the starting XI, to add some steel and zip to a midfield that will no doubt be pushed to the limit. Whether Klopp will go for the same tactics which produced such fireworks as the 4-3 victory or the 1-0 victory at Anfield last season remains to be seen, but it'll certainly be the tactical battle of the season.