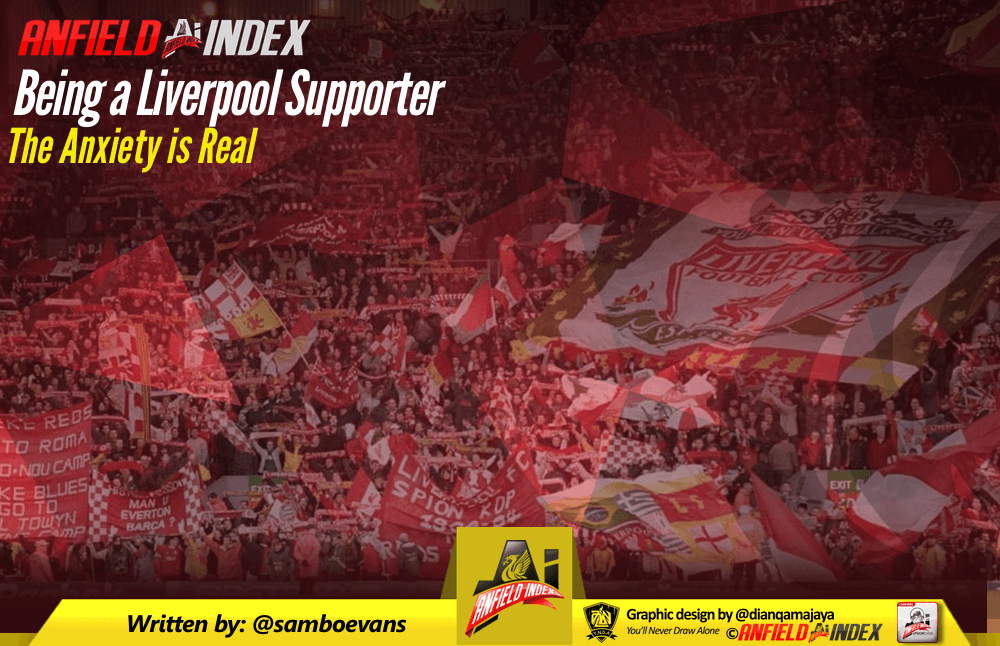 Being a Liverpool Supporter - The Anxiety is Real
It's been 6 years since Liverpool last won a trophy, the League Cup under Kenny Dalglish in the 2011-12 season. And the previous trophy to that was the FA Cup in 2006. And it feels like approximately 408 years since we last won the league. So it's fair to say that Liverpool fans have been through some tough seasons in recent times.
Unfortunately, this has led to some serious negativity amongst the fanbase.
There is no doubt that success breeds positivity, which makes it understandable that the recent barren spell has left much of the fanbase often fearing the worst when watching the reds.

I am no exception when it comes to feeling in-game anxiety.
There was no better example of this than during Liverpool's 2-1 victory of Crystal Palace at the weekend. Here's what my watch was telling me:
https://twitter.com/Samboevans/status/980065264082485248
As you can see, my heart rate soared during the match despite watching the game sat at home on the couch! Feeling nervous before a game or when the opposition wins a corner is understandable. The problem is, my anxiety has been developed over years of disappointment involving Djimi Traore roulette turn own goals, a Gerrard slip, Lovren brainfarts and a number of heartbreaking defeats in finals.
The anxiety is now ingrained in all of us. It will go wrong.
But with the recent run of form that this Liverpool team are on and the vastly improved defensive unit, should we really be getting quite so nervous that this Liverpool team are going to come unstuck?
The usual media narrative is that Liverpool don't perform against the teams in the lower half of the table. But, with only a single defeat to a side outside of the top 6 to our name in the league so far this season, there are strong signs that this might be a thing of the past. It is well known that title wins are based on exceptionally high points tallies against the teams outside the top 6, and Liverpool are getting closer and closer to that every year.
As Simon Brundish says, beat the dross, win the league. And if this Liverpool team keep improving at the current rate, they will be giving themselves every chance to get themselves in contention for picking up another League title in the near future. So maybe it's time that we start to trust in this Liverpool team. Maybe I need to stop having mini heart attacks during the match! Because the evidence suggests that more often than not, this Liverpool team is going to come out on top.
Another common media narrative is that Liverpool's best players will always seek a move to either Barcelona or Real Madrid. And with the departure of Suarez and Coutinho in recent years that's understandable.
But this Liverpool team is different. We are becoming a force again.
So should we be concerned that maybe Salah is going to be seeking a move to the Bernabeu or the Camp Nou this Summer? With 29 goals to his name, Salah has scored the same amount of goals in the league as the entire Burnley team, and Burnley are 7th in the table! Incredible.
Salah has also now equalled the most amount of games scored in a 38 game season despite having only played in 31 games so far.
Most games scored in in a Premier League season…

2007/08 Cristiano Ronaldo (21)
2012/13 Robin van Persie (21)
2017/18 Mo Salah (21)

Liverpool still have six games left this season. #CRYLIV https://t.co/5wAno0yXTv pic.twitter.com/rhaDr4wk8S

— Match of the Day (@BBCMOTD) March 31, 2018
Salah's late winner at Palace took his overall tally of goals in all competitions this season to 37. Only Ian Rush has scored more in a season for Liverpool since 1962/63.
Since 1962/63, Ian Rush is the only player who has scored more goals than Mohamed Salah in a season for Liverpool. pic.twitter.com/OQ0lOod80n

— Andrew Beasley (@BassTunedToRed) March 31, 2018
It's fair to say that we are witnessing something very special from the Egyptian this season. Therefore there's no doubt Liverpool will need to stave off some serious interest from abroad this Summer.
But this is Liverpool FC. And Liverpool FC are going places under Jurgen Klopp.
Liverpool shouldn't be a stop on the way to the destination. Liverpool should be the destination. And if Liverpool continues to progress at the current rate, the likelihood of us keeping hold of our star men will continue to increase. I mean, who wouldn't want to play in front of the incredible fans at Anfield in the Champions League quarter-finals and beyond?
With Jurgen Klopp at the helm, I genuinely believe that we have a far better chance of keeping hold of our best players and winning trophies. And if you're winning trophies, players tend to be much happier to stay.
Years of disappointment has led to many of us being quite negative and anxious about the reds. But I'm beginning to come to the conclusion that the reasons for most of my supporter anxiety have no evidence to back them up. Not anymore anyway. Even if my heart apparently has a mind of its own during matches, I'm going to make a conscious effort to think positively about the reds. I'm putting my faith in them on and off the pitch. And maybe you should too? After all, it's so much more fun.