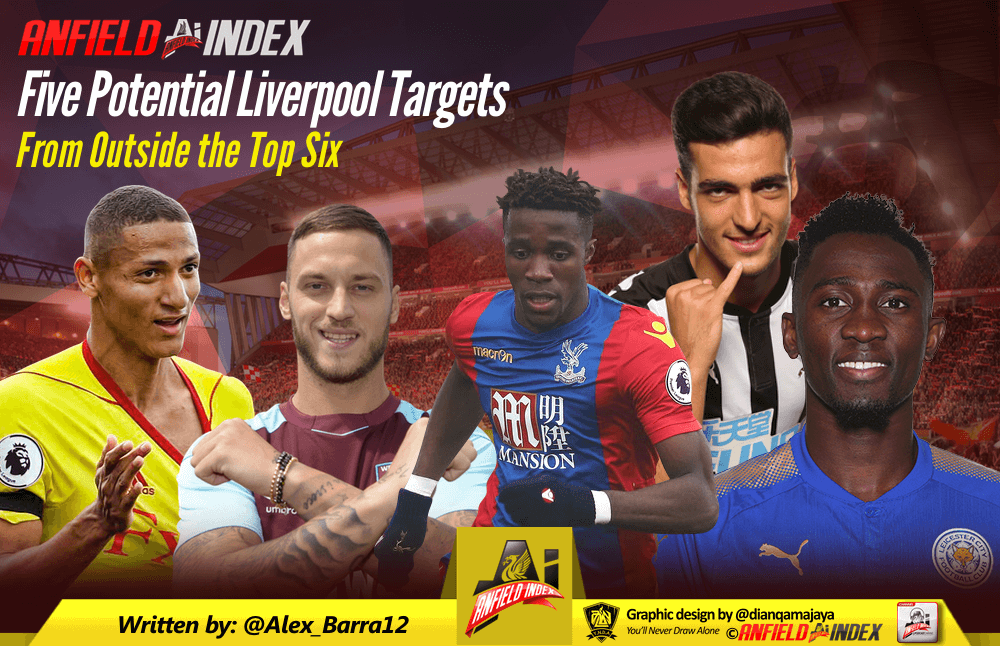 Five Potential Liverpool Targets from Outside the Top Six
Liverpool's race for Champions League football next season took a reassuring step as Spurs trounced Chelsea in their own yard on the weekend, giving the Reds breathing room in pursuit of that coveted top four spot. Ahead of a clash with Manchester City, too, one could very easily reflect on how far Klopp's men have come since the days of former managers. Gone are the times of Rickie Lambert, of Aly Cissokho and Andy Carroll. A once-maligned transfer strategy has been turned around via work from Klopp and his director of football Michael Edwards to always prioritise a player being the right fit.
So, with a summer of heavy investment likely on the horizon following Phillipe Coutinho's departure, who could the Reds look to from below their lofty height in the Premier League to bolster their ranks?
Wilfried Ndidi
A man who many hope will be a top target for Liverpool come the summertime, Ndidi is most certainly being groomed for a top club. His tackling numbers are notoriously out of this world – he makes 4.2 tackles per game (per WhoScored), the most of any Premier League player and second most of any player in Europe's top five leagues. At 21, the Nigerian has plenty of room to develop his skills on the ball; a facet which certainly needs improving. However, labelling him as a pure destroyer when he's exhibited a potency for driving forward with the ball at his feet, would be negligent.

It is dependent on whether Klopp sees Ndidi as enough of a multi-faceted midfielder to justify spending what will likely be a pretty penny for the defensive midfielder, but it would certainly go ways to addressing Liverpool's troubles with the space between their midfield and defence. Ndidi offers a stability that nobody else can, and would allow both Naby Keita and Alex Oxlade-Chamberlain to drive forward, comfortable in the knowledge that counter-attacks will be thwarted if they get caught too high.
Despite the fact he doesn't possess much in the way of creativity, Ndidi would enable the rest of what is already an excellent attacking team to prosper.
Wilfried Zaha
The man who ran Trent Alexander-Arnold ragged in Liverpool's recent victory at Crystal Palace, the Ivorian has been Crystal Palace's crutch more often than is probably healthy for a football side, yet his class continues to show on a regular basis. Now too old to be classed as a "young prospect", Zaha will certainly be after redemption at a top club after his sour time at Manchester United.
Able to play on both flanks and – due to a complete dearth of forward options following Christian Benteke's injury earlier in the season – also able to play up front, Zaha would be a tremendous option to rotate with Liverpool's front three. In a better side, one would expect his goals tally to supersede the rather measly four strikes he's managed this season, and his inconsistencies regarding passing would improve significantly with better options.
The pure talent he shows to get past players is undeniable, and if there was ever a time for him to return to a top-six club, now would be it.
Marko Arnautovic
Perhaps one of the more controversial shouts, Marko Arnautovic's place on this list, in the eyes of this writer, is undoubted. His time at Stoke was wrought with inconsistency and difficulties with then-manager Mark Hughes, and the Swiss front-man has always been a more offensive player than he was allowed to show at the Pottery.
The glaring hole in his game is consistently stringing together a season of goals – he's only hit more than 10 goals in one season in the Premier League (11 for Stoke in the 2015/16 season) and yet, since being deployed up front for West Ham by David Moyes in November, he's scored nine times, and is on track for his second 10+ goal season.
He also creates similar amounts to a direct counterpart in this piece: Wilfried Zaha, with nearly identical key passes per 90 (1.45 to Zaha's 1.39) and a higher xG per 90 to boot over the last two seasons (0.35 expected goals per game compared to Zaha's 0.21, per Understat) – all while playing in a team that creates and scores relatively little compared to Liverpool. Not to mention, with a 6 ft. 3 frame, he'd be a good option for when Klopp's men need to play horizontally.
Add maniacal pressing routes and an aggressiveness towards winning the ball back, and the former Werder Bremen man would be an ideal fit to back up Roberto Firmino.
Mikel Merino
Regarding midfield options, Klopp may be inclined to look at a player whose footballing path crossed a very familiar juncture – Borussia Dortmund. Merino was signed to Dortmund in February of 2016 from Osasuna with plenty of promise. The Spaniard had made 67 appearances for the second division side – his first coming at age 18 – though wasn't given many chances during the 2016/17 season under Thomas Tuchel, and following the first three months of a loan spell to Newcastle, joined the Tyne-Wear side permanently.
The signing was perceived as a clever piece of business for good reason: the Spaniard is a classy dictator of play from deep, who also happens to make more tackles than Liverpool's captain this season (2.5 to 2.0). Despite not appearing as frequently as he'd like for Newcastle this season, Merino's poise on the ball, a catalyst-sparking knack for starting counter-attacks and ability to sit at the base of a midfield makes him a curious prospect – the kind that could explode onto the scene at any point. His inexperience is, of course, a factor, but when it comes to talents bursting with potential, Merino's rise may come sooner than many think.
Richarlison
Watford's surprise package; Richarlison isn't your stereotypical samba-embodying Brazilian footballer. What he lacks in flair he makes up for in drive, desire, and a stunning knack to be in the right positions at the right time, not to mention his versatility and drive when the ball is in and around the box. The description "fox in the box" is often used to describe strikers colloquially identified as "poachers" – and yet Richarlison's knack of being the finisher of moves seems so un-Brazilian that the term "fox-in-the-box" almost seems appropriate.
Don't get it twisted – he still possesses a winger's ability to dribble the ball, but he comes alive in areas you wouldn't expect – not just in the box, but also in defensive situations. He's made 1.8 tackles per game this season – the same as Roberto Firmino in the Premier League. He's only found the back of the net five times (more than Zaha's four but less than Arnautovic's nine) and that's considering the fact he takes 2.7 shots per game, more than any of the aforementioned strikers.
However, there's no doubting the Brazilian's unorthodox assets would be extremely beneficial to this Liverpool side, especially considering Firmino's lack of proper understudies. He could easily slot in for any of the front three, and at just 20 years of age, who knows what the future holds for the very un-Brazilian Brazilian.