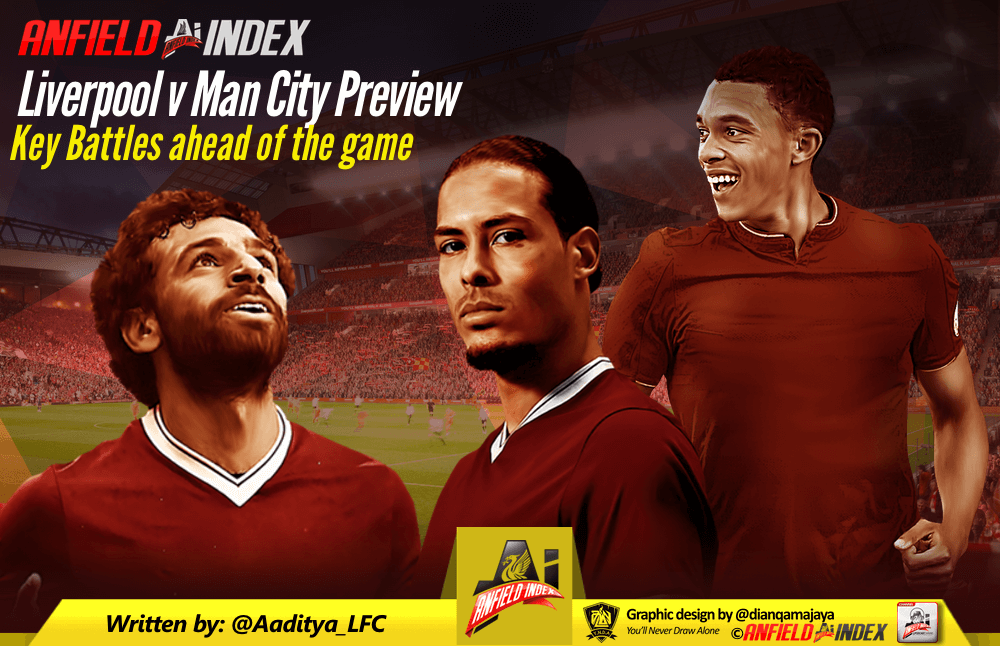 Liverpool v Manchester City Preview - Key Battles
It has been ten years since Liverpool were in the quarterfinal of the UEFA Champions League. In many ways, that sombre evening at Anfield when a Branislav Ivanovic-inspired Chelsea ran out 3-1 victors in the first leg of that quarterfinal was the start of a spectacular decline that has seen the club on the verge of administration, one sensational title challenge, one abject Champions League campaign and a whole lot of crests and troughs.
All that can be set aside on Wednesday night, as Anfield comes together for what promises to be the best party in town for a very long time. Pep Guardiola's all-conquering (apologies to Wigan fans) Manchester City side arrive at Anfield on Wednesday night in the first leg of a battle to be the best English team in Europe this season.
The tie has added significance for City given that they could be in line for a treble this season, having won the League Cup and standing one win away from winning the Premier League.

For the Reds, this quarterfinal is a first step in getting back to where the owners wanted the club to be when they appointed Jurgen Klopp at the helm. It isn't for nothing that Liverpool FC are called European royalty, but the sheen on the royalty is fading and the re-polishing is well and truly underway.
Here are the key individual battles that could decide the outcome of this game.
TRENT ALEXANDER-ARNOLD v LEROY SANE
The young Scouser has had two difficult outings in recent games, and on current form, there are few sterner tests for a full-back than Sane running at full tilt.
The problem for Trent has been his reading of the situation around him. He has got the pace to not allow any winger to outrun him, but it seems to be not as difficult to out-think him.
Both against Manchester United last month and Crystal Palace at the weekend, Trent was caught out not tracking the opposition left winger's runs into the area from a wider starting position.
Sane has a slightly different role in the City system, where he tries to stretch the play as much as he can. But with Trent displaying such a glaring weakness in the last few games, it would be foolish to think that Pep Guardiola will not have seen that as a potential opportunity for his side.
Sane got his goal at Anfield earlier this season gifted to him, as Joe Gomez misread the flight of a long diagonal ball, allowing the German a free run into the box, before Loris Karius too decided to be charitable to his fellow countryman and let the ball in at his near post.
Based on his current form, Sane does not need any gifts for him to have an impact on games. So either Jurgen Klopp will hope for young Trent to have the game of his life, or he could provide him with additional protection, with either Alex Oxlade-Chamberlain or Gini Wijnaldum dropping into that space in front of him from their starting midfield roles.
MOHAMED SALAH v AYMERIC LAPORTE
Laporte started at left-back in City's weekend win over Everton, which to many, was a clear indication that he was being introduced to the role that he would be playing over the course of this tie.
Salah scored another goal at the weekend, the decisive one against Palace, to take his tally to 37 for the season. The King of Egypt equaled the Premier League record for the most separate games a player has scored in a single season.
Laporte is, in a lot of ways, an absolute Rolls Royce of a defender. Given his performances for City thus far and a large chunk of his Athletic Bilbao career, it is clear that there is no glaring weakness in his game.
He is strong aerially, not a slouch and he is very tidy with the ball at his feet. However, the dynamics of being a full-back are completely different from being a centre-back, and if Guardiola is going to take this route, then that could probably be his only concern.
Against a man in the form that Salah is in, and the quality that he possesses, it is important that City get their tactics to stop him absolutely spot on.
Salah, along with Roberto Firmino and Sadio Mane, will press the ball high up the pitch, and stop Ederson from playing it short, also ensuring the City defenders don't get time on the ball either. City clearly showed they didn't like that when they were at Anfield earlier this season, so one can be sure that is what they will get once again.
VIRGIL VAN DIJK v GABRIEL JESUS 
The big Dutchman is coming off possibly his worst performance in a Liverpool shirt, as he was rather shaky from start to finish at Selhurst Park.
For the Reds' sake, one can only hope that Saturday was an aberration and he will be back to his calm, commanding self once again.
The Reds' need for a calm head at the back was there in all its glory in the last ten minutes of the last game against Man City, and in a two-legged tie, that sort of panic could spell disaster.
Therefore, it will be important for van Dijk to ensure that he keeps the heads around him calm, and not just his own.
Jesus has seamlessly slotted back into the City side after an injury kept him out for a few months, and he has slipped into Sergio Aguero's shoes easily after the Argentine picked up his most recent injury.
Aguero doesn't yet have a goal at Anfield, compared to scoring at least once every time he has faced the Reds at the Etihad. So City might not be complaining about him missing the first leg.
Their style doesn't really change depending on personnel, so one knows what you can expect with City. With Jesus, his build-up play is not perfect at times, but it doesn't need to be. With the likes of Sane, Raheem Sterling, Kevin de Bruyne and David Silva behind him, all Jesus needs to do is be the fox in the box and finish the chances he gets.
And he will get chances. Liverpool aren't the greatest team defensively, they will not sit back and absorb pressure. SO City will have their spaces and moments to impact the game. But that could play into the hands of Liverpool, who are one of, if not the best counter-attacking side in world football at the moment.