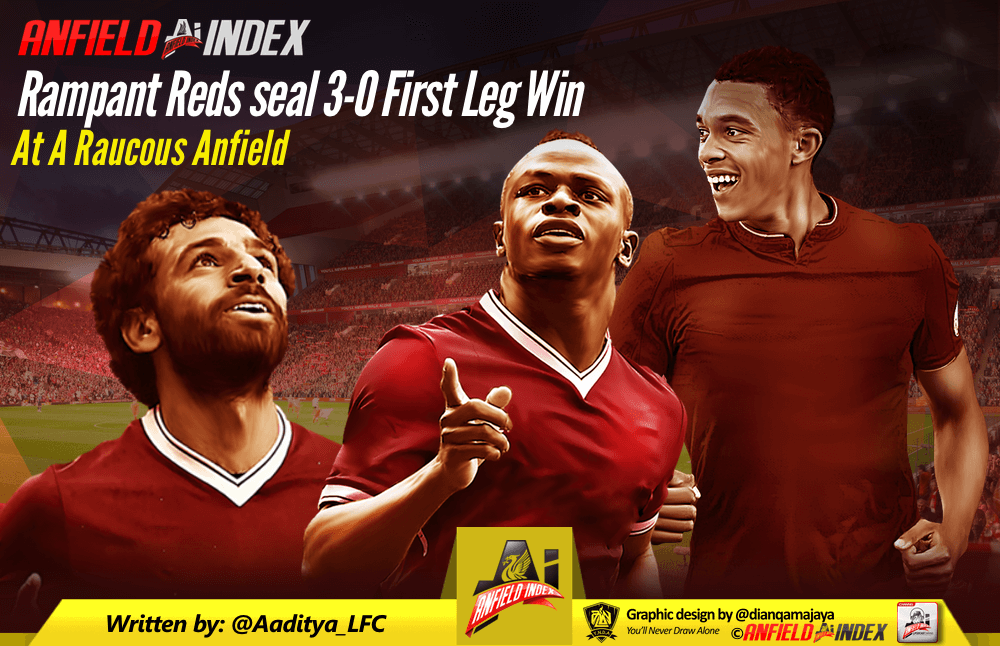 Rampant Reds seal 3-0 first leg win at a raucous Anfield
Starting XIs:
Liverpool: Loris Karius, Trent Alexander-Arnold, Dejan Lovren, Virgil van Dijk, Andrew Robertson, Jordan Henderson, James Milner, Alex Oxlade-Chamberlain, Mohamed Salah, Sadio Mane, Roberto Firmino
Manchester City: Ederson Moraes, Kyle Walker, Nicolas Otamendi, Vincent Kompany, Aymeric Laporte, Fernandinho, Ilkay Gundogan, David Silva, Kevin de Bruyne, Leroy Sane, Gabriel Jesus

Champions League quarterfinal nights were back at Anfield, and it started on a rather sombre note for the Reds as a bunch of nincompoops decided that throwing a few projectiles the way of the Manchester City team bus was a wise thing to do. Passion, they call it. Stupidity, the sensible ones saw it as.
Then they got to the pitch. A bunch of men wearing sky blue didn't know what had hit them. Just for their help, let's say we call that a European night at Anfield!
City started the game off like City always do. They moved the ball around comfortably, and David Silva looked to be pulling the strings, but all it took was one moment for the game to switch.
Leroy Sane's lazy pass across the Liverpool box was easily picked up by James Milner, who fed it into Sadio Mane immediately. Mo Salah was on his bike, and Mane found him with an adept through ball. Salah played Firmino through, who managed to get a left-footed shot away, but it was saved by Ederson.
The rebound should've been cleared by Kyle Walker, but Roberto Firmino was first to the ball, and his toe poke fell to Salah, who took it on to his left foot and smashed home his 38th goal of the season.
City almost hit back immediately, as Sane rampaged through the middle. When he had the option to play Kevin de Bruyne through on the left side, Sane struck a left footed shot, that Loris Karius managed to see wide.
That was about the most joy City got throughout the half. Trent Alexander-Arnold was a man possessed. The Scouser would've been in the stands if he wasn't on Liverpool's books, and he channelled all that passion into giving Sane a night his worst nightmares were made of.
In the 21st minute, Liverpool worked the ball between Firmino and Mane, and it fell to Alex Oxlade-Chamberlain, who took a touch out of his feet and unleashed a thunderbolt with his right foot that nestled in the corner before Ederson even moved.
2-0. Pandemonium on the Kop. Like Anfield needed an excuse to be raucous on a night like this.
Nine minutes later, it got even better for Liverpool as Salah once again got the ball on the right wing, before cutting in and smashing a left-footed shot, but it was blocked. Salah was lucky that the rebound fell to him. He then put in a cross that couldn't have been better placed if he picked it up and put it on Mane's head.
The Senegalese put the header past Ederson, and there was more pandemonium on the Kop. 'Allez Allez Allez' rang out almost all night inside Anfield.
The Reds had another chance right on the half-time whistle when Milner's free-kick was headed wide by Virgil van Dijk.
The second half began on the worst possible note for Liverpool, as Salah clutched his groin and was taken off. Cross all your fingers, toes and whatever else you can cross in the build-up to the second leg.
City had the better of possession throughout the second half, and they probed and probed and probed. But Liverpool defended magnificently, led by captain Jordan Henderson and Milner, who were absolutely magnificent with their pressing and harrying in midfield.
De Bruyne and David Silva didn't have any joy on a night when Liverpool decided that it was time to be boring. Who better than Milner to lead the boring Reds, eh?!
Late on, Henderson fouled Raheem Sterling on the halfway line and picked up a booking that ensures he misses the second leg at the Etihad Stadium.
But in the end, there were not many jitters. MANCHESTER CITY ENDED THE GAME WITH ZERO SHOTS ON TARGET. European night at Anfield, eh?
ALLEZ, ALLEZ, ALLEZ!