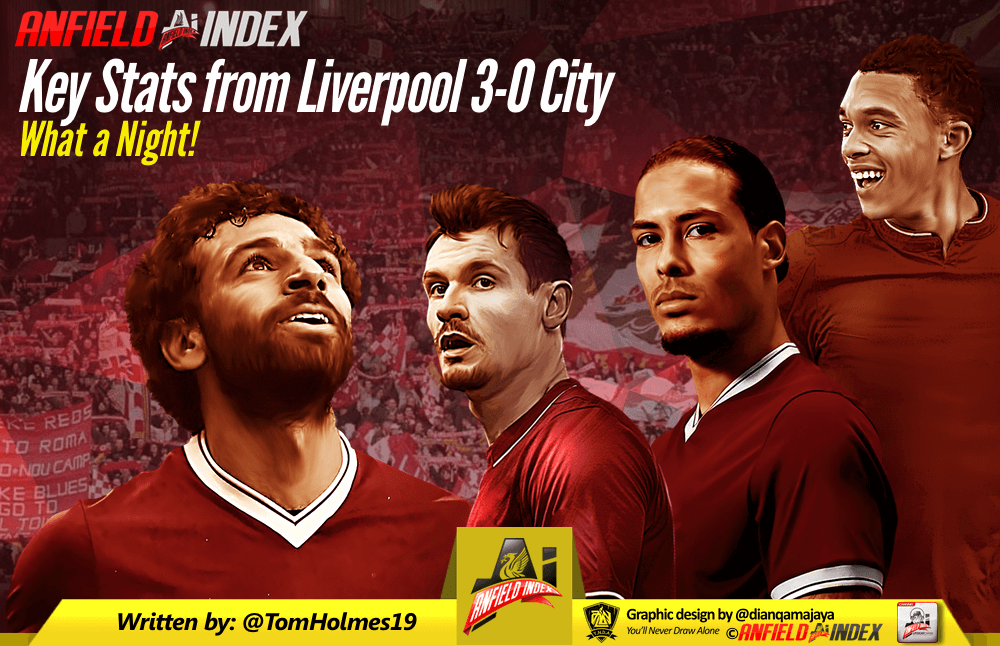 Key Stats from Liverpool 3-0 City - What a Night!
Liverpool pulled off one of their best results in years with a phenomenal 3-0 win over soon to be Premier League Champions Man City. But what were the key stats from an incredible night?
Defensive Solidity When We Need It Most
We'll come to the attacking side of Liverpool's game in a moment, but their stoic, impenetrable defence may not have won them the game, but it's probably won them the tie. Man City were restricted to eleven shots, six of those inside the box, and not a single one on target. It's the first time since October 2016 – when City blanked against United in the League Cup – that City have failed to hit the target.
More importantly, City's expected goals was just 0.6 from those 11 shots, meaning each shot had about a 5% chance of going in. Their half-time xG was 0.2, so despite being utterly dominant in the second half, City scarcely created a notable chance. Leroy Sane had 80 touches of the ball but failed to make a key pass, with Gabriel Jesus managing just 25 touches of the ball, less than anyone else on the pitch other than the subs. He managed one shot.

City's key player was David Silva, as only three other individuals managed to create a single chance, whilst Silva created six, admittedly all low calibre opportunities. With Milner making five tackles, both full-backs managing four and Ox and Mane making three apiece, this was a Liverpool defence working at full throttle and succeeding.
And in case you thought keeping a clean sheet against this City side was easy, we're but the third team to manage it this year, with Palace and Wolves the others.
Vibrant Reds Do The Job
If Liverpool did their job defensively, then they also did it brilliantly in an attacking sense, creating 1.7 expected goals in the first half – and just 0.1 after the break. Liverpool's xG came from just nine shots, including two big chances for Mane and Salah, both of which ended up in the back of City's net. Salah as always was at the heart of the attack, with three key passes, but Mane's dribbling was important too, as he notched six completed dribbles and also won three free-kicks.
Meanwhile, the ever impressive Milner was as good on the ball as he was off of it, and secured his seventh assist of the season in the Champions League, the top assister in the competition. Since Zlatan Ibrahimovic in 2012/13, only Neymar has secured that many, collecting eight last year for Barca.
Two final attacking stat that's worth a read: since Klopp's appointment, Liverpool have scored 17 goals against Man City, which is the joint most alongside Watford and Arsenal. We're the only team to score three goals against them this season. We've now done it twice.
History On Our Side
This is the part of the article where we tempt fate, by pointing out how difficult City's second leg task is going to be. Here's a handy list of recent 3-0 first leg wins.
In the last 14 years, a home side has won a CL knock-out first leg 3-0 on five occasions.

They all qualified for the next round. #LFC pic.twitter.com/5NAxT7xGgw

— Andrew Beasley (@BassTunedToRed) April 4, 2018
Only Barcelona have overcome a first-leg deficit of three or more goals without an away goal, their incredible 6-1 win over PSG last year. In the Champions League, only one other side has overcome a three-goal first leg deficit, Deportivo La Coruna, who lost 4-1 at the San Siro in 2004, only to turn over AC Milan 4-0 in the reverse.
Moreover, Liverpool holding City off in the final stages of the game could be vital. Whilst no team has overturned a 3-0 defeat exactly, four teams in recent times have overcome a 3-1 defeat, and with that vital away goal off the table, if Liverpool can net one, then City need five. In terms of historical comparison, we really are in Barca territory there.