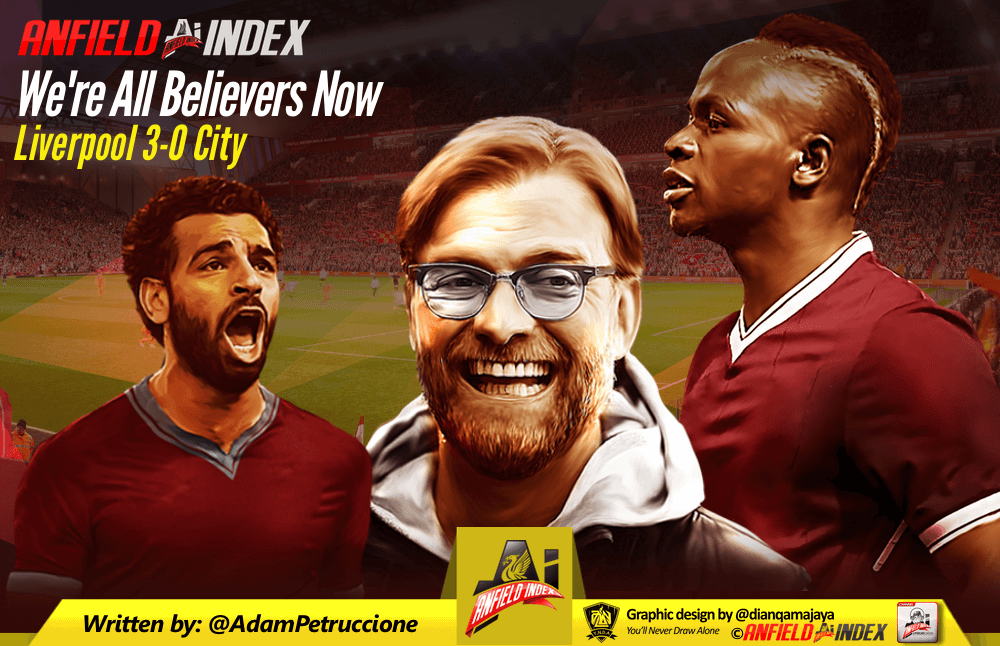 Liverpool 3-0 City: We're All Believers Now
Watching Liverpool put on a tactical masterclass against Pep Guardiola from a darkened discotheque in Barranquilla, Colombia where I'm visiting family, was something I'll never forget. I celebrated goals over iced-beer with a bunch of local Liverpool supporters who don't let distance or language stop them from supporting a club that has more "alma," soul, than any other European club. People are taking days off of work to see the Reds play on the other side of the world, and who can blame them?
Doubters to Believers
Let's be honest, all of us were just hoping for a result that would give Liverpool a chance in the away leg. Even if we had lost 0-1, that would have been an ok result from a strategic standpoint. These Reds were having none of that tonight. Jurgen Klopp's Liverpool faced their most important match in his tenure and missed several players due to injury, but played as if this was the plan all along. I couldn't tell you if Manchester City were mesmerized by the crowd, intimidated by the bus ride in, or simply beaten tactically on the training pitch before they even arrived. City's class was evident. KDB, Silva and Sane combined again and again to threaten our back-line, but it never resulted even in a shot on target.
Whatever remaining doubts any Liverpool supporter could possibly have about this manager, this team, has to have gone out the window tonight. City rode in on one bus with every advantage possible, and they leave on a different bus in desperation mode going into the second leg. Liverpool are blessed with an incredible manager who is a perfect fit for the city and the club. If more European glory is to come, it is largely down to him.

Tale of Two Styles
Liverpool played the first half in their controlled-chaos best. They didn't stifle Manchester City, they went back and forth with them, but when the opportunity presented itself the Reds jumped on it where the Sky Blues were a step slow. Pep's men seemed to want to funnel everything through Leroy Sane and after a few diagonal balls lead to nothing Liverpool's defenders, especially young Trent, gained confidence.
In attack whenever there was a chance to break, the through balls were on point, leaving City scrambling and Ederson flailing. City kept coming, but we invited the pressure so that we could counter, something that Liverpool have perfected as the season wore on.
With three rapid-fire goals on the board, Liverpool started to throttle it down even before the half came to a close. Any away goal conceded would have meant so much, and the Reds played it smart to get into the dressing room with their massive margin intact. In the second half, whether it was because of a Mo Salah knock, the pending derby with Everton or just strategery, Liverpool looked like they completely lost the appetite to attack. Between Salah going off and Dom Solanke doing his best to tack on a goal late, there was nothing but defending from the Reds.
The ability of Liverpool to switch styles in such an extreme way, earning the perfect result, really showed a maturity that hasn't been apparent on Merseyside for several seasons.
Balls of the Extra Large Variety
To have a 37-goal scorer in your squad come up lame in the middle of a Champions League quarter-final, most managers would have tried anything medically possible to keep him on the pitch. Jurgen quickly subbed him off and sent him down the tunnel like he was any other player. To add to that, he subbed off Bobby Firmino next, leaving his Reds without their two leading lights at the most critical of times. Jurgen is no ordinary man, and of course, it all worked out.
Speaking of cojones, check out the stones on Trent Alexander-Arnold. Targeted from the opening kick by one of the best attacking sides in the world, he seemed to gain in strength and confidence as the match wore on. By the end, he was there calling on the crowd to carry the Reds through the final minutes. The individual battle between Trent and Sane was worth the price of admission by itself. It may be a matchup we'll be watching for years to come.
The Missing
The away leg will look very different if Emre Can and Kun Aguero are able to return for their respective clubs. I'll leave it to others to decide who that favours overall, but it will certainly add intrigue. While Jurgen Klopp won't have many other changes he can make with his paper-thin squad, Pep may make several in an effort to squeeze out a different result. It will be fascinating to see how City set up. Needing to at least match our 3-0 result they'll need to be aggressive, but that only plays into Liverpool's hands. Just one goal on the counter and City would need to score 5 to go through.
What a result. What an incredible club. What could possibly be next?
Up the Reds!