PLEASE NOTE: With additional trials upcoming, please focus your comments, tweets your posts around the specific NBCSports issue as to safeguard the positions of any potential jury.
– – –
Liverpool supporters are never too far removed from some kind of controversy. Firmino's number change, the t-shirt shop copyright battle, the mere existence of Michael Owen, and there's always something brewing about the ticket prices being too damn high.

It's enough to keep Tony Barrett gainfully employed, but all in all, these aren't that serious. Our frequent fan flareups almost distract from the one very real controversy that consumes the club at times and that is Hillsborough.
The event itself and the decades' long struggle to render justice for the fallen and shine a light on the truth is now engrained in everything that is Liverpool. The foil in that battle for the truth is The S*n newspaper. They printed lies about Hillsborough then, they print lies about everything else now.
When you talk to Liverpool supporters from around the world they generally have a similar sociological/political view on things. The Reds success against clubs from bigger cities in England and Europe is part of that. If you decided to support Liverpool Football Club out of your own volition in the last couple of decades then you're not in it for the glory. You're someone who appreciates the struggle, and the grit. You love watching a local kid take on one of Europe's slickest wingers with the whole world waiting for him to fail only to come out of the scrap a fist-pumping, 3-0 winner.
I grew up outside of Rochester, New York at a time when three massive companies based there, Kodak, Xerox and Bausch & Lomb simultaneously became irrelevant. I can relate to seeing a community struggle, friends and relatives losing their dignity, but what you read, what you hear from people that lived in the Northwest of England under Margaret Thatcher's reign hits particularly hard. To have a human tragedy strike in the middle of that, well you'd hope that the whole country would rally around a community in that situation. The headlines of a newspaper made that impossible though and they're still stoking divisions 29 years later.
The S*n is banned at Anfield, not just the paper but its journalists and staff. So vile is this publication that 14 other football grounds have followed suit. There is no shortage of better places to get your football news these days, so it's no loss. That's what makes it so surprising that of all the incredible journalists and football publications out there, NBCSports chose one from The S*n to feature during their Premier League coverage.
"It's laziness and negligence to have any association with The S*n in today's day and age. Especially when LFC coverage is so important to NBC's viewership numbers with the Premier League in the past few seasons." – LFC DWF-OLSC (@LFCDallas)
NBCSports must think quite highly of Neil Ashton, who moved to The S*n late in 2015. The animosity between the paper and English football fans is no secret so they're essentially inviting conflict.
"Neil's exceptional. The number one reason we work with Neil is that he's a journalist. He has absolute credibility. He's not someone out there writing tabloid articles." – NBCSports Coordinating Producer Pierre Moosa (WorldSoccerTalk.com – August, 2016)
The segment that Ashton features in is an overview of the British back pages, regularly holding up his own paper for the cameras. The spot doesn't require Walter Cronkite. Ashton probably is a fine journalist, but he chose to work where he does of his own free will, knowing the paper's history. The Twitter accounts @SunsetNBC and @TotalEclipse96 have been raising the issue to anyone who wasn't already aware and American fans are beginning to take notice in large numbers.
"NBC has been fantastic. I love their commentary and studio crews and was an avid fan of Men in Blazers. However, when The S*n issue came to my attention I got onboard with #SunsetNBC. I haven't watched any games, shows or the Olympics on NBC since. Obviously I'm a Liverpool fan. I've followed Hillsborough and watched the memorials. Last summer I visited Liverpool and saw this note in the museum. It was in a memorial section where people could leave remembrances. A kid never met his grandfather as he died at Hillsborough. I have kids and they have met their grandparents and this somewhat random note hit me so hard. And that fuels me, makes my watching on a channel that will promote The S*n an impossibility. I've listened in awe (and tears) to people like Anne Williams and Margaret Aspinall and the inconvenience of not giving tacit support to The S*n by way of watching NBC is nothing. And beyond Hillsborough, Murdoch and The S*n continue to push discrimination that is unacceptable." – Bret Sutherland (Albany, New York)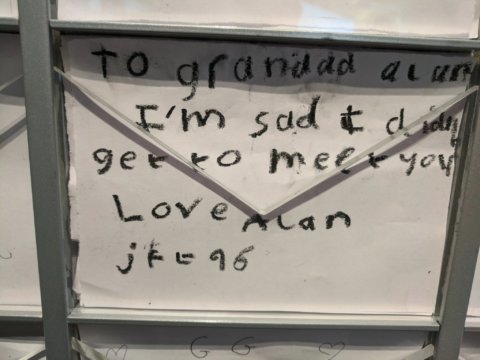 A Change.org petition (has been started to "ban The S*n and its Correspondents from NBCSN and its Affiliates," signed by over 4,600 people at the time of this writing. Their modest goal is 5,000, but with millions of Liverpool supporters around the world, the aim should be much higher. Bobby's latest wardrobe choice pulls more retweets than that.
The bottom line is that NBC has yet to take action and clearly need an additional push. If they feel so strongly about this one reporter, then they could easily hire him away from his current employer or simply hire someone else. For the #SunsetNBC movement the stated goal is for NBCSports to remove any mention of The S*n from its air as well as any of its staff.
Let NBC Sports know that you don't want them supporting the lies and hate of The S*n on their soccer broadcasts. Please sign and share the petition.#sunsetNBC #TotalEclipseOfTheSun#PLonNBC#MyPLMorninghttps://t.co/SpkTHrgHvz

— Sunset NBC (@SunsetNBC) March 18, 2018
It would be great if Liverpool supporters were able to focus on the club's brilliance on the pitch. But at this time of year with the Hillsborough anniversary just days away it would be incredible to see Liverpool supporters in full voice, getting one more result. Not on the pitch, but on the airwaves; making enough noise in unison to force action from NBC so that American supporters can enjoy a S*n free network and Reds around the world can take comfort in knowing that there is one less platform available to an entity that has caused so much pain for so many.
Dropping The S*n before the Hillsborough anniversary on April 15 would be a decent move. #sunsetNBC

— Sunset NBC (@SunsetNBC) April 3, 2018
We get riled up about so many minor issues. It's kind of our thing. This is one that really matters. Let's stand together and get The S*n off the air.
Final Word From LFCNY:
"As Dr. Phil Scraton pointed out, the perpetuation of the lies around the events at Hillsborough started with certain elements slandering innocent football supporters who were victims of a systemic lapse in crowd control and not the perpetrators of these actions. The outlet in question, whose name we'd prefer not to mention, was at the forefront of blaming the victims of the tragedy for the events of that awful day. This has caused an untold amount of suffering and misery to the families of the 96 and the City of Liverpool as whole. We cannot stand quiet while the sole broadcaster of the Premier League in the US gives voice to an outlet who have not only hurt many of our friends and loved ones but also impugned the motives of an entire fanbase and city. For these reasons, we wholeheartedly support the Sunset NBC campaign"