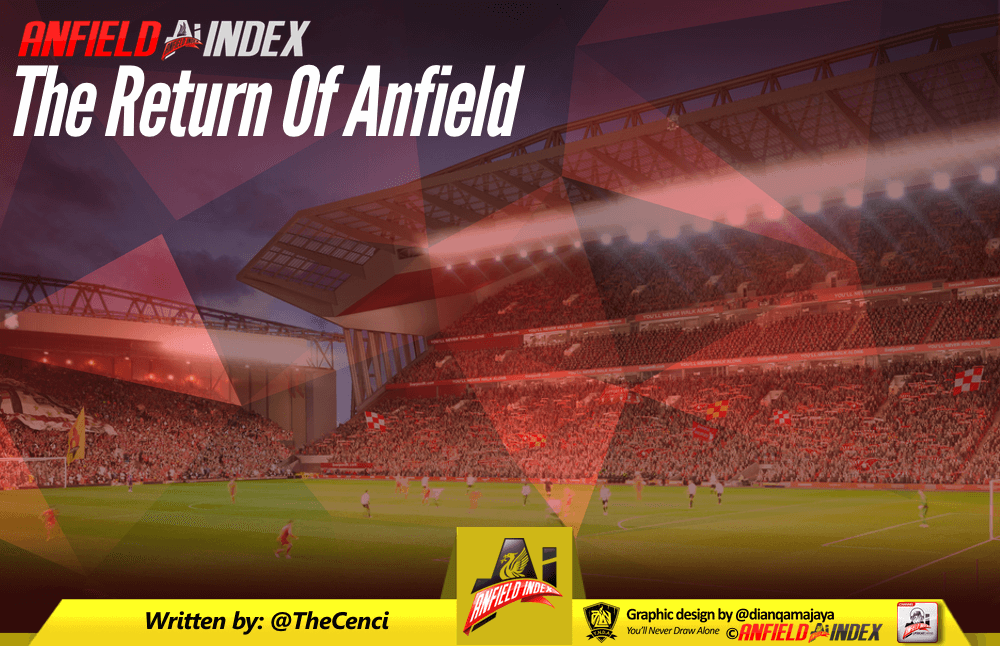 The Return Of Anfield
"It's there to remind our lads who they're playing for and to remind the opposition who they're playing against!" – Bill Shankly on the 'This is Anfield' sign.
As you get older you start to hanker for the good times. You see everything that is new as a threat to what you hold in your heart and believe to be a better world. So you defend your time as somehow superior while pouring scorn on newer incarnations.
My Anfield, my Kop has long gone. Taken by a combination of a bulldozer, newer fans with a different outlook on the Reds and my own inevitable dotage. People talk about famous recent games and tell me that Liverpool's support still has what we once had, but it's often rewarded with a raised eyebrow. An 'oh really?' before the need to sit them down and talk about Chelsea in 05 and 07, Juventus or, even further back and my own favourite, Ian Rush's last game (supposedly) in May 1987 when you could feel the concrete below your feet pitch and sway.
Of course, older people than I will claim that my days are imposters and that Kenny's debut, St Etienne etc. were the real halcyon days.

One day, people will tell younger upstarts about Manchester City in the Champions League in the early days of April 2018.
Beforehand, the usual suspects were dismissive as to what Anfield can offer. Terms such as 'Atmosphere FC' were bandied about while some of our Blue cousins sniffed at the very idea of people cheering a bus.
To paraphrase the Lord of the Sith in Return of the Jedi 'You don't know the POWER of Anfield, Pep.'
There's a myth that all footballers are professional enough to be unruffled by a loud atmosphere. You can be as great as you like, but try doing your day job when there are people screaming in your face. This is not just the purview of the visitors, of course. Liverpool's David Thompson once said that he could hear every jibe from one man in the Kemlyn Road stand who hated his guts, so would deliberately track inside from his customary wide position whenever the ball fell near him.
I've certainly made eye contact with John Arne Riise when I gave him feedback following his ballooning of yet another ball into the stand when better were options were available. To say that players are immune from that is nonsense.
Footballers are professional and have played to tens of thousands of fans for years, but not many have done so when they can't hear their teammates at a distance of a few yards.
Did this effect City? Hard to say, of course, but Kyle Walker has had better nights. On the flip side, that's the best I've seen our back five defend under such pressure for a long time. Yes, including Dejan Lovren who was outstanding. Yes. Outstanding.
The noise made City anxious and galvanised our boys all at the same time. Like it should do.
There were so many highlights. The goals come first, obviously. Salah's run, Chamberlain's thundertwat of a shot and Mo's cross for Sadio's header, but the second half added to them. I've long considered Gini Wijnaldum to be an empty shirt, but the ball stuck to him when he came on. Henderson was everywhere while James Milner rolled back the years and played like a man who was just knocking a ball about on a field outside his house with his kids.
And then there's Trent.
The Old Trafford game and the first half at Selhurst Park have made many tetchy about his development, but this was in the credit column and then some. As much as I admire Kevin de Bruyne, it's Leroy Sane who scares me most in that City side. The youngster has got the lot and should he ever get tired of earning millions every couple of weeks and realise that long-lived dream to visit the Lobster Pot chippy in town, he'll always have a welcome here.
And yet Trent followed him all night. He's probably still with him now.
The atmosphere brought the best out of all our lads. The sheer ability of Man City made that necessary and the ground delivered.
Gerrard, Lampard (who was wonderfully deflated and uncomfortable when the second goal went in) and Ferdinand more or less called the tie over, but it would be a foolish Liverpool fan or player who believes that. City will come back at us.
Frank Lampard looking like he's just seen John Terry talking to his missus when Ox scores!pic.twitter.com/XPN175Wnxr

— LFC Stanley House (@LFCStanleyHouse) April 5, 2018
It won't be mentioned a great deal elsewhere, but one further highlight came with the manager's post-match interview in which he stated that he wasn't entirely happy and that we should have played a little more football in the second half. He's certainly not taking the second leg for granted.
And, best of all, that game justifies the season. We're close to being in the semi-finals of the Champions League. Top four in Europe. All those wasted years and false dawns are worth it for days like this. This is the reason we do it in the first place. Why we shout, squabble, bitch and moan. It's the frustration of not knowing when things will come together again.
But now they have.
Drink it in, Reds. Drink it in.