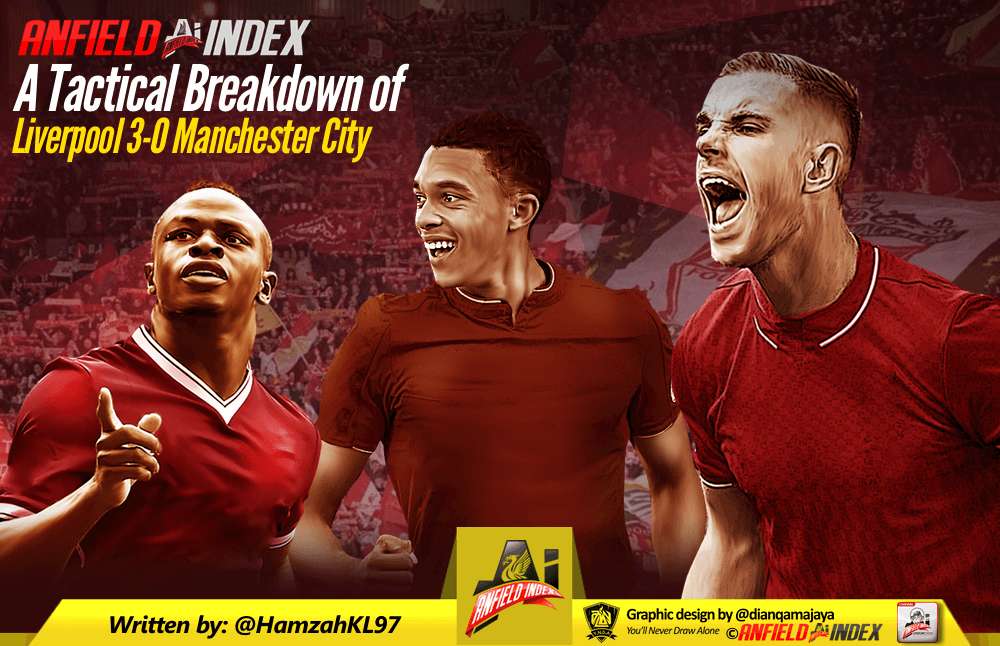 Liverpool 3-0 Manchester City: A Tactical Breakdown
Fine lines. The thinnest of margins. The point at which dreamland meets bedlam. Where delirium bisects mayhem. That's where Liverpool fans found themselves as they watched the unthinkable happen. Liverpool had pressed Manchester City into submission in January, but Pep Guardiola, the greatest manager and tactical innovator of his generation would surely not let it happen again, would he?
Acutely aware of the pressing prowess of Liverpool, Guardiola set City up with Fernandinho in the same position as he was in January, but with an extra CM – De Brunye – told to drop in to aid ball circulation from the back. Instead of Sterling, Gundogan started in a right-sided position, presumably to help ball retention under pressure, and to create a central numerical advantage in the midfield. Key to this though would be getting the ball into midfield in the first place – something which Liverpool did not allow City to do as often as they liked, and on the occasions they did, it was often forced into midfield from a long-ball from Ederson – who looked a shadow of the composed and assured player whose assertive on-ball qualities make him a midfield option for the league leaders.
City also made clear which area they were looking to funnel their attacks through – with Sané positioned against Alexander-Arnold as their main attacking outlet. Walker would supposedly do the job of stretching play with Gundogan coming infield, with Sané on the opposite side, but despite this gameplan, which on paper seems like the perfect foil to Liverpool's typical approach, City struggled to exert the sort of control we expect from them, as Liverpool controlled the game both with and without the ball for the vast majority of the time.

In some ways though, City's decision to go with Gundogan ahead of Sterling played into Liverpool's hands. Without the ball, Liverpool defended in a 4-5-1, as Firmino headed the line – looking to use his cover shadow to block passes into Fernandinho, as well as forcing the ball towards either the right or left side, where either Mané or Salah could move up, and use the touchline to encourage a long ball over the top, where Liverpool's defenders or deeper CMs – often Milner and Henderson – could win the aerial ball, and sweep up the second ball before springing into a counter-attack.
City packed out the centre of midfield, with Jesus, Silva, De Brunye, Fernadinho and Gundogan all occupying central positions (Gundogan did drift to the right side, and made runs attacking the space between Robertson and Van Dijk, but did so far too infrequently to classify him as a player in a wide position). Liverpool, likewise, packed out the centre of midfield, with Robertson moving up, and inwards knowing that he would rarely find himself outnumbered in a 2 vs. 1 situation, while Mané blocked Otamendi from being able to find Walker on the right side when he took up an advanced position. On the occasion where Robertson would have to step out wide, a midfielder, usually Milner, would step into the CB-RB half-space to prevent a run into that area – something which De Brunye and Silva excel in doing. As City struggled to break centrally, they used Sané as their main attacking outlet, and as the ball was returned centrally, Walker was then asked to fulfil that role on the right side. As he pushed up, he left space in behind for Mané to exploit – in some ways this was a problem of City's own making, but Liverpool to their credit took advantage of it and punished it accordingly.
looks like KDB and Gundogan switched at halftime, which just highlights the question of why they weren't that way to begin with

— Michael Caley (@MC_of_A) April 4, 2018
As each City midfielder received the ball, one Liverpool player from the 5 would step up and press, forcing the ball either backwards or across, and if it were across, the player who had just pressed would drop back in, and the adjacent player would step out and press. This targeted, trigger-induced press is a far cry from the un-coordinated press which we saw Arsenal try to employ against City in both the League Cup final and the subsequent league game.
So far, we've mostly looked at City, and how Liverpool worked with respect to them, but while City attempted to target Alexander-Arnold, it was clear Liverpool were targetting the City full-backs in particular. Walker found himself dispossessed four times in the game, the most of any City player apart from Sané, with Mané's 3 successful tackles, and 5 successful dribbles causing all kinds of trouble for Walker and Otamendi. Laporte found himself spread out on toast by Salah, in almost a repeat of Salah's 20-minute blitzkrieg against Otamendi at the Etihad, prior to Mané's sending off. Laporte was exposed as Salah and Oxlade-Chamberlain took him apart. Guardiola's insistence that Sané stay up, and maintain his advanced wide position was clearly to Laporte's detriment, as he was hopelessly exposed for the first-half, with his defending for the third goal utterly shambolic – to show Salah inside once is foolish, but to invite him to do so again, immediately afterwards, is utterly bewildering.
Perhaps Liverpool may target the L/RCBs as they did against Arsenal, near the start of the season. Salah had success against Otamendi back at the Etihad until he was brought off. Against a back three, targeting the WB-CB gap can be effective. https://t.co/8S97cTPZO2

— Hamzah (@HamzahKL97) April 2, 2018
#visionary
City's on-ball defensive three (Laporte, Kompany and Otamendi – as Walker pushed up into an orthodox right midfield position) gave Liverpool gaps to exploit in areas which they may not have expected. If we cast our minds back to the 4-0 victory over Arsenal near the beginning of the season, or the victory against Hoffenheim – both Mané and Salah have ripped apart back threes, when able to run at and expose the LCB or RCB in one-on-one situations, and the graphic below illustrates that with a real concerted effort to focus on the wide areas as the attacking channels, rather than buffeting the centre as Liverpool do in most games.

Similarly, the graphic also shows City's aggression and focus on the left channel, but both full-backs largely stayed in their defensive positions – leaving the attacking duties to the front three, and Oxlade-Chamberlain. As Guardiola did not ask his wide players to support the full-backs, there was no need for Liverpool to ask their full-backs to push on and support the wingers, for while a 2 vs.1 situation is fantastic, Salah and Mané do not really need support from the fullbacks, in one-on-one situations, because they are two of the finest one-on-one wingers in the league. As is Sané, who finds himself alongside Hazard, Martial, Bolasie and Zaha in terms of pace and trickery, yet we can only applaud Alexander-Arnold for his exemplary performance at right-back, illustrating the resilience he showed against Palace in the second-half and some too, while Lovren was superb in supporting him, and mopping up on the occasions Sané found his way past Alexander-Arnold.

The average position maps above (Liverpool left, Man City right) only further underline the excessive focus City had centrally, and the imbalance of their team without Sterling. Once Sterling came on, he was bright, and should have earned a penalty, were it not for some remarkably obtuse officiating from the official on the touchline.
Passmaps & xGplot for Liverpool against Man City. #passmap #xGplot #autotweet pic.twitter.com/wrVevztbT9

— 11tegen11 (@11tegen11) April 4, 2018
Remarkably, Liverpool's defence and midfield won 13 aerial balls between them. In and of itself, this statistic seems meaningless, but when we consider City are largely a team of diminutive players, it's stunning how Liverpool forced City into playing as many aerial balls as they did.
In the first-half it was clear City were not carrying out Guardiola's instructions fully, and in the second-half, Klopp made clear in his press conference that he was not pleased either, as he bemoaned Liverpool's inability to 'play football', as the team sat back, but did not venture into the opposition half anywhere near as frequently as they did in the first-half. Klopp's downbeat tone certainly seemed intentional too, for three goals is by no means a safe cushion for Liverpool, as they head to the lion's den on Tuesday, as one goal can very quickly lead to another, as we have seen often this season.
Missing Henderson and Can may pose a very tough challenge for Klopp, with Milner now the most likely player to take up the six position, a role, which the heatmaps below illustrate, is a very different one to the current role Milner fulfils in the team.
Also more evidence to support the launch it/lose it/win it theory that @SimonBrundish has been pushing for a while.

— Dan Kennett (@DanKennett) April 5, 2018
The result was as good as any fan could have hoped for, and the effort itself was herculean from the Liverpool players, but it's hard to get away from the fact that City did not play near their best, plus City could have had a goal with a marginal call from the linesman in their favour, and a penalty too. Klopp is 100 percent right in downplaying the scoreline and the performance, for Liverpool really should have tried to nick a fourth in the second-half and really put the tie beyond City's reach. The job is only half done, and City, with Agüero back, and Liverpool, with both Can and Henderson out, will be a far more challenging proposition in the second leg, especially if Liverpool do not score first. Nonetheless, it was a fantastic performance by the team, and a brilliant piece of tactical nous by Klopp, as he outwitted Guardiola in the first-half, albeit a few substitutions in the second-half slightly altered Liverpool's approach, and City grew into the game.
I like how Liverpool's goals have both been tackle -> shot. Very efficient. Very Klopp.

— Michael Cox (@Zonal_Marking) April 4, 2018
To end though, are a select few heatmaps from Liverpool's and City's midfield and forwards which you may find revealing:
Milner & De Brunye: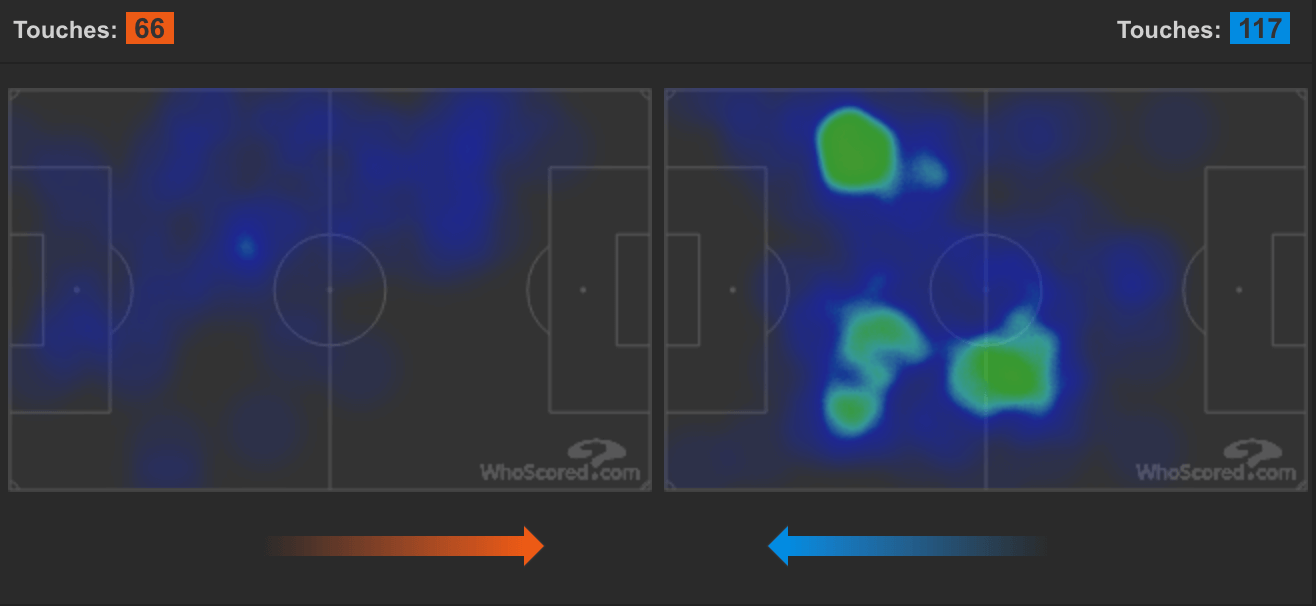 Oxlade-Chamberlain & Fernandinho: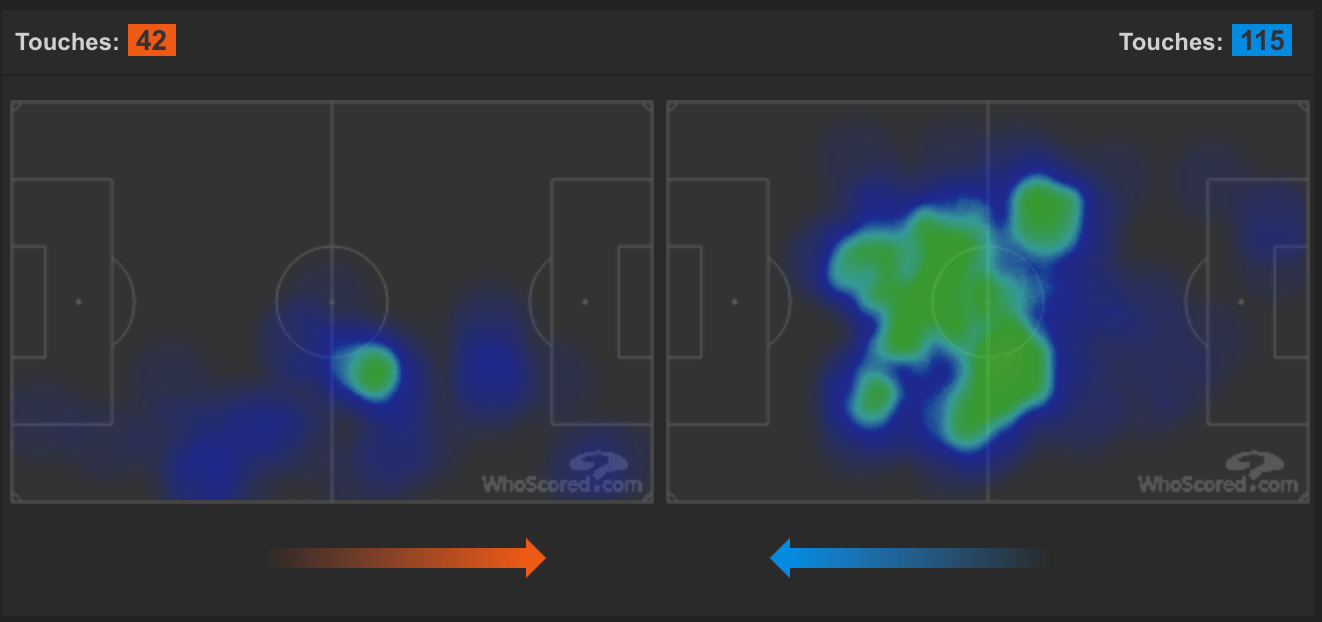 Henderson & Gundogan: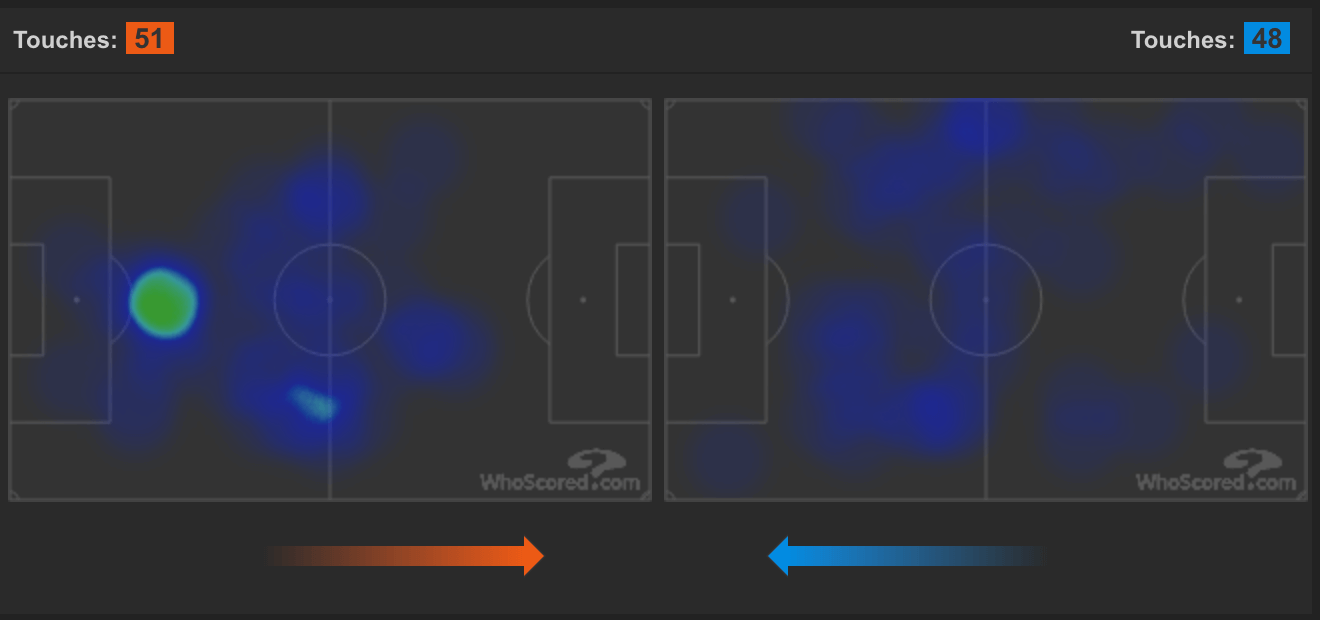 Salah and Silva: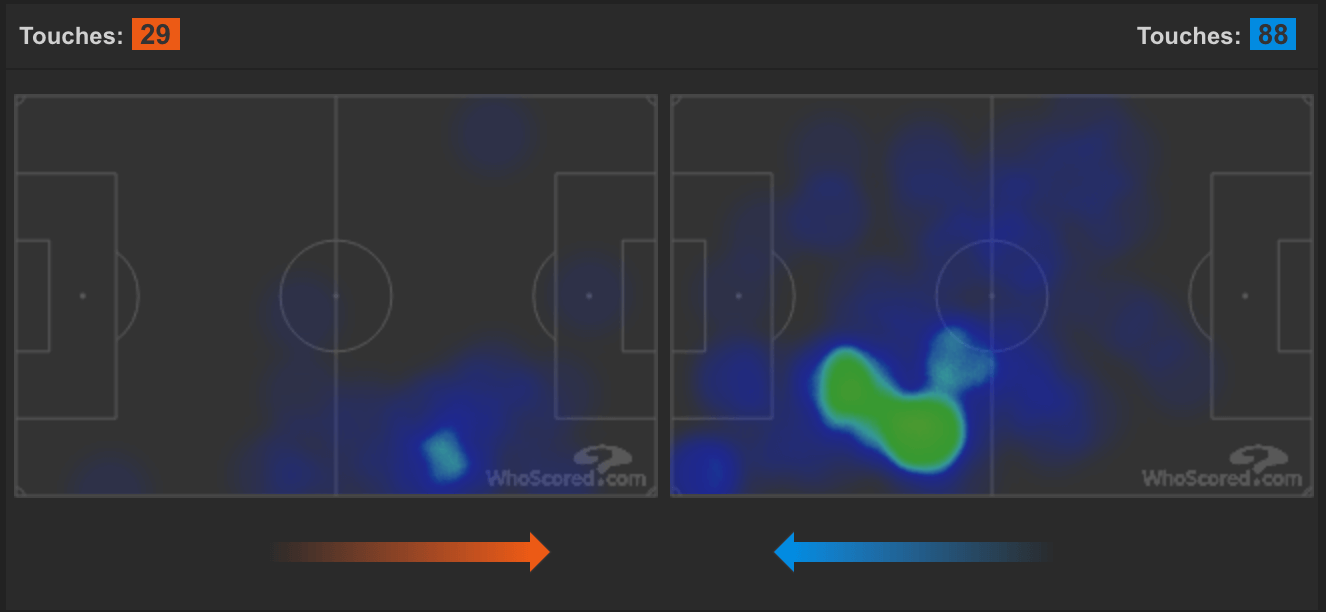 Firmino and Sané: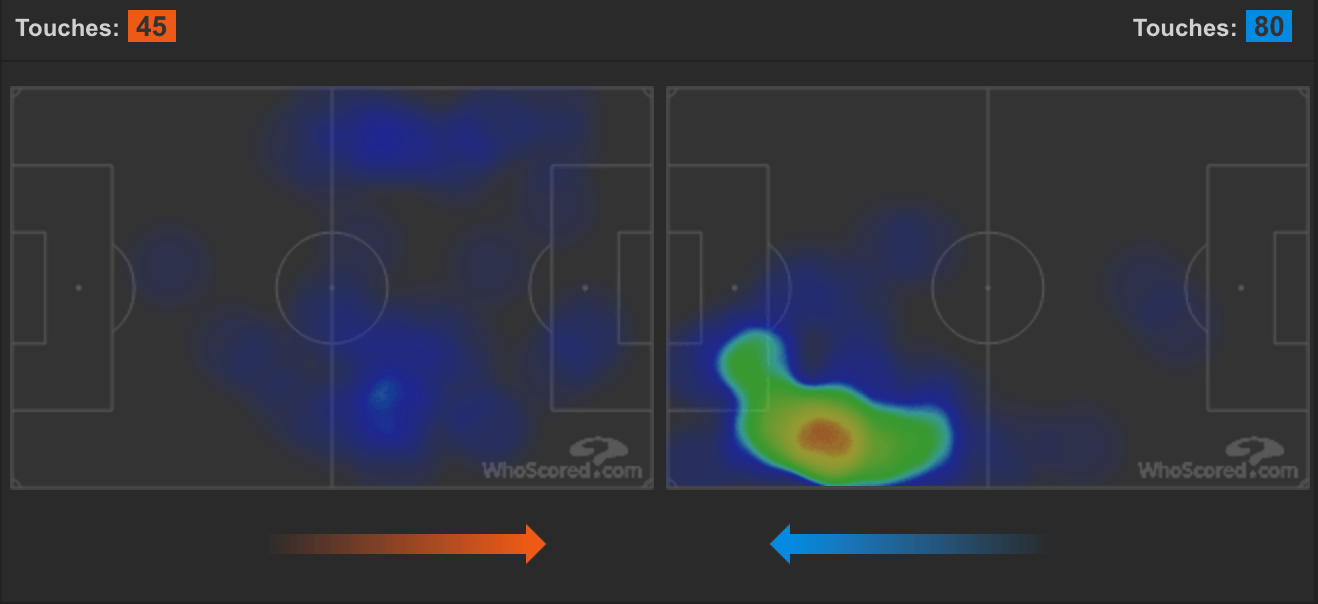 Mané and Jesus (lol):