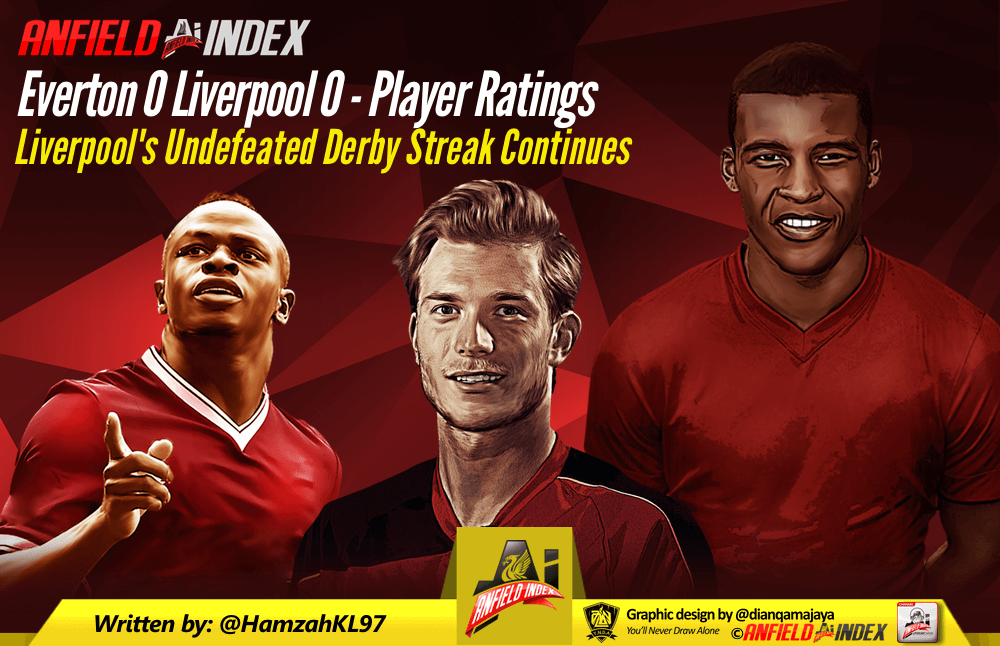 Player Ratings as Liverpool's Undefeated Derby Streak Continues

"Need someone to do the post-match player ratings" was the request from AI's supremo Gags Tandon. "Great!", I thought; after wallopping City, Liverpool look like they can trounce any team in the world right now, and this will be my chance to dish 10 ratings all round for perhaps the greatest derby mauling of all time. How wrong I was. As I watched the game, I saw sparks and flickers of something, as Liverpool had the ball, but ultimately, Everton brought Liverpool down to their level, as the game deteriorated into a mess.
Yeah, player ratings though, right?
Starting Eleven:
Loris Karius (9): Didn't have to do much. Apart from when he turned into Gordon Banks. What a save. If De Gea did that, Sky would have printed it off, and had it tattooed to the punditry teams' foreheads, before mashing it up in a video where Bolasie slows down, activates his FIFA Street GAMEBREAKER, and unleashes a shot destined to glance the inside of the post and the goal-side side-netting to the tune of Rhythm 'n' Gash. Not today though. World-class save – the highlight of the match, and the closest Everton have been to a derby-winning goal for a long (really, really, very long) time.
Nathaniel Clyne (7): Back again! Tough circumstances to return to, playing against Bolasie, in an away derby, after being out for a year, and it's this context which has earned him a 7 rating. Solid performance from the full-back as he got forward and contributed with a cross or two that deserved better.
Virgil (6): Man-mountain, Virgil Van Dijk, was as beautiful as ever. His hair was perfect, as usual. His thick-set thighs were on full display. What a man. He had a chance with a free-kick but decided against the knuckleball (he's saving it for City), and just went with a curler to check if Pickford was paying attention. Fairly solid, with not much drama until the end, but not his best game, with a few overhit passes, and an uncertain display in the final minutes of the game.
Dejan Lovren (6): DEJI. Class performance from Lovren, as he was solid from minute one to the end. Like Virgil, he didn't actually notch any tackles, or interceptions or blocks. But he was assured for most of the game, until those final few minutes when Everton came forward. Rating is probably towards the higher end of the six spectra, but he was rarely tested. Didn't need to get any stepovers out though, I'm sure he's waiting to unleash them on Agüero at the Etihad though.
Ragnar Klavan (6): RAGGY RETURNS, and while there were no body-feints to be seen today or cheeky off-ball roulettes. Asked to play at left-back against one of the fastest players in the league, Klavan did well, and while he didn't get forward enough, it's unfair to ask the Estonian Maldini to attack, when he's clearly got his niche locked down.
Gini Wijnaldum (7): Alright mate, take it easy, save some of that silkiness, at six, for Tuesday night. Composed, cool, casual and quietly efficient, Gini Wijnaldum was involved a great deal more than he usually is in away games, or when employed as the secondary CM. 8.3pc of total possession, 94pc pass accuracy, 3 dribbles, at a 100pc success rate. Jorginho who? (Note to self, don't mention Gini's potshot, and try not to reference how his gleaming smile melted all of your post-match anger away.)
Jordan Henderson (6): Standard performance from Sunderland's answer to Yaya Toure. Covered ground well, kept the team in check, played intelligently in the final third. Shame he didn't tell the referee to stop bottling decisions.
Jimmy Milner (6): I actually love this guy. I mean what can't he do? I would marry him if he wasn't already taken. The perfect man. After seeing his crosses today, you'd think he was David Beckham – but better looking, far more talented, and with the voice of an angel. Like a good cup of tea, Milner was reliable, strong, silky at times, full of body and heart, with a sweetness that leaves you yearning for more. Thankfully it'll only be a few more days before we see him again, at the Etihad, where he'll no doubt exercise those skills he was clearly reserving for then.
Danny Ings (6): Good effort all around. Up and down, and in and out like the Duracell bunny, or a rampant rabbit, take your pic (don't google the second one). Put a good shift in, but couldn't quite seem to get it going (that's what my girlfriend said, hahaha!). Yeah, just a bit disappointing I didn't perform on the night – I mean him. Not the most successful of days, but surely more to come from a man with promise.
Dominic Solanke (5): Struggled, and found himself isolated and ineffective over the 90 minutes (I promise I'm not describing myself here), but no fault of his own, as the Everton centre-backs stuck very tight to the big man. Had a big chance, and with some recent match-time would likely have finished it off, but just reacted as quickly as he could. On another day it goes in. Did his job though, but will have better days ahead.
Sadio Mané (7): Bright, as ever, but his teammates didn't seem to get him the ball enough, and without Firmino and Salah alongside him, the job seemed far harder than it usually is for him. Created a few moves with promise, with three dribbles and a shot, but like the rest of his team, wasn't quite his day. (With all these players "saving" themselves for the City match, we should be in for a hell of a night…)
Subs:
Oxlade-Chamberlain (7): Came on and showed some real promise, as he added speed, energy and direction to the game. Aggressive and forward-thinking, it was good to see Chamberlain embrace the cultural importance of the derby, as he pushed on. After a very attacking start, Everton grew into the game, and he couldn't exert much influence onto it.
Bob Firmino (6): Had a go on the wing, and had to do some defensive work, but we know he plays best down the middle. The referee didn't like his challenges, despite them being as clean as his teeth. Looked fabulous as always.
Trent Alexander-Arnold (6): Didn't do anything, but gets a six because there are spare numbers left over from his rating after City.
Special mentions:
Referee (4): Fraud referee allowed for some dodgy challenges to go by without even pulling out a card. Do yer job properly mate.
Whoever decided to have this game at 12:30 on a Saturday (1): I've managed to get a transcript of the conversation, between two individuals, which led to this scheduling: "Sick idea boiz, let's have both Liverpool n City play on Sat, after they've just played on Wed lololololol" 'Gr8 idea m8, let me just finish hoovering up my curtains first'.
Idiots.
Olli will return with his (more orthodox) ratings soon. Thanks for having me.