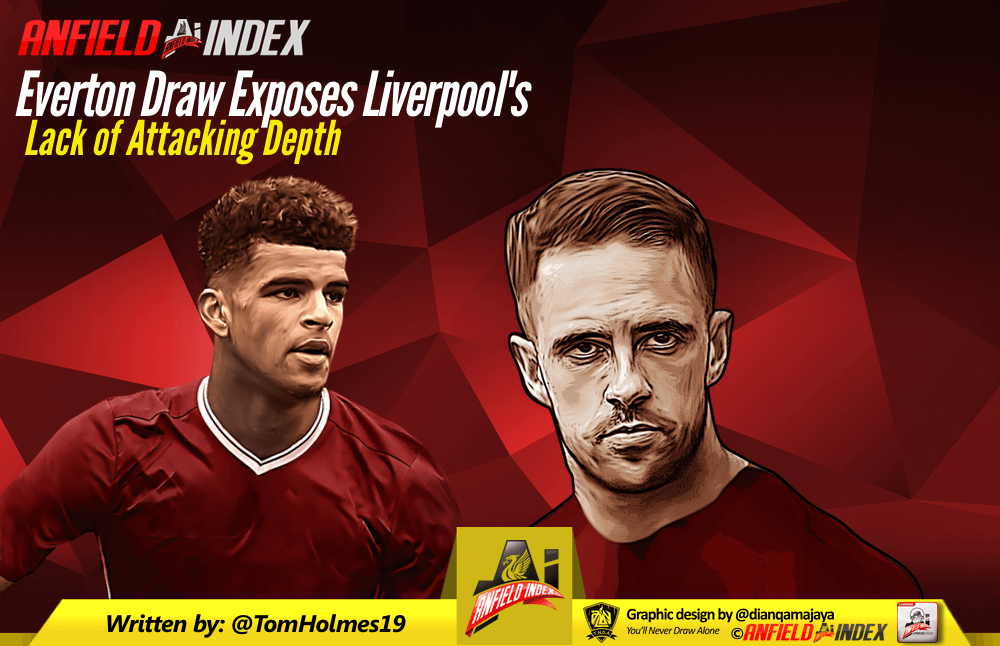 Everton Draw Exposes Liverpool's Lack of Attacking Depth
It doesn't take a rocket scientist to point out that Dom Solanke and Danny Ings are not feasible replacements for Bobby Firmino and Mo Salah. And certainly, this observation has been met with choruses of sarcastic comments, both from within the Liverpool fandom and from wider football circles. But it's nevertheless worth looking at, especially in comparison to Liverpool's Champions League quarter-final opponents.
Whilst Liverpool rested Robertson, Alexander-Arnold, Salah, Firmino and Oxlade-Chamberlain against Everton, Man City allowed Walker, Laporte, De Bruyne and Jesus to be joined by Sergio Aguero on the City bench.
In an attacking sense, we're drawn back to immediate clutch comparisons. With Ilkay Gundogan scoring and impressing in De Bruyne's stead and Bernardo Silva an extremely talented player, not to mention the versatility of Danilo, to a large extent City didn't miss their missing players against United. Obviously they went on to lose the game, but United are one of the best teams in the league and given the chances and bad luck City had, it would be grossly unfair to suggest they lost because of the changes that they made, especially when you consider where the errors were made for United's goals.

Nevertheless, this is an article about Liverpool, and to further illustrate the point, it's once again an uncontroversial statement to point out that Bernardo and Gabriel Jesus are significantly better rotation options than Ings or Solanke.
Liverpool have been hit by a minor injury crisis at the worst possible time in the season. With Gomez, Matip, Can, Moreno and Lallana all missing this in the Merseyside weekend and for both legs against City, Liverpool already look thin on the ground. With Henderson suspended for the second leg against City, the midfield options are Wijnaldum, Milner and Oxlade-Chamberlain, whilst defensively, Liverpool have only Ragnar Klavan and the returning Clyne as back up for their starting back four.
Depth is a tricky issue and one that Liverpool fans have been concerned about all season. You realistically need two quality players for every position on the pitch, and whilst the Reds have decent options in defence and midfield, they need to still buy one or two class additions in those areas.
Nevertheless, we simply don't have any sort of quality depth in the front three. With Salah and Firmino now clocking close to 7000 minutes between them, Liverpool were able to rotate them with Coutinho and Sturridge around to make up the numbers before Christmas. One concern is that we would struggle if something happened to either, but neither is a player overly susceptible to fitness issues, so it was never a concern I shared.
However, Ings and Solanke have now shared over 800 minutes on the pitch without a goal between them, and against Everton, they were given the perfect opportunity to stake their claim, as Klopp rung the changes throughout.
And in many ways, the Everton result was wholly explanatory as to where Liverpool are right now. Shorn of seven probable starters, the Reds looked disjointed, far less than fluid and utterly blunt. In a negative sense, only Milner looked like creating anything, with a couple of decent crosses and one good shot. But when one of his crosses deflected kindly to Solanke, the young English striker continued his wretched run of form in front of goal with another bad miss.
Solanke and Ings both worked hard, but simply put neither was up to scratch. Solanke's finishing for his big chance was the least of Liverpool's problems, as neither created a genuine chance for their side, Ings failed to have a single shot, and Solanke's hold-up play in the second half, in particular, was woeful.
The positives were there too, however. The aforementioned Milner looked good, Wijnaldum looked more than capable of holding his own in the defensive midfield position, and defensively the Reds were largely solid for 80 minutes, with Van Dijk and Lovren doing their jobs again and Loris Karius making a stunning save when called upon. There was no doubt that for the vast majority of the game, Liverpool were the better team, although Everton were nothing special.
0-0 away from home against a rival having missed at least half of your preferred starting eleven and, crucially, your two best attacking players is far from a disgrace. And it fits the pattern of Liverpool performing reasonably well after big European games.
And that's pretty much where Liverpool are as a club. The comparisons to City are clear. Over 90 minutes, on their day, Liverpool are as good as City, and that much is not controversial. However, City are more consistent, as their league position indicates, and part of the reason for that is their rotation options.
The big question that has been hanging over the Liverpool squad this season is whether or not they would be able to compete across multiple fronts with a smallish squad this season and those questions have been largely answered. Liverpool have been found wanting in both domestic cups yet again, but have shown that this team is capable of maintaining a top four fight and a Champions League campaign at the same time. They aren't capable of winning the title yet, but hopefully finishing inside the top four whilst hopefully making at least the semi-finals of the UCL shows a clear progression.
Which brings us back to how Liverpool can close that gap. Both Premier League Merseyside Derbies have been sideshows to the Champions League, and as a result, Liverpool drew both games against a fairly bang average Everton side. If Liverpool had been able to call on an attacking player as good as Bernardo Silva for example, alongside Sadio Mane, they would have had two excellent attackers – more than enough to penetrate a pretty limp Everton defence.
As mentioned at the start, none of this is particularly ground-breaking stuff. But it's always worth reviewing, particularly after a game which starkly contrasted the vibrant attacking quality Liverpool's front three possess, with the limp options that we have in support.
Salah, Firmino and Mane have clocked nearly 10,000 minutes this season, and both Firmino and Salah have started at least 40 games. You would imagine Mane will hit the 40 start mark before the season ends whilst the other two will start 45.
In the midfield, by comparison, we have five players capable of filling the three spots. Can has the most minutes and starts there with he, Wijnaldum and Henderson all clocking 30-35 starts, and between 2500 and 3000 minutes. But Milner and Ox have also accrued significant minutes – averaging about 2000 minutes each and just less than 20 starts.
In defence the balance point is even more finessed, as Moreno, Robertson, Gomez and Trent have all started between 22 and 25 games, clocking between 1900 and 2300 minutes each. With Van Dijk in, Klopp has been able to rotate Matip and Lovren since January, and Klavan has also started 18 games this season, managing over 1500 minutes.
For comparison, Sturridge, Solanke and Ings have made just eleven starts between them, clocking just over 1300 minutes as a trio. So there is a clear disparity between how much Klopp can trust his rotation options in midfield and defence, and how much he can trust them up top.
And as mentioned, part of that is that our front three are also three of the top four or five players in this team anyway, so the disparity isn't just that Solanke and Ings aren't as good but also that the front three are so demonstrably better, but that doesn't change the fact that there is a serious disparity in attack that isn't present anywhere else on the pitch.
This isn't an issue Klopp can solve by simply buying a striker, as many would have him do. Others have written more eloquently than me in various other places that we would be better off buying a versatile wide attacking forward and making our second choice striker Mo Salah. Certainly, this is something I agree with, and as I mentioned above, adding a classy player to our front three against Everton would have made a big difference, whilst still allowing us to rest both Bobby and Mo.
Depth is always a sticky subject, but the fact remains that Liverpool are an attacker light if they want to compete for silverware across multiple fronts, which should ultimately be the aim next season. And games like the Everton game, which the team managed pretty well, are a clear example of where the Reds still have a way to go.