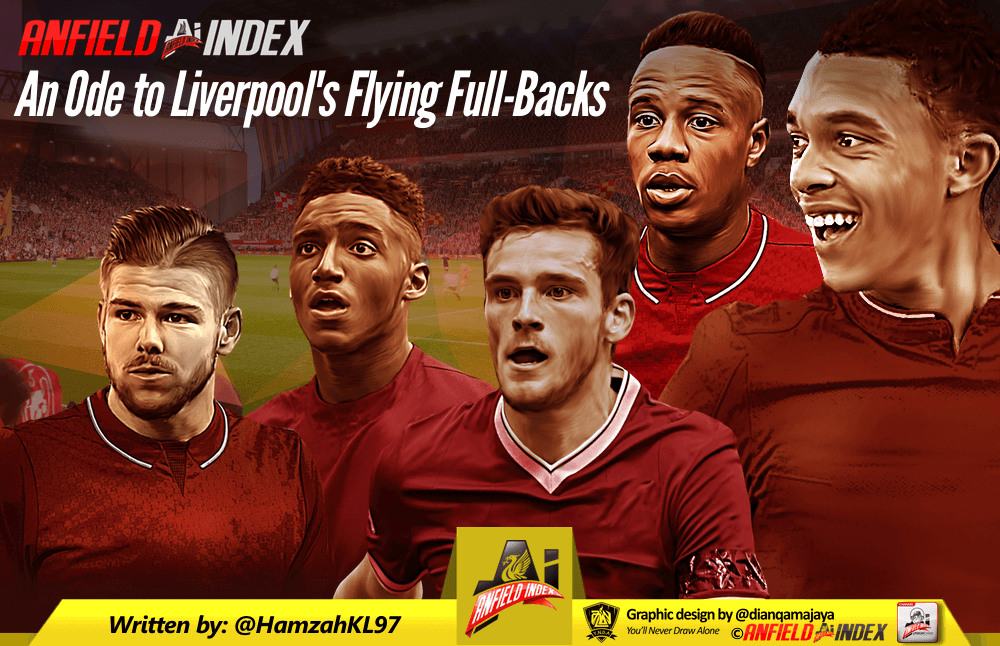 An Ode to Liverpool's Flying Full-Backs
It's been a remarkable season for Liverpool, who are likely to secure consecutive Champions League qualifications since 2007-08/08-09 and have had a fantastic run in the Champions League thus far. Instead of merely consolidating the club's top four position, there have been clear signs of improvement and development across both the club and the squad. Two areas, in particular, have been addressed, to most supporters' surprise, with minimal transfer expenditure: the full-back positions.
After a season on the substitution bench, Alberto Moreno found himself back in the starting XI, where he impressed for months, earning a call-up to the Spain squad. An unfortunate injury cut short the Morenaissance, and former Hull man, Andy Robertson, found himself with the responsibility of the left-back position. Robertson thrived and has excelled since then, with his performances in the Champions League and Premier League fixtures against Manchester City near perfect on both occasions. Suddenly, after fretting for the entirety of last season over the left-back position, when Milner filled in, the left-back position is one of the strongest within the squad, and all it took was a relatively small investment of £10 million, and a pep-talk and some training with Moreno, from Klopp.
On the right side, Liverpool have also found themselves wanting for little. A back injury to Nathaniel Clyne had supporters concerned, but up stepped Joe Gomez, who added resolve and steel to the right-back position in the league, as young Trent Alexander-Arnold  (who, rather depressingly, for me at least, has the twitter handle @trentaa98 – 1998! I still struggle to believe it…) earned his stripes in the Champions League. Trent impressed with his runs forward, pace, fantastic crossing ability, but also with his free kick tekkers, as he struck a beauty in against Hoffenheim which Steven Gerrard would be proud of. Now, we find Liverpool with one player absolutely bursting at the seams with talent and potential, another player with composure, who has plied his trade at left-back, right-back and centre-back, and was stellar in a number of international games, alongside Nathaniel Clyne all vying for the right-back position.

While Gomez may be out for a number of weeks, having both Alexander-Arnold and Clyne is more than ideal in his absence, with Clyne's need to build up match fitness the perfect opportunity to rotate Alexander-Arnold and keep him both focused and fresh when required. For Gomez and Alexander-Arnold though, this season has been a steep learning curve, of which they've both adapted and improved from. The best example of this is Alexander-Arnold's recent second-half performance against Crystal Palace: after struggling against Zaha in the first half, it was clear he was concerned about leaving space in behind and being exposed. In the second half, he appeared to back himself and his abilities far more, as he pushed forward, and put in a strong offensive performance – almost unrecognisable to the troubled player in the first-half. In the following match – against Manchester City in the Champions League, he was up against one of the fastest and skilful wingers in the league. Not only this, but Manchester City clearly targeted the Liverpool right flank as their main attacking channel – Alexander-Arnold was unfazed though, and excelled in keeping Sané to one of his most muted performances in the sky-blue jersey. A man of the match and coming of age performance if there ever was one.
There's more to these full-backs than their immediate qualities though, their influence has had a huge impact on the squad, the team and performances. The full-backs are essential to how Liverpool set up, and are under huge strain to contribute both offensively and defensively – unlike full-backs for other teams in the league, being a Liverpool full-back is not a simple job; the Liverpool full-backs can often be exposed, and are asked to push on immediately after Liverpool counter-press and win the ball back, providing an offensive outlet for the ball. In many other areas of the pitch, such as up front, there's a clear disparity between the type of performance the first choice players give compared to those who are lower down the pecking order – the recent Everton game illustrates this best, with Ings and Solanke – as good as they are – not able to replicate the uniquely brilliant work of both Firmino and Salah. In the full-back department though, Liverpool are blessed with three contenders on the right-side and two on the left, and while each may have their own niche and specialties, they all have maintained a consistent and high level of performances this season – barring Clyne, who has been turning in consistent defensive displays over the course of his Liverpool career.
"The modern full-back" is something we often hear about or referenced, and if we look at Manchester City's success this season, it's clear that a great deal of their success has come from the contribution of their full-backs. Indeed, apart from Ederson, and the full-backs, City's starting XI is largely the same in terms of personnel as the team which finished third last season. Liverpool's full-backs, if they continue to improve, should be a staple part of the team, and a solid foundation to build upon for seasons to come.
Furthermore, there is something warming and refreshing about seeing young full-backs, previously criticised or maligned, prospering and playing with the freedom of confidence, and sometimes we forget this, as we focus on mistakes. But as a fan I could not be prouder of the work our full-backs have done this season, under such huge pressure, as the team has turned from one synonymous with shipping goals, to one with a more than respectable defensive record – and while Van Dijk, and to some extent Karius have received praise for this, I think it's high time players like Robertson and Alexander-Arnold get their fair dues, with Robertson, in particular, a beacon of composure in recent months.
Strength in depth is absolutely essential for sides wishing to challenge for the title, and other competitions, and while Liverpool's squad is thin at the moment, the full-back roster is certainly taken care of, and hopefully – should the players keep improving and impressing – will be taken care of for a good few seasons too. Now the challenge is to have other positions within the squad as competitive, varied and as exciting as the full-backs.
I'm sure there will be more hiccups along the way for our young full-backs, but they've proved over the course of this season that they're fit to wear the shirt and represent the club. Long may it continue!