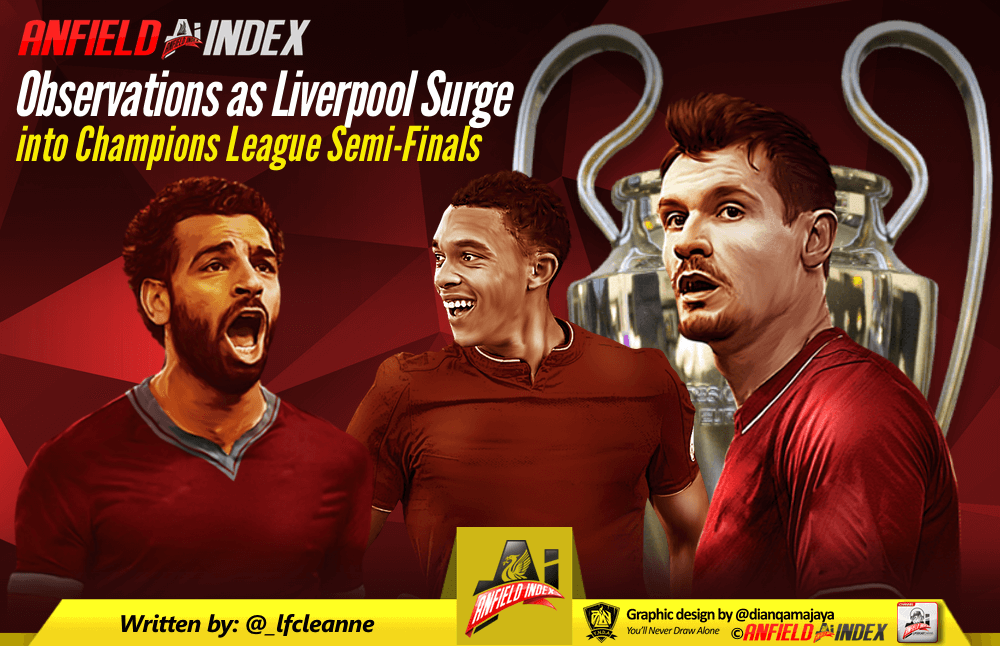 Observations as Liverpool Surge into Champions League Semi-Finals
Liverpool battled from behind at The Etihad to record a 2-1 win in the second-leg of the Champions League quarter-final, taking one step closer to Kiev. A goal inside two minutes set the pulses racing as Manchester City came out all guns play, with Liverpool unable to string any momentum together in an attempt to gain some respite.
There was an element of luck involved in ensuring the score-line remained just 1-0 as Leroy Sane saw his goal wiped out for offside despite the ball taking a deflection off James Milner in the build up. Nonetheless, Liverpool put themselves back together in the second half, showing far more composure in possession and one chance was all Mohamed Salah needed to get the all-important away goal. Roberto Firmino's late finish ensured Liverpool cruised into the semi-finals with a 5-1 aggregate score.
Here are the observations from the match.
Deadly Salah does it again
The game took a very different pattern to the first-leg in which Liverpool had enjoyed so much freedom going forward. Able to roam with the ball without pressure, Mo Salah and co. delivered a monumental performance fuelled by attacking verve and class. The Etihad was very much roles reversed, with Manchester City the dominant force in the opening forty-five. Liverpool's front three were bereft of any real chances; Oxlade-Chamberlain came closest after some positive link up play but a tight angle made it impossible to convert.
Such is the class and quality of Mo Salah though, that he only needed one chance to make his mark. Sadio Mane got into a dangerous position inside the area, with Ederson quick off his line to stifle his shot. Salah was there to pick up the pieces, delivering another sumptuous finish to lob the ball into the back of the net. 39 goals and counting for Liverpool this season, Salah's tally of eight goals in the Champions League makes him the highest scorer in the club's history alongside Bobby Firmino. It was a true reflection of a player on very top form, able to make a crucial contribution to a game that he'd very much been on the periphery of beforehand.
Alexander-Arnold displays his talent on the big stage
At the age of just 19, this kid has some serious talent. You'd have been right to be fearful when Alexander-Arnold picked up an early yellow card, with the right-back up against the in-form and hugely talented Leroy Sane.
Yet, the Scouser retained his composure, delivering another top draw performance fuelled by majority and authority on the very biggest stage. There was no rash, inexperienced tackles flying in that could've seen him make the long walk back to the dressing room, merely an assured ninety minutes of football in which you'd have though Trent was the England right-back rather than Kyle Walker.
Klopp's decision not to bring Clyne into the fray at half-time was a testament in itself of the faith he's got in the young man and this was yet further proof of just what a talent Alexander-Arnold could grow to become.
Marked Improvement from Dejan Lovren
Often ridiculed for some truly brainless moments of madness at the back, Dejan Lovren was very much the opposite at The Etihad. The Croatian delivered an immense performance at the heart of Liverpool's defence, diving in with some crucial interceptions to prevent Manchester City from inflicting further damage in the first-half.
A pivotal flick steered Bernardo's goal-bound effort onto the post before he put his body on the line again to stop Ilkay Gundogan's second-half strike. Lovren receives arguably the least praise amongst Liverpool's players but he was instrumental on a night when Klopp needed him the most – credit is more than due.  Matip's injury will likely see Lovren continue at centre-back for the remainder of the season and there can be no qualms if he continues to put in performances like this.
Liverpool send out signal as karma comes back to bite Coutinho
Ah, karma is a wonderful thing.
As if Liverpool advancing to the semi-final of the Champions League for the first time in 10 years wasn't enough to put a smile on your face, seeing Roma pull off the impossible and condemn Barcelona to defeat surely will. Having left Liverpool in January to pursue his dream in Spain, it was very much the cherry on top of the cake on a night where Coutinho will be left scratching his head as his former-club show no signs of struggling without him.