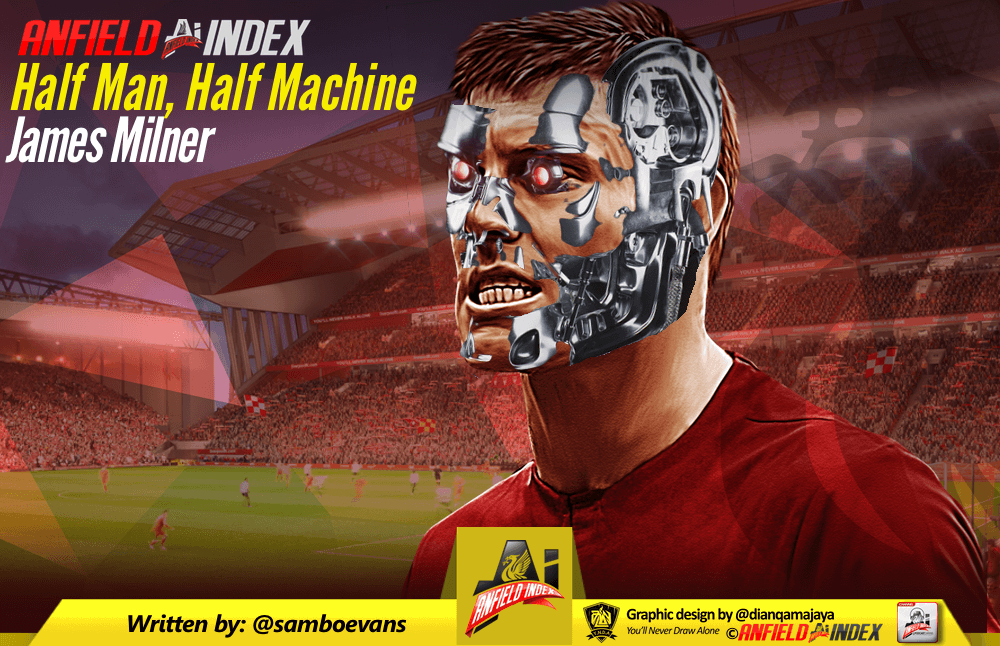 James Milner - Half Man, Half Machine
It's April 5th, 2017. James Milner makes another start in the Liverpool lineup in his unfamiliar left-back role. Liverpool draw 2-2 at home to Bournemouth and everything was a bit flat. Prospects of Milner playing in central midfield in this Liverpool lineup are seemingly nothing but a pipe dream.
Jump forward a little over a year and James Milner is captaining this Liverpool side in the quarter-finals of the Champions League in what, in my opinion, was a man of the match performance.
What a difference a year can make.

Professional to a fault and universally liked, James Milner seems to be one of football's good guys. But due to his professionalism and squeaky clean reputation, James Milner has often been billed as boring. So much so that a spoof Twitter account called @boringmilner was born and became a huge hit with mind-numbingly boring tweets being posted with huge comedy effect.
So it was with great joy that the actual James Milner was welcomed on to Twitter, and his first tweet didn't disappoint:
https://twitter.com/jamesmilner/status/976836610934308866?s=21
Milner showed that he clearly has a great sense of humour, and played along with the caricature that has been created of him in his absence.
https://twitter.com/jamesmilner/status/982644220136738816?s=21
It's this kind of playful nature paired with his unselfish attitude and work ethic that is slowly turning the once unpopular Milner into a bit of a cult hero.
But back on to the pitch, there's no doubt that James Milner does not see himself as a left back. In fact, many media reports suggested that he was promised a central midfield role for the reds when Brendan Rodgers signed him back in 2015. So when Liverpool hit a bit of a crisis at left back last season, huge credit needs to be given to Milner who sacrificed his own ambitions as a midfielder in order to help out the team and fill in at left back for the season.
The problem with Milner's 1-year stint at left-back was that many Liverpool fans were then led to believe that Milner's days as a central midfielder were numbered. Milner was 31 at the start of this season and many people held the belief that he was now too old and immobile to start in the Gegenpressing machine that is Jurgen Klopp's Liverpool FC. How wrong we were.
Despite not being the fastest of midfielders, Milner has displayed extraordinary levels of athleticism and mobility in recent weeks. And there was no better example than his phenomenal display at the Etihad on Tuesday night as illustrated by these tweets from Simon Brundish.
13.5km chasing and harrying that City Midfield.
A true captains effort pic.twitter.com/hsZPioEDla

— SimonBrundish (@SimonBrundish) April 10, 2018
The most by any player in Europe this season https://t.co/xTCbBF9JxM

— SimonBrundish (@SimonBrundish) April 10, 2018
So that's 13.5km ran by the 32-year-old, "has been", immobile James Milner within the 90 minutes. To put that into perspective, Simon commented that it is more than any other player in Europe this season.
To reiterate, James Milner ran more against Manchester City than any other player has in a match in Europe this season. 
Here is the list of the top 5 distances covered per team during the match (courtesy of BT Sport):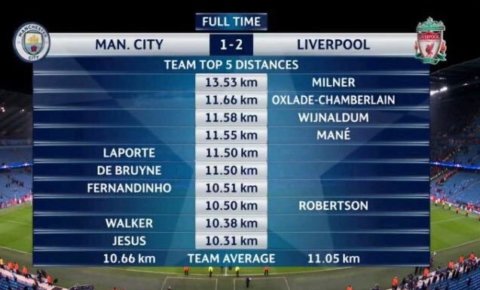 JUST LOOK AT THOSE NUMBERS FROM MILNER!
With those incredible numbers, there's no wonder that Anfield Index's Guy Drinkel often refers to Milner as a cyborg from another dimension!
James Milner ran nearly 2 kilometres more than any other player during the match. Incredible work rate and an astonishing achievement. And in my opinion, it's that work rate from Milner in the middle of the park that was the most vital factor in keeping Manchester City from scoring in the second half.
But this isn't a fluke or a one-off. You only need to look back to the first leg at Anfield where my untrained eye saw a player who was running on empty at the 60-minute mark in that match. Or so I thought. I thought he was surely going to be substituted but Milner's inner cyborg made an appearance yet again in the form of an apparent second wind that defies all logic.
There were over 85 minutes on the clock and there was James Milner, the player furthest forward out of the whole Liverpool lineup, pressing the Manchester City centre-backs in their own half, determined not to let them have any chance to score that crucial away goal.
It's safe to say that James Milner was almost universally underestimated at the start of this season. Written off as a mere squad player in a season where pace and physicality are deemed a necessity in this Liverpool midfield.
But every successful team needs some experienced players in their ranks. They need their Gary McAllister. The player who has all of the experience and nous required to manage matches when things aren't going your way. Since the turn of the year, Milner has proven that he is the player that this Liverpool team have been looking for when the team is under the cosh. A true captain.
In the AI Extra post-match podcast, I mentioned that my brother Joe had turned to me and said: "I can't believe I'm saying this, but James Milner is becoming undroppable." 
There is no doubt that during the two legs of the Champions League semi-finals there are going to be periods in the matches where things aren't going Liverpool's way. It's at those times that the Liverpool players are going to need to turn to a man with experience. To encourage them and tell them to keep a cool head. To lead by example by putting in an incredible amount of work rate when their body feels like giving up. A man that will never give up.
If recent evidence is anything to go by, that man is James Milner.