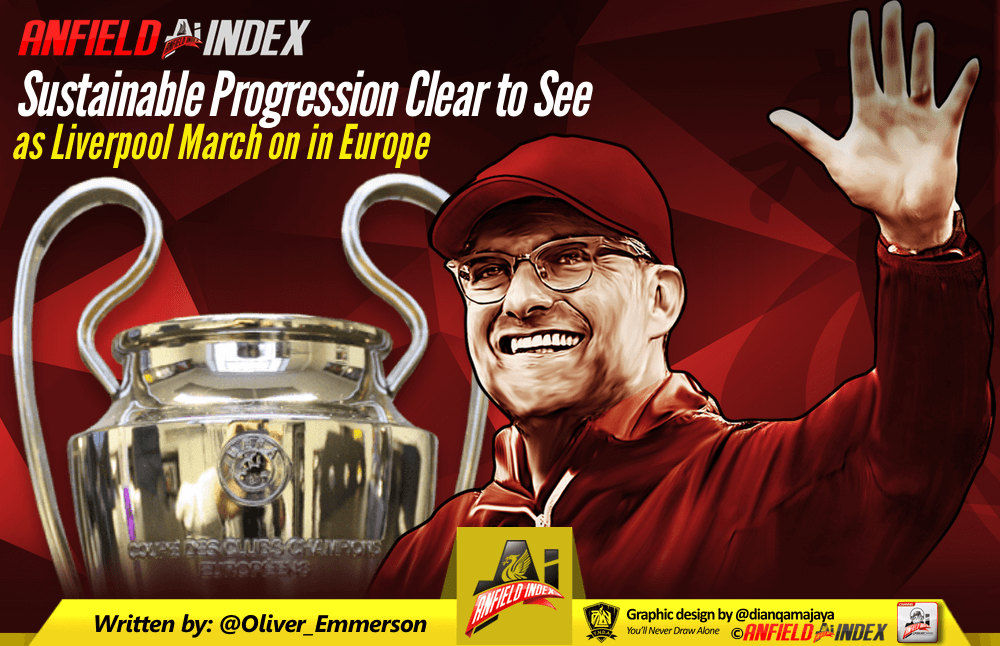 Sustainable Progression Clear to See as Liverpool March on in Europe
After the resounding, comprehensive display that was Liverpool's scorching 5-1 aggregate win over Manchester City, it seems unfair to spend my time talking about 'sustainability' and 'mature growth', but I'm going to anyway.
You'll hear and read many impressive things in the coming days, weeks, months and perhaps even years about the tie, but what it showed me was that Liverpool's natural progression under Jurgen Klopp is under no signs of slowing down.
The Reds have seen too often in recent years the perils of significant high's being followed by equally significant lows.

Just 406 days separated Liverpool's enthralling 3-2 win over City in 2013-14 and the 6-1 thumping away at Stoke that condemned the Reds to a sixth-place finish and began placing nails in the coffin of Brendan Rodgers' Liverpool tenure.
After an inconsistent but promising 2012-13 season under Rodgers, Liverpool peaked too soon.
Fast forward a few years, and there may be questions over whether Jurgen Klopp could suffer a similar fate if his Liverpool side achieves the unthinkable and win the Champions League this season.
Reds fans shouldn't worry. What Liverpool are doing in Europe this season is unexpected, but placed into the bigger picture it's all part of a constant stream of upwards trajectory under a German manager just two and a half years into his seven-year plan.
Liverpool are on track to better their points tally from last season, just about. That's impressive enough given the minimal spend last summer but made even more impressive by the added factor of Champions League football – and how well the Reds are doing in Europe.
It took a huge strain on the playing squad to make the top four last season, Liverpool taking until the final day of the season despite having no European distractions.
After the mammoth effort that was 2016-17, the majority of Reds fans would have settled for another top-four finish combined with getting out of the group stage in Europe this season. Liverpool are surpassing those objectives, and are on track to easily produce their best season under Klopp yet, the table below showing year-on-year improvement.
 Season
 League points
 League finish
 European achievements
 Domestic cups
 2015/16
 60
 8th
 Europa League runner-up
 

Capital One Cup runner-up

 2016/17
 76
 4th
 N/A
 Capital One Cup last four

 2017/18

 77 (PPG)

 3rd (expected)

 Champions League last four

 FA Cup fourth round
The worry in 2013-14 was that Liverpool were only going to ever be that good under Rodgers, some suggested that once Suarez left the ship would sink and they were proved right.
This Liverpool side aren't a one-man team, but even if main star man Mohamed Salah was to leave, Klopp is the best manager in the world at dealing with a key figure leaving. Most recently, you can look at Philippe Coutinho's departure but even before that he won the league after selling Nuri Sahin and reached the Champions League final after parting company with Shinji Kagawa.
Adding to consistent progression, just three starters in Tuesday's victory at the Etihad were in the first team squad before Klopp came (Firmino, Milner, Lovren).
The beauty of that is that Klopp hasn't thrown money around trying to plug every leak and paper over every crack at once. Of the other eight starters on Tuesday, Gini Wijnaldum, Loris Karius and Sadio Mane all arrived in the summer of 2016. Salah, Andy Robertson and Alex Oxlade-Chamberlain came in summer 2017, whilst Virgil van Dijk arrived in January. Trent Arnold has come through the academy.
Klopp isn't rushing to find the quickest way to achieve something, he's trying to put Liverpool in a position to achieve long-term success. That involves systematically analysing problems, identifying targets and waiting in a patient manner to secure those targets.
Such practise will surely be followed this summer, the 50-year-old (how is he that young?) boss is looking to secure a few more pieces on the path to a perfect Liverpool side.
My bet is Liverpool improving next season, at least league-wise. A higher finish, a higher points tally. More good signings, maybe even some more fun in the cups.
I'd bet on the Reds doing the same the following year.
And the year after.
And then once again the year after.
Liverpool are making us dream and doing sensational things right now, but it's important to take a step back and look at how all of his is impacting the future as well as the present. Year-on-year sustainability of progression, progression that I for one can't wait to witness.