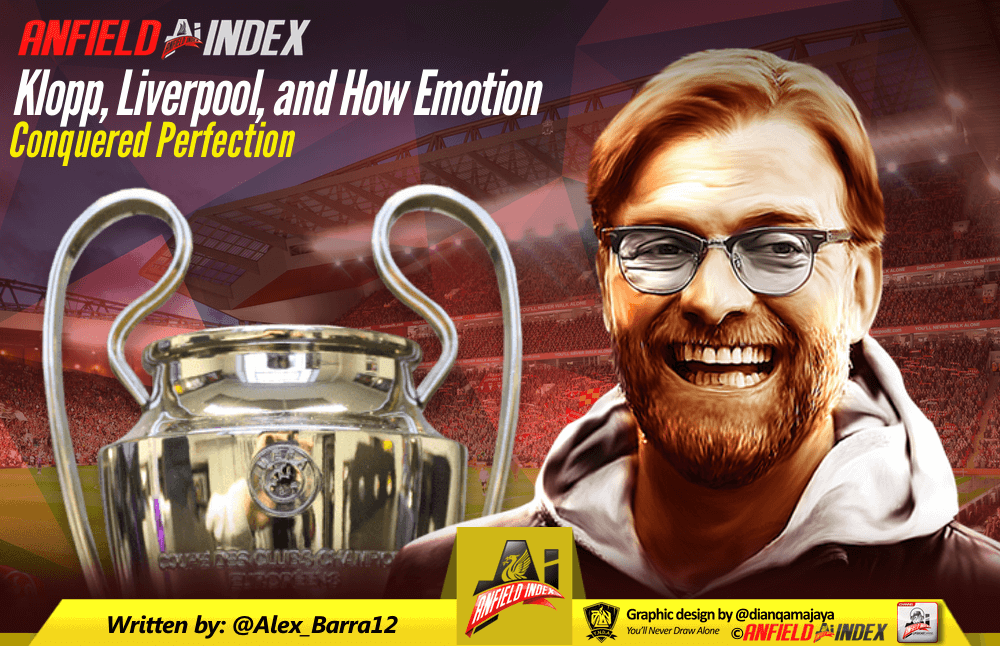 Klopp, Liverpool, and How Emotion Conquered Perfection
Ah, the word "passion."
Somewhat overused in the day and age of exposition, Liverpool Football Club has something of a connection to the idea of pure, unadulterated passion in the vast landscape that is football. Everything is magnified tenfold, because of its relation to everything else in the football sphere.
So, when people marry the word "passion" with Liverpool; the fabled atmosphere, the manager, what are they actually saying? What use is passion, really, in a game so dominated by analytics and data, constantly waging battles of tactical attrition on battlefields where everything has been thought out, postulated, and enacted via well-made plans?

Yet, (to paraphrase Robert Burns) the best-made plans of mice and men often go awry.
Why, then, does football countenance all the perfectionism of Pep Guardiola, all the financial mega-might of Manchester United, all the prestige of Barcelona? Put simply, because football is still a game based on a bunch of people kicking a round thing into a rectangular net. Football is a game built on the emotion of historic nights, of iconic players with iconic moments. Everything worth remembering from football contains emotion.
Liverpool's victory over Manchester City embodied not only the truth that emotion is an ever-present in football, but also another truth.
Emotion can be weaponised.
Jürgen Klopp is a man described as possessing "great emotions" on the sideline by former Mainz General Manager Christian Heidel. It's only fitting that a man renowned for his passion on the touchline, both positively and negatively, would be able to create a football team that could embrace emotion like Liverpool did against the behemoth of City.
Manchester City's bus was shelled from all sides by a vehement Liverpool faithful. Red smoke covered the horizon as the anticipation of the clash between Premier League heavyweights reached its climax. Before City's players even stepped out onto the pitch, they knew they were in an unfamiliar place facing up to an unfamiliar enemy. Sure, the Anfield crowd had seen Liverpool triumph in the Premier League only months prior, and even further back Manchester City had disposed of a ten-man Liverpool when the Anfield crowd was no longer a factor.
But this wasn't just "the Anfield crowd." This was the entire history of Liverpool Football Club, this was Istanbul and St. Etienne, this was the chant of "Allez Allez Allez" trapping Manchester City in the middle of a thunderstorm.
Then, came the games themselves. Frenetic, disconcerting pace and chaos confronted the meticulously calculated, controlled perfection. Manchester City were, and are, a better footballing team than Liverpool, given their dominance of the Premier League. But Klopp's men refused to let that be a factor.
This was Jürgen Klopp and his weaponised passion needing only one opening to begin the anarchy.
It should be no surprise that Liverpool's three goals came within the space of nineteen minutes. Chaos renders order obsolete until control can be established again: and when Mohamed Salah sent the entirety of Anfield into raptures on the twelfth minute, City could do nothing to defend the tsunami of emotion that drove Liverpool onto their second and third.
Then there was the apprehension, the feeling of deep longing from every Liverpool fan as the second leg beckoned. There was the sinking feeling when Gabriel Jesus' shot bulged in the Manchester City net, and suddenly controlled perfection was making its claim for supremacy.
Yet, perfection didn't win out. Football proved that the concoction of luck, skill, and emotion is yet to be truly trumped by an age of highly intelligent analysis, countless statistics and intricate tactics. There was a reminder from a fiery German that despite Manchester City's dominance in the Premier League, football matches are subject to the whim of more than well-made plans.
"The last situation in the first half was how you do the counter-attack and that's how we scored the two goals. It's not about perfection it's about the result, the character, the mentality, really fighting for the result. We defended well, it's not our best game but we deserved it at the end." Klopp told press regarding his side's incredible result.
Where the emotion was once tension and fragility in big games (even the earlier fixture against Manchester City at Anfield saw Liverpool dangerously close to falling short) it was now resolve, a refusal to allow City through. Combined with luck and the constant threat of chaos rearing its head once more on the counter-attack, emotion once again ruled the day.
There was jubilation, as the fans celebrated the Liverpool way; inspired by a manager who can channel the wild emotions of a historically charged football club and harness it in occasions such as these.
"If you've worked in Mainz before, then in Dortmund, then maybe Liverpool is the only club left to coach," Christian Heidel told LFCTV in an interview prior to Klopp's first game at Liverpool's helm, back in 2015.
"There are many, many great emotions, that's what Kloppo needs and I think that's part of the reason he chose to go there."
As Liverpool become one of the four best teams in Europe, having created another lasting memory in the vast realm of Liverpool Football Club history, it's clear that those many great emotions are part of the fabric of Liverpool's identity. And that fabric can be weaponised.