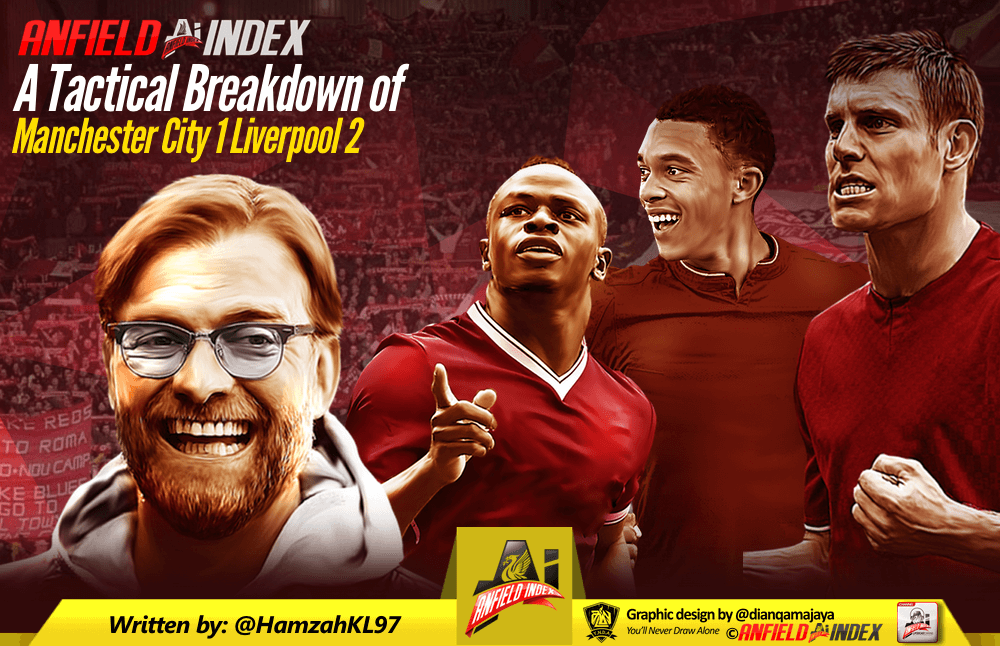 Manchester City 1-2 Liverpool (1-5): A Tactical Breakdown

When Liverpool lost 5-0 at the Etihad earlier this season, I mentioned in my breakdown that typing in the scoreline just felt wrong, but there is something immensely gratifying about typing out the aggregate scoreline for the Champions League tie: 5-1. I might even do it again. 5-1. Lovely.
Anyway, there are five minutes until kick-off, and I'm desperately searching through Twitter. Pep has named two wingers, three attacking midfielders, one full-back, two centre-backs, a striker, a defensive midfielder and his goalkeeper. Does anyone know what City are doing though?
"4-3-3"
"3-1-4-2"
"3-2-4-1"
"Formations don't matter!"
Tweets whizz away under my scrolling thumb. I guess we'll find out, I say to myself…
My pre-match 4-0 thrashing prediction & confidence melts away, as I try to change my Super 6. Quickly, I change it to 4-1. Sterling might score, I think. Agüero might come on. Dread drains the blood from my face. A thought of 4-2 crosses my mind. Back the boys, I tell myself. 4-1 confirmed. I feel sick at this point. It feels like a final.
The whistle blows. Straight out of the traps, and it's clear, City are pressing, aggressively and high. Sterling closes down Van Dijk after Karius throws the ball to him, and as Sterling runs in, he approaches at such an angle that he reduces the options for Van Dijk. He opts to clear – Sterling leaves a bit on him, and knocks him off the pitch, City intercept the ball, in midfield, it's sent forward immediately, Sterling passes it across, Jesus strokes it home.
So that's how it feels … City have Liverpool'd Liverpool.
Within minutes, it's clear what City were doing. As per a Pep Guardiola system, the wingers were high and wide and fixed within the final third – nothing new for them. However, this time, Sané is on the left, but Bernardo Silva is on the right, with Sterling supporting Jesus centrally. Behind him were De Brunye and Silva. When City were in possession, Fernandinho was playing as the deepest midfielder, however, when out of possession, Fernandinho was filling in as a left-back. When in possession then, City had a 3-4-3 diamond formation, which eventually developed into a 3-1-6 as City ramped up the pressure.
If City are going with a 3-4-3, I imagine the wingers will be pinned up high as usual, and that KDB, Silva & Bernardo will all be targeting half-spaces, i.e. LB-CB CB-CB & RB-CB for both passes & runs. Massive overload potential. Huge spaces in behind though, outside of City CBs.

— Hamzah (@HamzahKL97) April 10, 2018
As City took their goal kicks, it's clear what was going on. To avoid Liverpool's high-press disrupting City's play, Guardiola brought both De Brunye and Fernandinho back into short-passing positions for goal kicks. With Ederson, Otamendi, Walker, Laporte, plus De Brunye and Fernandinho, City had a 6 vs. 3 situation at the back. Meaning they were able to play through the first pressing line. Usually, in such a situation, Oxlade-Chamberlain and Milner would step up, to help cover those passing lanes, closing spaces down and adding on-ball pressure. However, the presence of Silva pinned back Oxlade-Chamberlain, whilst Sterling was doing likewise to Milner – if either of the Liverpool eights decided to move forward and assist in the press, they would be leaving key opposition players free, to create overloads (i.e. 2 vs. 1 situations) out wide.
Over the course of the first-half, we saw Oxlade-Chamberlain in particular struggle with marking Silva, as he ran, passed and operated between Alexander-Arnold and Lovren, on the right-side. The players were caught in a question of how to press and cover spaces simultaneously, and seemingly did not have an answer, as City's positional play overwhelmed them. And whilst it was not a total onslaught, in which City tore Liverpool's defence apart, their dominance with the ball outside the box was clear to see, as well as their immediate pressure on Liverpool when they wrested the ball back. Mané, Salah and Firmino though were unsure of how to approach pressing though, aware that with 6 opposition players around them, City could play past them with ease, and the opportunities to gang-up and isolate an individual would be far harder.
Liverpool, in the other half of the pitch, meanwhile, were, in Klopp's words, "not playing football". Each time Liverpool managed to seize the ball from City, in the first-half, the first instinct was to attempt a through-ball in behind – towards Salah.
Salah found himself sandwiched in those instances, as two centre-backs would squeeze in, on either side of him. Ederson's high starting position, and willingness to come out also may have impacted upon the type of passes Liverpool were trying to play in behind, as they often sought to target wide channels for those passes – but that is also very much a result of the lack of cover there from City, as their only wide players – Sané and Bernardo Silva – were committed to solely playing offensively. This gave Liverpool the incentive they needed, and though the team was clearly aware of City's strengths, and also their weaknesses – very few centre-backs in the world are comfortable in one-on-one situations with fast wingers, let alone when covering an entire half-pitch, and that's without even considering the individual qualities of Mané and Salah, two of the best in the world in one-on-one situations. As Sané and Bernardo Silva were rigid in their positions, that meant there would be little to no cover for the City centre-backs on the counter, and they could be exposed with the right pass, or break.
Liverpool tried to force this situation but lacked the composure in the first-half to transition into an offensive setup before playing the pass. Often, Liverpool would win the ball back, near the edge of the box, bring it forward, looking for Salah, and then play the pass, without waiting for Firmino or Mané to run in support and stretch the City defence – as they would do in the second-half. Wijnaldum would often show for the ball, and call for it, but in their haste and nervousness, the Liverpool players were looking forward, and trying to relieve as much pressure as they could, as fast as possible, rather than waiting for the opportune moment, and occupying key midfield positions to retain the ball and advance the team.
It's telling that Liverpool's longest period of possession led to a goal, and we can see the merits of just holding the ball a little longer, for the team to get into an attacking position for Oxlade-Chamberlain's chance at the end of the first-half, in which both Salah and Firmino were involved too. Wijnaldum's involvement in Salah;'s goal is key too, as he retains the ball under pressure – with three City players in close proximity to him before he releases the ball into Oxlade-Chamberlain: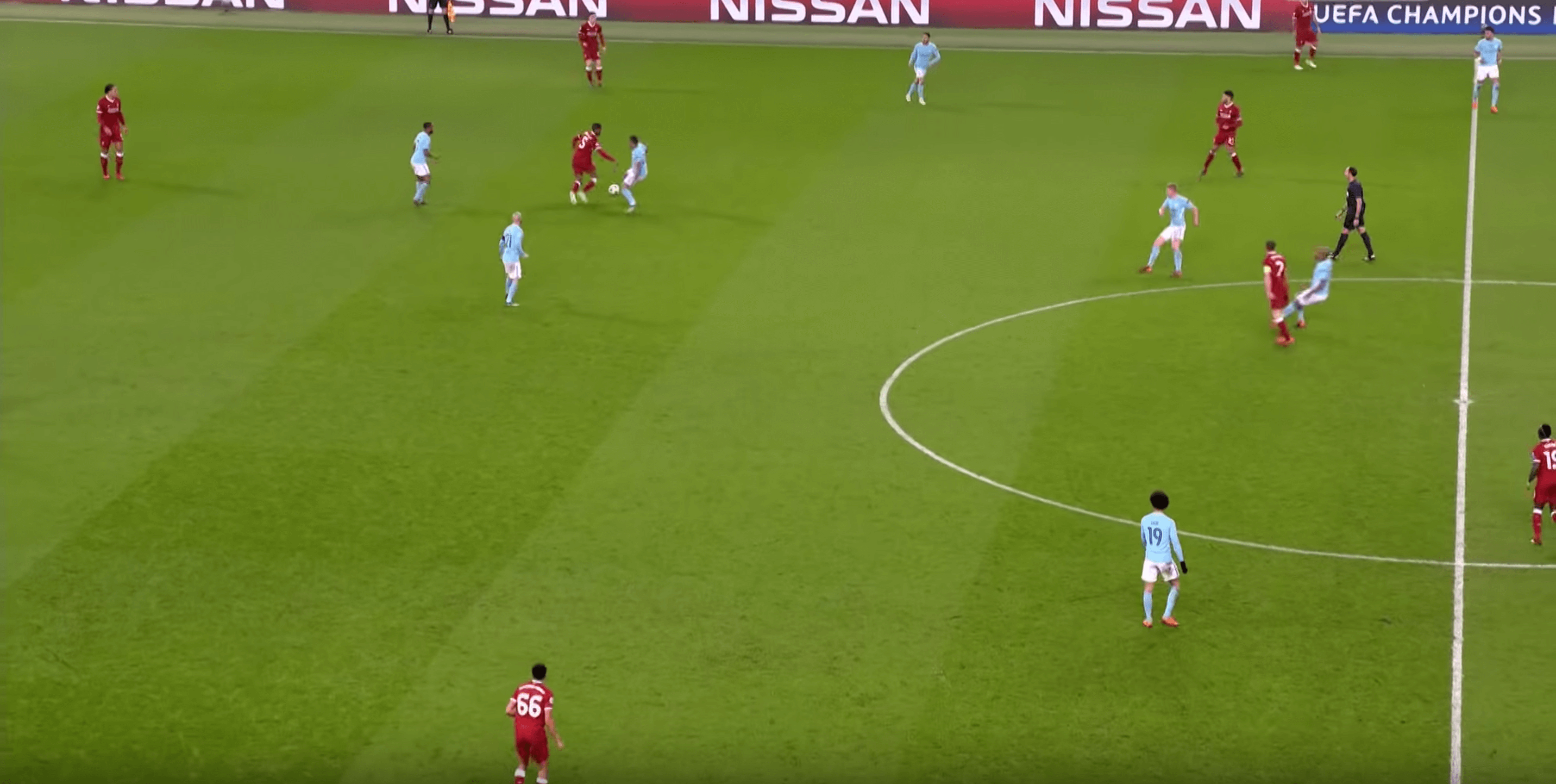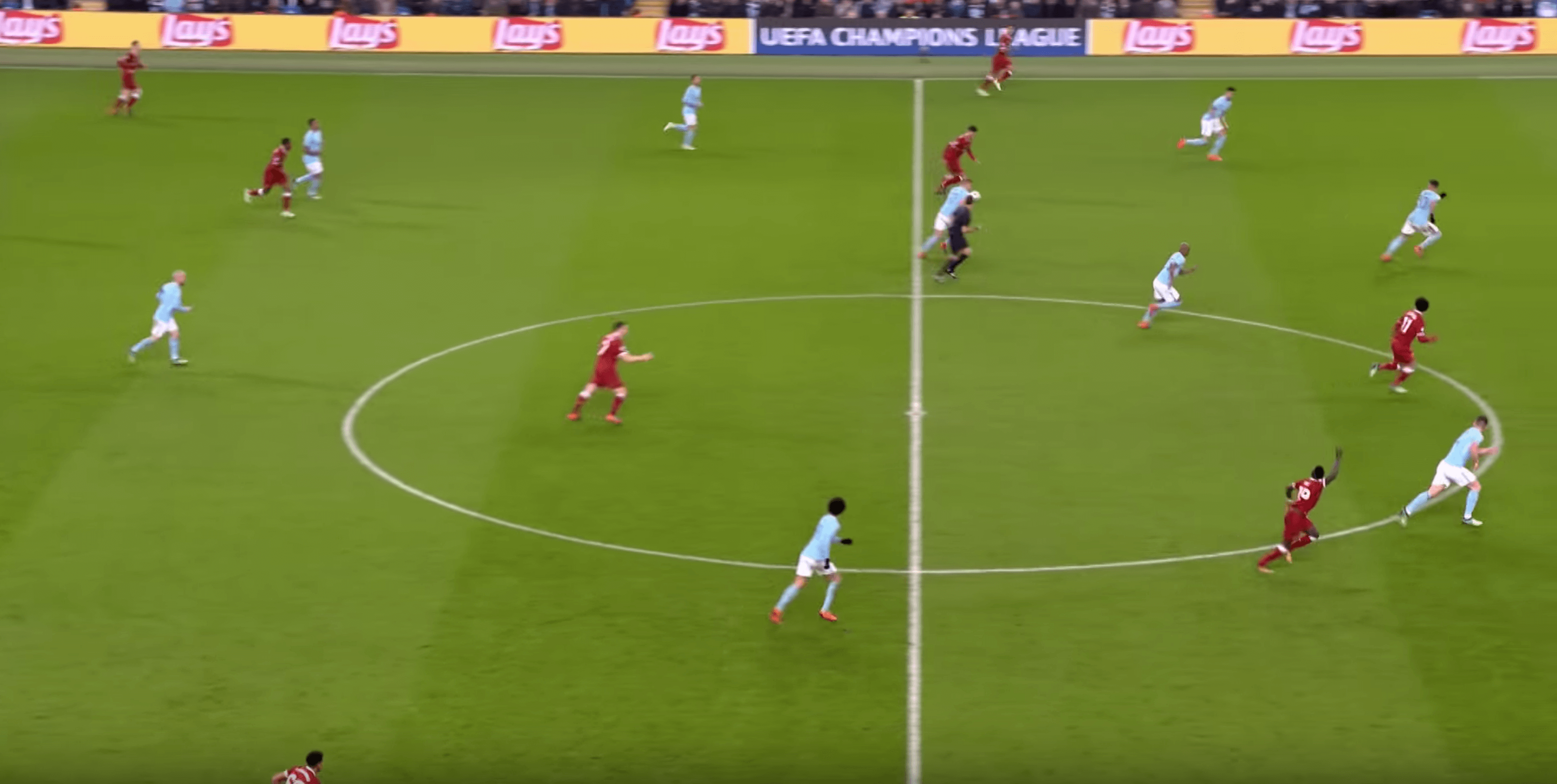 Oxlade-Chamberlain's quick release takes advantage of Salah's and Mané's runs. Salah attracts Fernandinho and Otamendi, allowing Mané to run on the outside channel of Laporte, where he can challenge him one-on-one.
Mané skins Laporte with a nutmeg before Fernandinho bundles him over. Exposing and exploiting spaces vacated in-behind was the gameplan from Klopp though, as it was clear City were going to commit to playing extremely offensively. Liverpool just needed to wait for their moment and take it.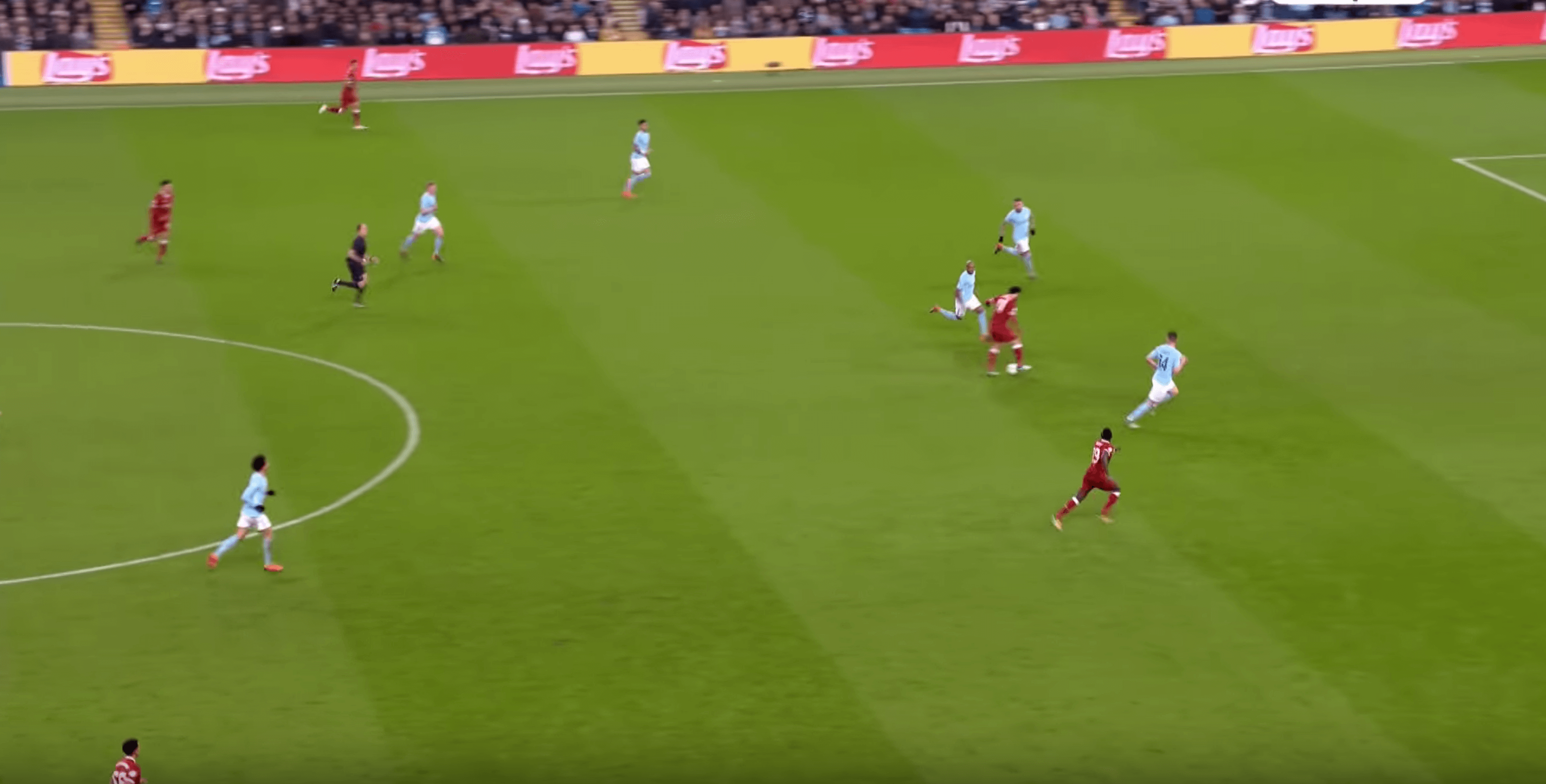 Much of Liverpool's issues in the first-half though stem from their own positioning. Playing a high-line against pacy players such as Sané, Sterling and Jesus is obviously risky but even riskier is dropping deep against a team as potent as City are with close, fast possessional play. Both Klopp and Lovren highlighted this issue after the match, but it was clear to see during the game, as almost the entire City team advanced, with Fernandinho positioned on the edge of the Liverpool area. In fairness, we should credit City for forcing Liverpool back. David Silva's positioning between Sané and Jesus forced Oxlade-Chamberlain to drop, and Alexander-Arnold had to do so as well, as he attempted to stay with Sané – the most advanced in terms of average positions of City players.

Manchester City (left/orange), Liverpool (right/blue)


It was clear this left channel was City's favoured side, and Liverpool changed to their normal off-ball 4-5-1 formation, but Mané positioned himself on the right-side, perhaps in an attempt to lend some additional support to Oxlade-Chamberlain and Alexander-Arnold, as Firmino filled in on the left side.
In most games, Liverpool attack centrally, and funnel their attacks – this is true for the vast majority of games this season. However, both the first and second-legs of this Champions League tie saw Liverpool focus their attacks out wide, targeting the outside channel of the centre-backs, who were pressed relentlessly at Anfield, and counter-attacked clinically on Tuesday night.
Fernandinho raised an interesting point in his pre-match presser, about Liverpool "long-balls", and while Liverpool attempted nothing like Wigan in the FA Cup against City (almost a third of all Wigan's passes were long balls), there certainly was a concerted attempt to play more long passes than usual: of Liverpool's 319 total passes, 70 were classed as "long", which translates to 21.9pc of all passes being "long".
These "long" balls often present an opportunity to counter-press, on the "second-ball", and this was likely the reasoning behind this higher proportion of "long" passes. But Liverpool's finest pressing moment came with Firmino's goal – Liverpool's fifth – as he boxed in Otamendi: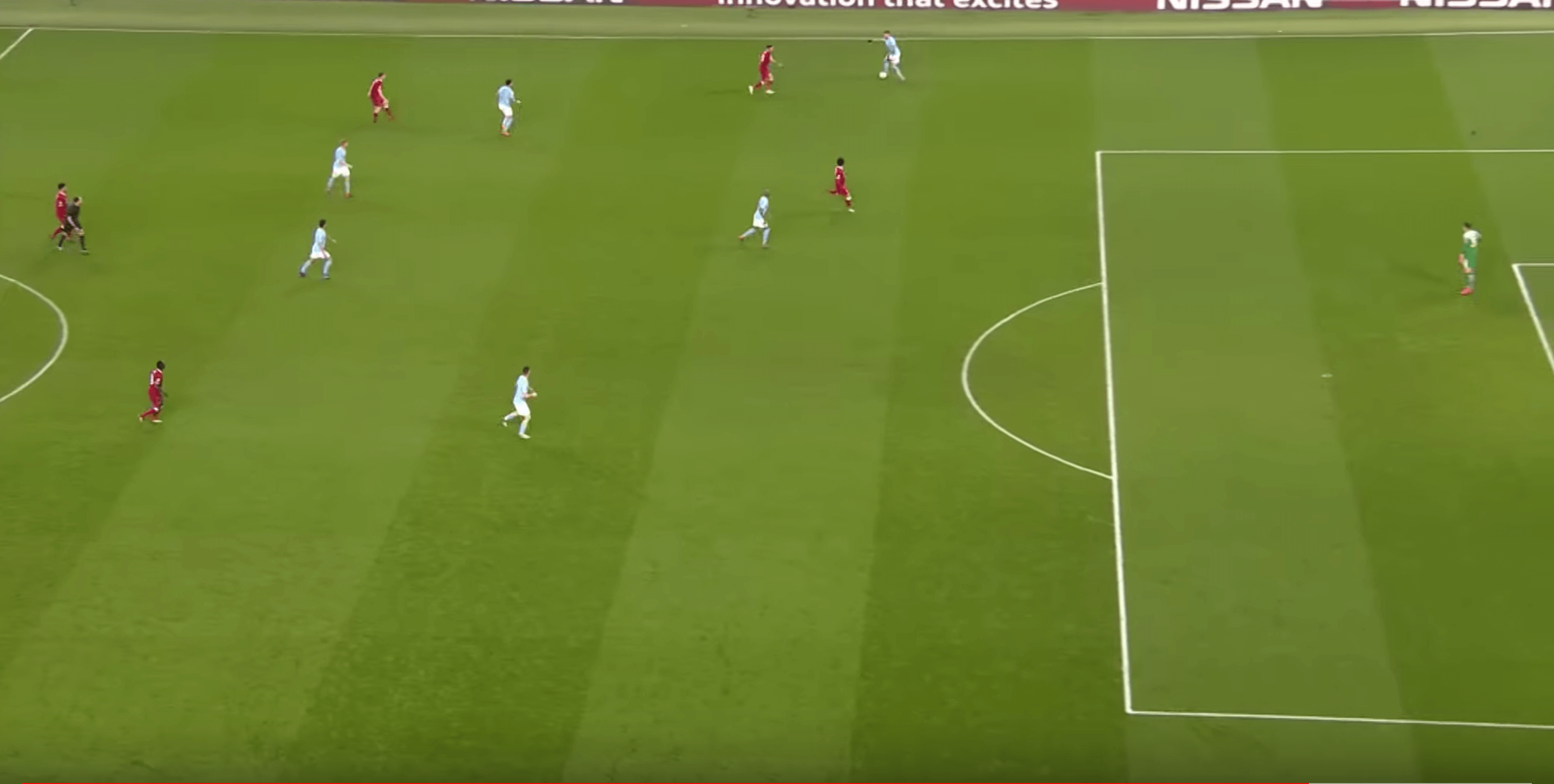 Mané, over the game, was a menace. Unrelenting in his work going both forward and back, he made the most dribbles of any player in the game – 7. This huge effort from him was pivotal in the game, and it seems as if he's saving his very best for the Champions League.
Mane played 3 positions
Had the most touches
Most dribbles
11.6km
Phenomenal effort

— SimonBrundish (@SimonBrundish) April 10, 2018
Milner though was nothing short of monumental, with his contribution in terms of ground covered, the most of any player in Europe:
13.5km chasing and harrying that City Midfield.
A true captains effort pic.twitter.com/hsZPioEDla

— SimonBrundish (@SimonBrundish) April 10, 2018
But we cannot go without mentioning the work of the defence. Resolute, and largely without error, the back four stood strong, with Lovren and Van Dijk both putting in world-class performances on the night, as they covered space and a number of players with little drama. On the ball, both were composed, but crucially, they restricted space for the central forwards, Sterling and Jesus, as City struggled to get shots off inside the area, testament to Liverpool's back four. Admittedly, Liverpool may have had the offside decision go another way, but restricting City to shots from outside the area, and having Karius generally untroubled against such a potent attacking side is a remarkable feat, which should be applauded. So too the contribution of Robertson, whose work on the left-side should not go amiss.
Lost track of the number of times Klopp mentioned "being compact" in his post match.
For me that was as much about the defensive line being too deep 1st half. Needed to push up 10-15 metres.

— Dan Kennett (@DanKennett) April 10, 2018
The gaps which City exposed in the first-half, were broadly addressed in the second, with Sané and David Silva enjoying far less freedom, and opportunities to attack gaps. Most importantly though, what we saw was a development of the team. So often, especially over the past two-three seasons, we've criticised the team for lacking a winning mentality. For cracking when the pressure was on (see Sevilla – Europa and Champions League, Bournemouth, Arsenal etc.), however, this game was a real coming of age for the team, as they showed resilience and character aplenty. Finally, we're seeing perhaps the most important aspect of Klopp's management coming to the fore – a shift in mentality, something that can only come with time, confidence and trust. It's extremely pleasing to see that, and very much a sign that the team and club are heading in the right direction.
Not only did Liverpool go through, they beat City away from home. And this was after conceding first, at the worst possible time. A team with a history of imploding and mental fragility, now showing resilience. We're now seeing those long-term objectives of Klopp coming into play

— Hamzah (@HamzahKL97) April 10, 2018
It's hard to sum up the game without reading my praises out for each individual player. But, that's already been done on AI, and across the media, so it's up to us to give credit to the management team, for somehow finding a way to outmanoeuvre, outplay and out-tactic (that's an Allardyce-ism) Manchester City. It was a pleasure to watch both legs from a footballing point of view, and in some ways an education too. I look forward a great deal to see what Klopp and his team can pull off next, in the semi-finals.
Allez Allez Allez!