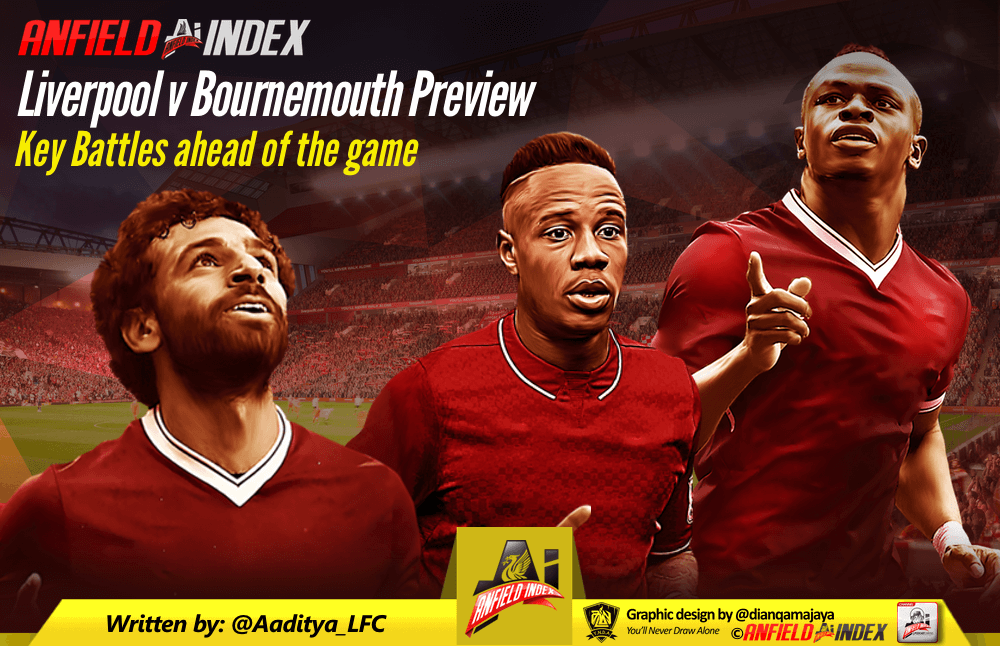 Liverpool v Bournemouth Preview - Key Battles
A UEFA Champions League semi-final spot has been sealed, but there is no time for Liverpool to rest on their laurels. The Reds welcome Bournemouth to Anfield for the late kickoff on Saturday, as they look to strengthen their grip on a place inside the Premier League's top 4.
The Cherries have drawn their last two games 2-2, with a last-gasp Joshua King goal giving them a share of the spoils against Crystal Palace in their last outing.
Liverpool didn't beat Bournemouth in both their meetings last season, but put them to the sword in the reverse fixture this season, at the Vitality Stadium, romping to a 4-0 victory.

The romp that day was orchestrated by a little magician that Anfield has forgotten about. Phil Coutinho ran Eddie Howe's side ragged on that December evening, and the Cherries will be relieved to not have to deal with him. But they will have to deal with a Liverpool side that has looked rejuvenated and steely post the Brazilian's departure.
It is a Liverpool side that is brimming with confidence after a stunning performance over the two legs against Manchester City in the Champions League quarter-final.
Here are the key individual duels that could decide the outcome of this game.
Mohamed Salah v Charlie Daniels
Does anyone in the world want to be Charlie Daniels on Saturday? No. That is the easy answer. Why?
Well, Salah hasn't taken to the Anfield pitch and not scored since Boxing Day. That is outrageous. The King of Egypt got himself his 39th goal in his 44th appearance of the season at the Etihad on Tuesday, and there are no signs of him stopping any time soon.
The job description for Daniels is simple. Do not allow Salah a sight of goal. But a statement like that is easier put in words than executed on the pitch.
For now, Salah seems to have a sixth sense that allows him to be in positions from where he can put the ball in the back of the net. So, for Daniels, it is not just about dealing with the raw pace and movement that Salah provides to the Reds, but also the way he always is in a position from where he can threaten the defenders.
Sample that goal on Tuesday for example. Manchester City thought they had dealt with the danger after Ederson had come out and smothered Sadio Mane's run on their goal, but the ball fell invitingly to Salah, who took it on his left foot and sounded the death knell for the Cityzens.
It is that intelligence of picking up positions that Daniels will have to be wary about. Of course, there is the small matter of having to stop Salah bursting away on the counter-attack. Good luck, Charlie, not many inside Anfield are going to be rooting for you.
Nathaniel Clyne v Junior Stanislas
Junior Stanislas is the man in form for the Cherries. He has more shots on target this season than any other Bournemouth player.
It was his late free-kick that earned Bournemouth their last win against West Brom, before the international break.
For Liverpool, it is once again likely that Clyne continues his comeback after a long-term absence with Trent Alexander-Arnold being given a rest after his heroics over the two legs against City.
Trent has faced problems recently with both Wilfried Zaha and Marcus Rashford – right-footed players who cut inside from the left flank, as opposed to Leroy Sane, whose main role was to provide the width and stretch the play during City's attacks.
Stanislas is someone who will do just that, so it might be nice that Trent takes a rest for this one. But with his confidence having been done so much good with those two City games, he would want to play every game.
But it must be remembered that he is only 19, and his workload will still need management.
Clyne had an easy initiation back against Everton last week, with hardly any pressure being put on him while in possession, and not having much to do in a defensive sense.
For Clyne, it is another opportunity to showcase to Gareth Southgate that is still isn't too late for him to stake a claim to be on the place to Russia.
Sadio Mane v Simon Francis
Mane has divided opinion among the Liverpool faithful this season, but unobjectively, one must say that he is still having a tremendous impact on the way the Reds play.
Salah has got the goals, Firmino takes the credit for his work-rate and creativity, but Mane has his part to play.
He is still getting into those attacking positions, creating the space for Salah, creating the goals for Salah, and scoring a fair few himself too.
For Francis, the challenge will be to prevent Mane from drifting infield. The farther away Mane is from the central areas of the pitch, the less likely he is to link up with Firmino or Salah and cause problems to Bournemouth.
Mane will do exactly that. He will know that either of Andy Robertson or Alberto Moreno will keep bombing forward to keep the width on the left flank, meaning he can drift into the space in the central areas, and affect things more.
Also, as the game at the Etihad Stadium showed, the front three can interchange almost seamlessly. For the bulk of the game, Salah was playing in a central role, with Mane on the right wing, and Firmino on the left.
With that kind of fluidity, Bournemouth's defenders are going to have to communicate with each other and ensure that they're all guarding their spaces.
Francis, as captain, will have a huge role in ensuring that they're all on the same page.
From Mane, as with the rest of the Liverpool side, the expectation will be for more of the same.