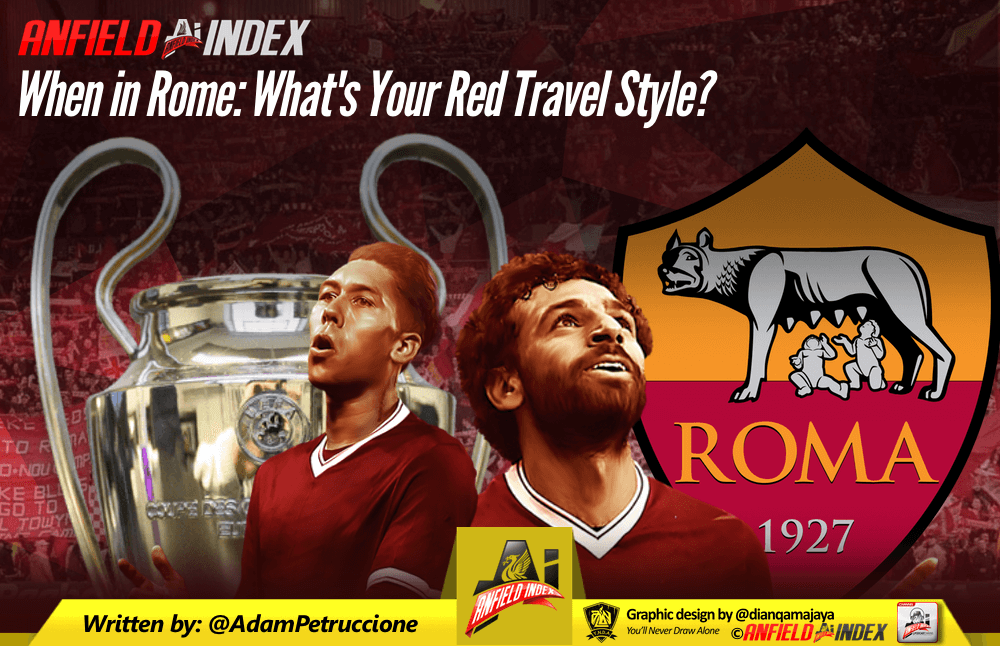 When in Rome: What's Your Red Travel Style?
The home leg against Roma brought with it tragic stories that you never want associated with a football match. The terrible consequence is that many Liverpool supporters either will avoid the trip to Rome or won't be able to enjoy it because they'll be on a alert. Liverpool, Roma and UEFA are meeting to address security concerns in Italy after a 53 year old Red, Sean Cox, was assaulted by Roma fans and left in very serious condition since Tuesday. Liverpool FC are taking measures including providing a shuttle bus to and from the Stadio Olimpico for our supporters. Dealing with security issues in Rome is complicated by the fact that AS Roma doesn't own their stadium. If you are headed to the match watch for official announcements from LFC on security recommendations.

What follows is a light hearted series of recommendations for our traveling supporters that was written before Tuesday's tragic incident. If you would like to donate to help with the Cox family's medical and travel bills the GoFundMe page is linked here.
What kind of away day traveller are you? Are you looking for a trip where you don't recall much more than the final score until days later when you open your suitcase and the dank smell of cigars and shame brings it all back? Maybe you're more of the wholesome type, looking for a cultural experience to go along with your football.
Anfield Index has done you a solid and grouped Rome's hotels, restaurants and late night locales according to the Liverpool player with whom you closely relate to. Which player is your spirit animal? Mild-mannered Milner, Flashy Firmino or Mad-hatter Moreno?
James Milner – Dependable, Predictable
Where to stay:
The Residence Sacconi (165GBP via Hotels.com)
Right across the river from Stadio Olimpico, The Residence Sacconi is as practical a location as there is for Liverpool's semi-final. More your ma's living room than a stylish Italian villa, but the price is utterly sensible for what it is.
Where to eat:
The Pink Panter – Via Luigi Poletti 10
Are you the type of tourist that travels across Europe and starts looking for an English pub before you've cleared baggage claim? The Pink Panter will be a comfortable destination for agoraphobic Reds; a classic brew pub within sight of the stadium.
Where to celebrate:
Babington's Tea Room – Piazza di Spagna, 23
Seeing Liverpool clinch a spot in the Champions League final is a lot of excitement for one day. Calm your nerves in a "little corner of England in Rome." Babington's has been around since
– – – –
Bobby Firmino – Flashy, Exotic
Where to stay:
Hotel Vilòn (382GBP via MrAndMrsSmith.com)
The bar starts taking orders at 10:30am. Sold! The trendy boutique hotel was originally a boarding school for girls. You won't have to worry about getting rapped over the knuckles with a ruler though. This is a hotel built for all day partiers and jet-setters.
Where to eat:
Antica Pesa -Via Garibaldi 18
Bobby's will surely be the next celebrity photo to be tacked to the wall in this chic eatery on the west side of the Tiber. Since 1922, Antica Pesca's 1500 bottle wine cellar and creative cuisine have been a magnet for celebrities from around the globe.
Where to celebrate:
La Fine – Via Nazionale 183
Inventive cocktails and eclectic music are the perfect match for those that identify with Liverpool's abnormal number nine. The tight, central venue, sits within Teatro Eliseo and could be the stage for a Reds celebration, or at the very least a place for Firmino and Mané to perfect their dance moves.
https://twitter.com/GrizzKhan/status/985236094542376962
– – – –
Albie Moreno – Edgy, Uncomfortable, Unforgettable
Where to stay:
AirBnB (50-100GBP)
Will your apartment be anything like it is in the pictures? Probably not. Will the hot water work? Maybe. But you can be sure that you'll have a story to tell when your trip is over. Plus, you can save some of that travel budget for Kiev.
Where to eat:
Trapizzino – Via Giovanni Branca 88
It's Italy's best food, in a pocket. I'd be surprised if you didn't run into Albie there.
Where to celebrate:
Ex Dogana – Viale dello Scalo S. Lorenzo 10
A contemporary art space in the back of a train station. The perfect place for our ninja-kicking, counter crazed left back. It's a flea market by day, a planetarium in the afternoons and massive techno club at night. This is the place to celebrate a Reds triumph late into the morning if you're open to getting a bit weird. You'll miss your flight back, but on the bright side you'll already be halfway to Ukraine, so why not stay?
Ex DOGANA – ELLEN ALIEN pic.twitter.com/QBzxavURt5

— Mason Wębb (@oThatsMaison) March 11, 2018
– – – –
Andrew Robertson – Young, Energetic, Bargain
Where to stay:
Domus Liberius (93 GBP via Hotels.com)
A small bed-and-breakfast offering only six rooms in a typical apartment building close to the Termini train station. Clean and modern enough to get the job done. Limited features, but if the stay goes the way you're hoping, you'll barely spend any time here.
Where to eat:
Pastificio – Via della Croce 8
You'll find that the queue for your plate of pasta will be well worth it. Four euros for a healthy portion of handmade pasta that you can take to go. A great option for carb-loading on your way to the stadium.
Where to celebrate:
Bar San Calisto – Piazza di San Calisto 3
The beer is so cheap here even Michael Edwards would appreciate it. Located on a corner spot that's great for people watching while throwing back a few in the eternal city. Plus the beers are cheap and also, cheap beer!
– – – –
Mo Salah – World Class
Where to stay:
Forte Suites (6,000+ GBP per night)
Fit for a King, the Forte Suites are perched atop the Hotel de Russie with a wraparound terrace overlooking the Piazza del Popolo, the Popolo Suite has been renovated to a 1,100 square foot expansive living area complete with a vintage furniture a king bedroom and a lavish marble bath.
Where to eat:
La Pergola – Via Alberto Cadlolo 101
Found at the Rome Cavalieri Hotel (Waldorf Astoria), La Pergola is Rome's only Three-Michelin star restaurant. Their wine cellar has over 60,000 bottles; six, zero, zero, zero… zero. May we suggest the €660 Guigal La Landonne? They even have a water menu… with 29 choices. Refined, doesn't do it justice. You'll indulge in olive oils and vintage balsamic vinegars from the finest farms in Italy while gazing out over the city and St. Peter's Basilica. The nine-course tasting menu combined with the view might actually be a bargain at €210.
Where to celebrate:
Club Derrière – Vicolo delle Coppelle 59 (unmarked door)
In a city loaded with speakeasies, this is the one worth searching for. Knock on the nondescript door on the skinny Vicolo delle Coppelle and you'll be ushered into a secret, 1920's era jazz bar. There's no beer. The lavatories are hidden behind a bookshelf and of course, there's a dress code, but the drinks are some of the best in Europe and the cool factor is worthy of our icy-veined Egyptian.
https://twitter.com/grifcopr/status/940961072726540291