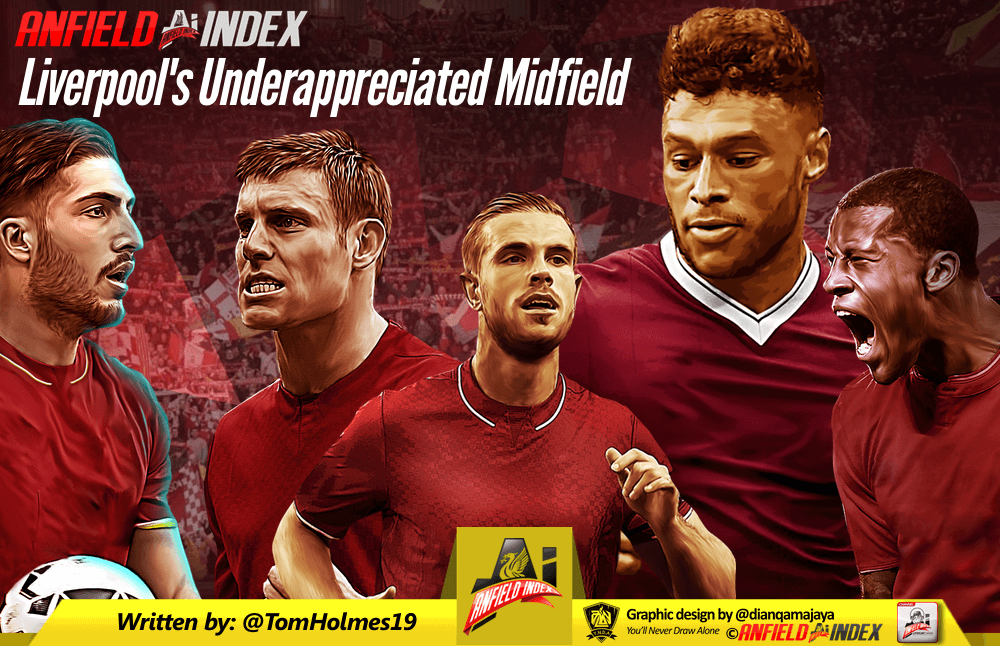 Liverpool's Underappreciated Midfield
The consensus of this Liverpool team seems to be that the three attackers are world class, our defence still needs some serious work (although the emergence of Robbo, the signing of VVD and the form of Karius are mitigating this) and our midfield is … alright.
The subject of our midfield is an interesting one, mostly because of the common criticisms and worries about our players. The most consistent criticism of our midfield is that it lacks an explosive punch, or more specifically, creativity.
And it's a fair criticism in many respects. The problem with our midfield, in many people's eyes, is that it's missing Phil Coutinho, or rather, a Phil Coutinho type in order to elevate it. There simply is nobody in our starting midfield who is capable of doing what Coutinho could do, be that creatively, from a goalscoring perspective or even from a control perspective.

Coutinho has only started fourteen league games, yet has seven goals, which is one less than Henderson, Wijnaldum, Milner, Oxlade-Chamberlain and Emre Can combined. Moreover, his xA per 90 of 0.39 dwarves his nearest competition in the midfield – Ox at 0.21 – by almost double.
However, I vehemently disagree with the presenting of the criticism, and I feel that this midfield is increasingly becoming underappreciated for its strengths, and for what Klopp expects from it. For example, the same statement can be phrased in different ways. The basic argument is that this Liverpool midfield isn't overflowing with an abundance of creativity. However, this is being contextualised as:
"Liverpool's midfield isn't creative enough."
Now, this is a statement that I disagree with. The hinging of the sentence on the word: 'enough' is for me, grossly unfair. This implies some sort of level of creativity that we require our midfield to reach, and that the players that Klopp selects are not reaching that level.
And yet, when we look at the team itself, as a cohesive whole, rather than the individuals making up the midfield, we find that that simply isn't the case. Liverpool have scored 78 goals in their 34 league games, at comfortably over two goals per game, and are the top scorers in this season's Champions League with 33 goals in the main competition as well as an extra six against Hoffenheim.
So the question is, if Liverpool's attacking record, with or without an outright attacking and creative force in the midfield in Phil Coutinho, is up there with Europe's elite, how can their midfield not be contributing enough towards it?
The answer to this might well be that the midfield isn't significantly contributing to the number of goals that we've scored, given that Mo, Bobby and Sadio have contributed over two-thirds of the goals – 52. But that doesn't answer my question. The question wasn't how can the midfield not be contributing, but how can they not be contributing enough? What is enough? What does the midfield need to be chipping in with if we have such an explosive front three?
The counter-response would be that having a brilliant front three doesn't make our midfield better, and nor does it excuse our midfield not being as good, it just means that we're more reliant on our front three. Our front three taking the creative burden off the midfield doesn't make the midfield more creative. That would be absurd.
But I'm not trying to argue that our front three being brilliant means our midfield is creative. My argument is that with the front three being as good as they are, the emphasis on the midfield to be creative players is wrong. So instead of the statement, "Liverpool's midfield isn't creative enough", I would phrase it differently.
"It's not the Liverpool midfield's job to be creative."
So instead of criticising Liverpool's midfield for what they aren't in the team to do, we can start praising them for what they are in the team to do. Which is work hard, hassle opposition midfielders, press, keep the ball moving, be defensively solid, and get the ball to the front lads to do the flashy stuff.
One of the things that frustrate me about modern football is how quickly everyone is looking ahead to the next transfer window. It's one of the things that must drive Jürgen Klopp mad. Right now, Liverpool have five central midfielders who are absolutely playing out of their skins, and yet all the chat is about which of them we can replace and how in the summer.
Shorn of their best midfielder in Emre Can, there was lots of justifiable concern as to how Liverpool would cope with Man City, who have probably the best midfield in Europe. However, Henderson, Milner and Ox in the first leg, and then Gini, Ox and Milner in the second leg demonstrated that they didn't have any issues at all. Milner and Ox, in particular, were absolutely sensational across the two legs, with Ox turning into prime Gerrard to score a brilliant second goal in the first leg.
Milner is 32 and yet looks absolutely reborn in central midfield, covering a backbreaking 13.5km in the second leg against City, despite playing in the first leg and then again at the weekend against Everton. Gini played in defensive midfield, a horribly unfamiliar position and yet excellently marshalled City's talented De Bruyne and Silva.
The key for Liverpool is, as I eluded to above, not the individual but the team. Coutinho was a vastly superior individual in many respects to any of the other midfielders we have in our squad, but the evidence is starting to mount up that he wasn't as much of a team player, and that is a key factor in why Klopp felt he didn't need to replace the Brazilian.
If you look around the AI site at the moment, you'll see articles dedicated to Gini, to Ox and to Milner in the next few days. That's a testament to how far this Liverpool midfield has come this season. And yes, a lot of that is due to Klopp and he absolutely, 1000% deserves credit for how he has marshalled these players. But there are signs that attitudes are beginning to change towards our team, and specifically our midfield.
You'll see a lot of tweets pointing out that a team of Wijnaldum, Henderson, Milner, etc. has been able to supplant the likes of De Bruyne, Silva and Fernandinho, and how much Klopp deserves credit for that. And yet, for all the talk of our midfield, people aren't acknowledging that we were able to beat Man City, and that we're able to secure back to back top four seasons (hopefully), not despite the talents of Henderson, Can, Milner, Gini and Ox, but instead, for the most part, because of them.
It's high time our midfield gets the credit it deserves. Our midfield might not quite be title-winning quality, but it's got the potential, especially with Naby in there, to be a midfield that is part of a title-winning team, a cocktail of ingredients that mixes nicely.
Nobody really rates our midfield at all, and everyone can't wait to see two new starters in there alongside Naby in the summer. But I for one, am really starting to warm to the lads that we've got. And can't we just enjoy them while they're doing what they're doing? Because right now, our midfield has become part of a Champions League semi-final side. And they deserve to be lauded as much as VVD, Robbo, Bobby and the rest.
(But not as much as Mo. Good god that man is superhuman).