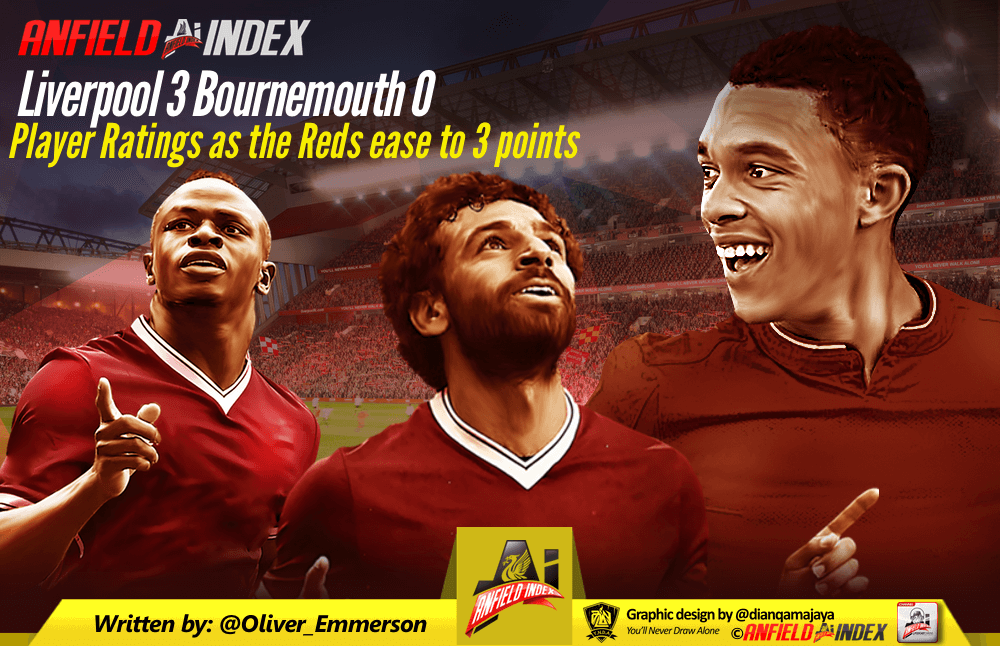 Liverpool Player Ratings From Cherries Crushing
Three points closer to more night's like that one against Manchester City, is how I'm viewing it.
An afternoon that will be quickly forgotten but one that Liverpool need more of, as they beat Bournemouth 3-0. A day for the goal charts as Firmino gets his 25th of the season, overshadowed somewhat by Salah's 40th.
Not a bad time to be a Red.
Standout figure at the back
Loris Karius (6): Had literally nothing to do first half apart from get walloped by Dejan Lovren as they clashed following Josh King's push. His hair looked nice. He keeps concentrated enough to beat away Gosling's late effort, which is promising.
Trent Alexander Arnold (8): Says a lot about how much faith the team have in him that it all seems to be going through him. That's not to say it's crosses galore though, the ball to Salah was more of a deliciously whipped pass. Good, again. Mad having a right-back that can attack and defend.
Dejan Lovren (6): Fine, just fine.
Virgil van Dijk (6): Fine, just fine (again). Nearly blammed a pass to Robbo out of the ground but we'll blame it on the wind. He's surely scoring again before the end of the season.
Andrew Robertson (6): Quieter as much went through Trent but did his duties with discipline. Doesn't look at all strong until he has to be. Wished the referee hadn't blown up when he did as there was a 30 yard screamer incoming.
Ox on a mission
Jordan Henderson (7): There's a position about 30 yards out, slightly right of centre, that he loves to whip a ball in from. He's not bad at it either. When he gets the chance to do it more often, he looks better. Good performance.
Georginio Wijnaldum (6): Still looking for a little more from him against the dross but equally nothing too shabby after a top-notch display on Tuesday.
Alex Oxlade-Chamberlain (8): Man of the Match for me. Like a dog chasing a car in the first 25 minutes, but a dog that's seemingly faster than the car and one that's got all the clues as to what he'll do with it when he finally climbs aboard and takes the wheel. Drifted off a little bit in the second until he found some petrol and started driving again, eventually assisting Firmino for the third.
Goals, goals, goals!
Mohamed Salah (7): Should score, unlucky not to score, should shoot, goal! Quiet whilst being active in the first half thanks to some top defending from Nathan Ake, but makes all of that redundant with an exquisite header into the top corner.
Sadio Mané (8): Lovely header for his goal, well saved. Does even better to race to the ball before Begovic can claim and blam it past both him and Steve Cook. 17 for the season. Solid after that as well; set the tone.
Roberto Firmino (7): Good at football. The 'half Brazilian, half German' comparisons go around a lot but they ring true when he dispossesses one member of the Bournemouth team and then nutmegs another. Should score when he doesn't and then does when he shouldn't, smashing it through Steve Cook's legs and past Begovic.