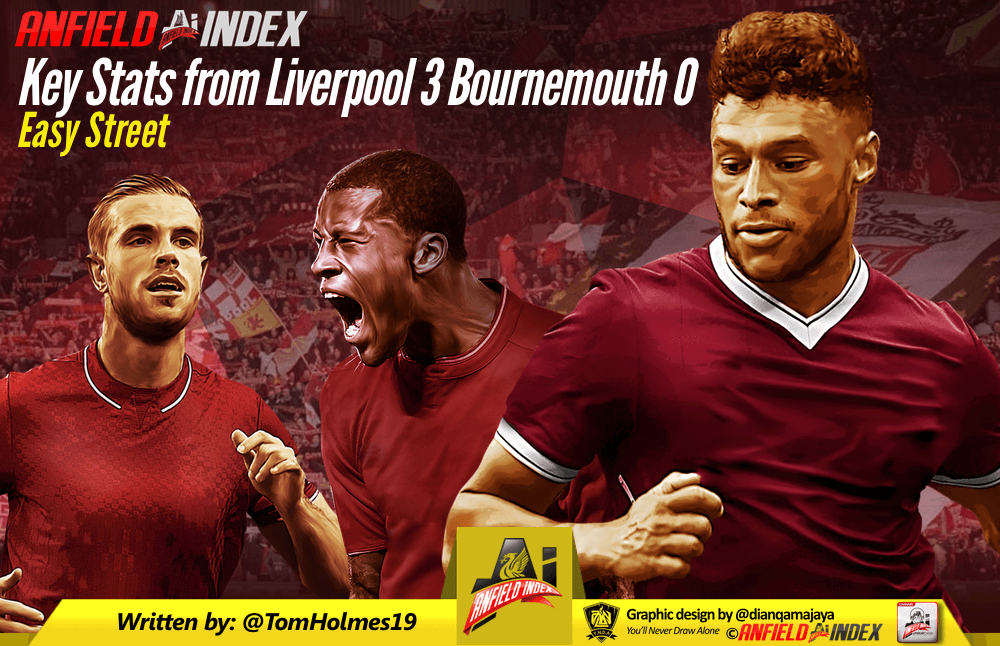 Key Stats from Liverpool 3-0 Bournemouth. Easy Street.

Liverpool turned in another comfortable win at Anfield, this time against Bournemouth, with the Cherries routed 3-0. But what were the key stats from a happy evening for Klopp's Reds?
Goals Galore
Liverpool notched their 300th goal under Jürgen Klopp, in just 148 games. The team that has been scoring at a clip of two goals a game for his entire regime scored more than that today and that was partly down to the brilliance of his forwards.
Both Sadio Mané and Mo Salah scored to set up some juicy stats of their own. Mané's goal was his tenth of the season in the Premier League, making it his fourth season in a row that he's hit double digits in the top flight. He's also now Senegal's highest ever Premier League goalscorer with 44 for Saints and LFC.
As for Mo, this was his 40th goal of the season and his 30th in the Premier League. He's now the eighth person to notch 30 goals in a PL season and has the potential to score more than Luis Suarez amongst others, now only one goal behind them. He's also the first person to score 40 goals in a season for Liverpool since Ian Rush, back in 1987.
And to top it all off, Bobby Firmino scored his 25th of the season in all comps, making it the 7th time this season that Liverpool's front three have all scored in the same game. Not bad lads, not bad.
Midfield Manage The Job
Whilst it was Liverpool's front three on the scoresheet, it was their midfield who deserves most of the plaudits. The pick of them was Alex Oxlade-Chamberlain, and his stats were impressive. Four successful dribbles out of four; won a free-kick; two key passes including a big chance created for Bobby Firmino, resulting in an xA of 0.76 (highest in the game); four tackles; and of course, an assist.
But whilst Ox was brashly brilliant, the other two lads were perhaps more understated. Henderson controlled the game, with 97 touches and 83 passes, but still offered the graft you need from a defensive midfielder with four tackles and three interceptions. He also created two chances of his own, as well as creating numerous dangerous situations.
Gini also showed his class on the ball, notching the rare feat of 100% passing accuracy across his 42 passes, four of which were key passes. Like the other two lads, he was good off the ball too, with three tackles and generally good defensive work.
Bottom Half Pulverised
This Bournemouth win is the latest in a line of excellent victories against teams in the lower half of the table. Liverpool have now won nine of their 12 games against teams outside the top six at Anfield, with seven wins out of eight against teams in the bottom half at home.
The Reds have conceded one goal in those eight games, notching their tenth clean sheet at Anfield in the league this season. They've also scored three goals yet again, with six of those seven wins coming by at least three goals. Their overall record is 24-1 against the bottom half at Anfield.
And that's not even factoring in the seven away wins they've secured against the bottom half.
Points of Comparison
One final stat. The Reds are at least 12 points better off after 34 games than they were at this stage of 5 of the last 7 seasons. The only outliers, of course, being 2013/14, which we are 7 points off of, and last year, which we're still four points better than.
We've also scored more goals than any other season in that period except 2013/14, but have the best defensive record over the last seven years at this stage, conceding just 35 goals. We've got the second most wins behind '13/14, and even fewer defeats than that year.
Progress under Klopp is coming thick and fast, and we're all a part of it.