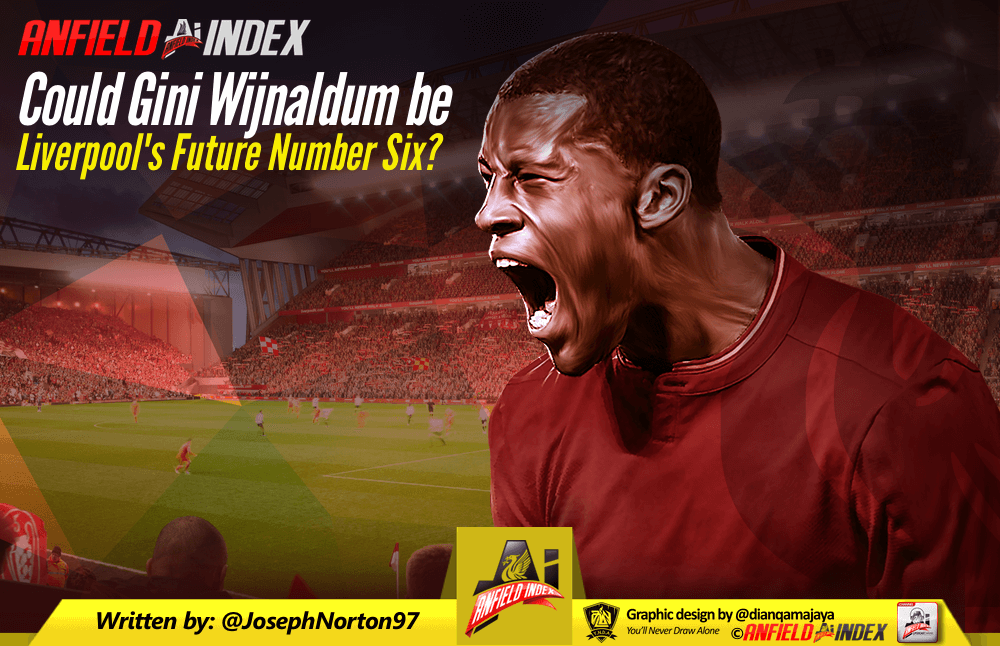 Could Gini Wijnaldum be Liverpool's Future Number Six?

Setting the tempo, demanding the ball and creating passing lanes – that's not Gini Wijnaldum is it? When Jordan Henderson picked up a yellow card for tripping up Raheem Sterling in the second-half of the first leg of the Champions League quarter-final at Anfield, ruling himself out of the second leg because of suspension, Liverpool fans quickly turned to social media to express their concerns. With Emre Can definitely out of the second leg because of a niggling back injury, serious questions were being raised as to who was going to play in the crucial number 6 position. Alternatively, Klopp could opt to play more of a two-man midfield. The answer became pretty clear once we saw how the team lined up at Goodison. This was Gini's audition before the huge test that lay ahead of him at the Etihad Stadium. Could the man who frequently has the least touches of anyone in the team transform his influence on a game to become Klopp's heartbeat in midfield? The answer was yes. He might not have been the Rolls Royce number six that Emre Can is but Gini demonstrated all the attributes needed to be successful operating in this position in Klopp's system whilst stamping his own nuances on the match. After such an impressive performance given the circumstances, is this position one we can expect or even want Gini to operate in more often going forward?
On The Ball
One of Wijnaldum's biggest strengths is his ball retention – you have to be a pretty impressive athlete and footballer to win the ball back from the Dutchman. The man had a 100% pass accuracy against Bournemouth for crying out loud. Yes, he might not have been attempting the most extravagant of passes but it's still a very impressive statistic. Overall this season Gini has a pass completion rate of 88% which is better than both Jordan Henderson's 84% and Emre Can's 86%. When you are deployed as a number 6 you are often the deepest player in the team which means if you lose the ball you'll either be letting the opposition have a free run at goal or at your centre-backs which makes keeping the ball ever the more important. The Dutchman demonstrated an impressive ability to retain the ball in this slightly deeper position recording a pass completion of 94% against Everton and 82% against Manchester City, despite the team, on the whole, being a lot more direct than usual. When you're playing against a team who presses high like Manchester City, Klopp needs his number 6 to be brave – always looking to get on the ball in tight areas allowing his team to transition into their attacking formation. In the first-half against Man City, Wijnaldum, like the majority of his teammates, wasn't brave enough. There were numerous times when the back four would have the ball but he made no attempt to create a passing lane for them resulting in us often going quite direct and gifting City possession, which completely nullified our counter-attacking threat. As you can see from the image below Andy Robertson takes a touch inside, therefore, Wijnaldum should drop deep to either create a passing option for the Scot or to make space for him to drive into. Instead, he stays in a central position closing off all the angles for Robertson who eventually loses the ball.
Despite possessing many qualities on the ball, if Gini wants to become a more rounded number 6 he will have to take more chances with his passing as well as developing upon his passing range. Although the Dutchman possesses the quality to regularly thread balls through the opposition's midfield lines he doesn't do this anywhere near enough whether he's playing in his more familiar number 8 position or in the number six role. We'd also need to see him develop his passing range as quick switches of play can be a great tactic for breaking down any defence and is a technique every number 6 who operates in Klopp's system must possess. Having played just two competitive games for Liverpool in this position there were always going to be areas for improvement but Gini has all the technical skills to develop into a fantastic number six.
Defensive Attributes
Another one of Wijnaldum's strengths is his ability to win physical battles in midfield which is why Klopp will often trust him in big games. There are very few players who he'll get beaten by as they find it difficult to wriggle away from his pressure once he engages with them which makes him perfect for high transition games and would suggest he has some of the defensive attributes required to be deployed as the deepest midfielder in the long run. Jordan Henderson has the highest aerial duel percentage of 63% followed by Can at 48% and Gini at a lowly 31%. Opposition teams will often be quite direct against Liverpool which means the number 6 has to screen their attacker preventing balls from being played easily into their feet, chest or head. On top of this, they have to pick up the opposition's attackers when the ball goes wide meaning they must be reasonably good in the air. As we can see the Dutch international is quite weak in the air compared with the Reds' traditional 'defensive midfielders' and this was evident against Man City when he ducked out of a few headers, allowing his centre-backs to win the ball. Against City, this was okay because both Lovren and Van Dijk had the aerial beating of their forwards but in games against more dominant attackers Gini would be expected to take responsibility to win his fair share of headers to protect the back four, something he'd have to seriously improve. In terms of total duels, it is unsurprising that he compares very well to both Can and Henderson. He wins 54% of his total duels, marginally better than Can's 52% and Henderson's lowly 41%. One of the biggest criticisms that can be labelled against Henderson is that he gets beaten too easily either by quick technical players or physically superior players which has caused Liverpool problems in the past. As we've seen by Can's effectiveness in this position, the German rarely loses a physical battle which means the defence is protected much better and the same can be said for Wijnaldum. This suggests if the Reds come up against a superior opposition such as in the Champions League then Klopp would be wise to consider deploying either Emre Can or Gini Wijnaldum as the deepest midfielder to add extra protection. Having said this, Gini must become a more commanding presence aerially if he wants to be trusted completely by our boss in a defensive sense.
Out of Possession
What makes playing in the number 6 position so difficult in Klopp's system is the versatility this player must demonstrate out of possession. In most teams the defensive/holding midfielder is asked to sit in front of their defence and plug gaps, rarely engaging with the opposition team unless they enter the area they are patrolling. However, in Klopp's pressing system this player must look for triggers to engage with the opposition as every player on the pitch is involved in counter-pressing otherwise the whole unit breaks down. In the league game at Anfield against Man City this was evident as Emre Can – operating as the deepest midfielder – was tasked with pressing Fernandinho when he could, disrupting City's build-up play whilst still carrying out the traditional defensive duties of a number six. In the first-half of the second leg, the whole team was slightly too deep with Wijnaldum hesitant to engage with their midfielders. This may have been as a result of City's outrageously attacking line-up but was probably partly as a result of Wijnaldum not quite recognising when he was best to engage and when he was required to fill gaps and sniff out the danger. In the second-half, however, Liverpool pushed slightly higher up the pitch which gave Gini the confidence to engage more readily with City's midfield, disrupting much of their attacking momentum. If Klopp is to view Gini as a possible option in this position he will have to improve his decision making when out of possession ensuring Liverpool's pressing unit is as effective as it is when Can and Henderson both play there.
Overall, the last two games suggest that Wijnaldum has a lot of the attributes required to become a very good number 6 in Klopp's system but understandably there are various aspects of his game that he would have to refine if he is to be as effective as possible in this position. His superior technical ability to Henderson suggests that he may be more suited to playing against teams who press us high with Can likely to be out for the season, therefore, it wouldn't be particularly surprising to see Klopp trust him in at least one of the legs in the semi-final of the Champions League. With the uncertainty that still lingers over Emre Can's future, it is worth highlighting that the Dutchman shouldn't be seen as a long-term solution in this position as there are several players in Europe who would do a much better job. However, the adaptability he has shown in the last week ensures Klopp has added options in this position for the remainder of the season similar to the option Ilkay Gundagon provides Manchester City with when Guardiola opts to rest Fernandinho. Setting the tempo, demanding the ball and creating passing lanes – maybe Gini can be the heartbeat of our side after all.