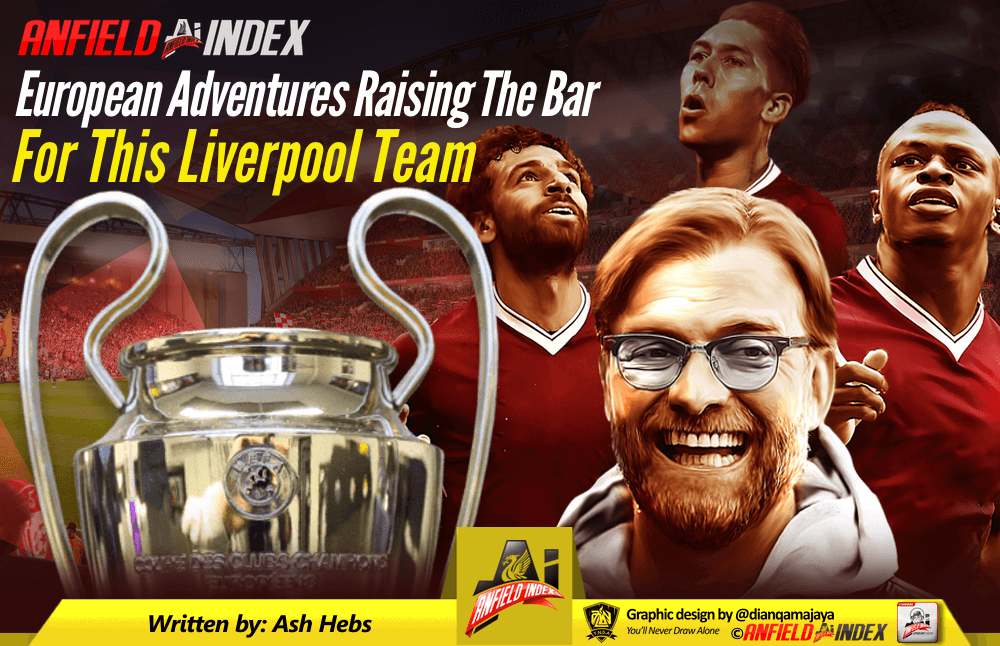 European Adventures Raising The Bar For This Liverpool Team
Liverpool are riding high right now. That fantastic feel-good factor, as we approach the season's run-in, brings back memories of the good times under Houllier, Benitez and Rodgers. When we were fighting for targets and silverware at the business end of the season. A team playing terrific, brave football, in fine fettle as rivals start to wilt around us.
Our form following the recent international break has been phenomenal. Three wins and a draw secured in a congested and tiring schedule. Two of those performances required maximum levels of concentration and application against the league's finest team. Make no mistake, there is not much between Pep's City and Klopp's LFC, particularly in a one to one contest. We have exposed the soft underbelly that exists beneath their classy, technical style which causes fear and panic against the rest of the league. Thankfully we have the quality to expose it.
Klopp's Liverpool side has been much maligned for the lack of game management over the past few seasons. But City served to show that, slowly but surely, this side is made of much sterner stuff. Perhaps the most frightening thing about City going into the quarter-final second leg was that they need just 15 minutes of brilliance to tear you to shreds. The early goal compounded the nerves, and the effect on our team was obvious, with City threatening to run riot in the first half. But we contained the growing tide and picked them off the second half.

Our achievement against City was massively encouraging, considering the Ox is our most experienced Champions League player. (On a side note, how good was Ox against Bournemouth this weekend? To my eyes it was almost like watching Gerrard mark II). The involvement in such high profile games will be invaluable for young players such as Karius, Trent and Robertson at this incredibly early stage of their Anfield careers. Van Dijk, Lovren and our fab 3 will learn what it really takes to compete at this higher level of competition. Our midfielders will progress in terms of their understanding of how to manage the different phases of a big game. When to sit and when to press; when to attack and when to rest on the ball.
There is absolutely no doubt that Klopp's maiden season in the Champions League has exceeded all reasonable expectations. A semi-final spot already secured, with a very credible opportunity to make the final and win Europe's top prize. Yet we're achieving despite a number of limitations, with Klopp's squad currently stretched wafer thin. This is testament to the "Klopp effect" on and off the training ground. This team and squad is definitely on the up. A deeper squad, with extra competition for places, will only serve to make us more formidable in all competitions next season.
I have been critical of Klopp's tactics at times, but it is worth giving credit where it is due. Since the departure of Phil Coutinho, this team has become a far more cohesive, mentally-strong unit. There are no stars, everyone is in it for the team. Klopp has notched up the gegenpress and compactness of this team to new levels.
It is no coincidence that this tactical advantage leaves Liverpool as one of the most successful domestic teams in recent years, at Europe's top table. Never has the term "Liverpool are European royalty" been more appropriate. The Premier League level intensity and fitness levels of our approach is simply too much for most teams.
Roma are an impressive but very beatable team. They have already beaten Chelsea and Barcelona this season. However, neither of those teams play with the ferocity and aggression of Klopp's team. It doesn't matter whether we are playing at Anfield or the Stadio Olimpico, our style will shock them. The question is how well they can adapt. Let's respect our Italian opponents but there is absolutely nothing to fear.
This team is progressing nicely, despite a lack of Champions League experience and despite the first XI not having played together for long. In what has been a formidable run through Europe's elite competition, Liverpool have deservedly made the semis. Klopp's team are fully deserving of their place, despite stronger domestic rivals falling horribly short.
Whatever happens, moving forward, let's enjoy the ride. This is what we signed up for under our loveable German manager. Words cannot describe how enjoyable it is to be a Liverpool supporter at this moment in time. Come what may, we are all justified in dreaming of European glory once more. As Klopp continues fine-tuning this group in the summer, just imagine what can be achieved moving forward.
Up the Reds, folks!