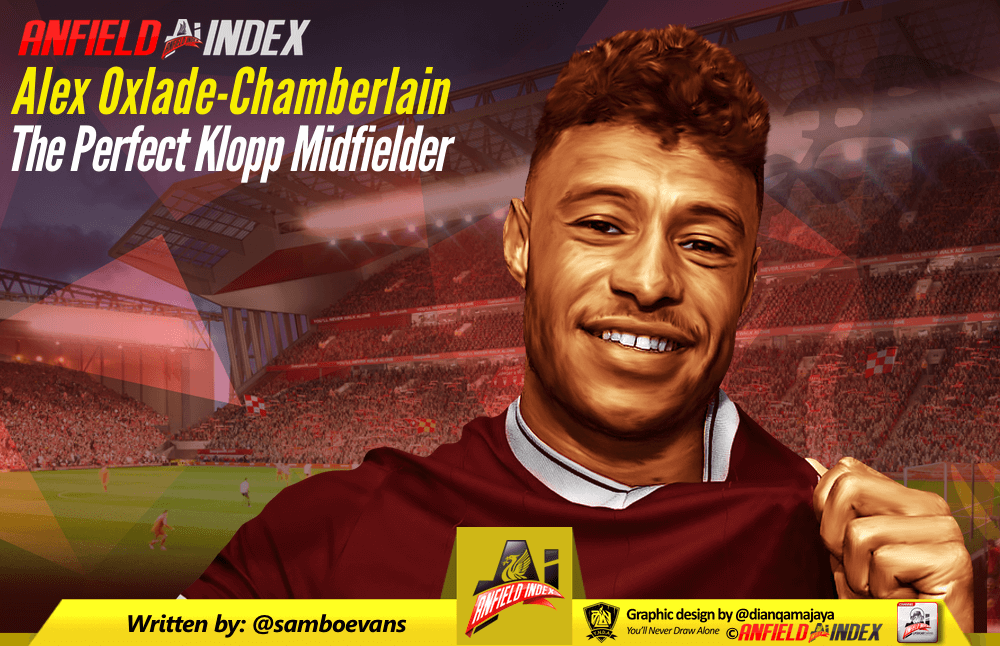 Alex Oxlade-Chamberlain - The Perfect Klopp Midfielder
As a raw teenager at Southampton in the 2010-11 season, Alex Oxlade-Chamberlain carved out a reputation as one of the hottest prospects in English football. A clamour for his signature ensued in the Summer of 2011, and it was Arsenal who staved off interest from a number of suiters by completing the signing of the exciting teenager.
At the time, Arsenal had a strong reputation for developing young talent. So it was understandable that the youngster chose to ply his trade at the Emirates at the time.
Fast forward 5 years and Oxlade-Chamberlain's career had started to stagnate. It was clear for all to see that he had plenty of raw talent, but Arsenal had decided to deploy him solely in wide areas and he struggled to make a consistent impact on matches.

It was starting to look like Ox's career might be starting to head the way Theo Walcott's has. Another sparkling young talent that seemingly began to regress under the tutelage of Arsene Wenger.
It was time for a change.
Up stepped Jurgen Klopp's Liverpool. A few eyebrows were raised when Liverpool agreed a transfer fee of approaching £40million for a player who many deemed to be nothing more than a prospect. A talented prospect with obvious potential, but one who had failed to quite reach his potential in his 6 years at Arsenal. For such a high transfer fee, many people would have expected a player who was already performing at an elite level.
But Klopp and his backroom staff spotted something within Oxlade-Chamberlain that Wenger seemingly failed to spot. A budding central midfield dynamo.
So often we find that players with electric pace and excellent dribbling skills get thrown out into wide areas. But there are times that these players can be better suited to a central role. What better way to get at the heart of an opposing defence than to carry the ball directly at them with electrifying pace and aggression.
Sometimes the best way to get at a defence is to run at them. And Oxlade Chamberlain has all of the tools necessary to be the go-to man for this job in this impressive Liverpool side. Ox seems to be at his best when he has the ball at his feet and he drives past the central midfielders and at the heart of the defence. It can be an incredibly difficult thing to defend and an incredibly effective way to break down organised defences.
There are no better examples of this than in the two matches in the Champions League Quarter-Finals against Manchester City. In both matches, Ox ran at the heart of the city defence and unleashed an unstoppable shot into the corner. Very few players possess the kind of powerful running that he does and therefore it's a trait that needs to be nurtured and encouraged as much as possible. With defences so organised in the modern game, sometimes it takes a moment of brilliance from a player in order to unlock the door and get that first goal. Oxlade-Chamberlain is starting to show these flashes of brilliance on a more and more consistent basis.
https://twitter.com/LFC/status/985232801489473537
Not only is his direct running starting to result in spectacular goals, he is also starting to provide assists with 4 in his last 6 Premier League home games. This season has now already matched his most productive season ever in terms of goals and assists in the League and Europe and he has scored his most ever goals in a season by 2 already. As a regular listener of the AI Under Pressure Podcast, where contributors to this very website analyse on-ball statistics and pressing stats for each game (make sure you join AI:PRO to listen), I can also tell you that The Ox is also one of the more impressive pressers on the team. He has the highest presses p90 and also most presses that lead to a shot. Whilst that may not mean a lot to you Jurgen Klopp has said in the past that Gegenpressing is the best playmaker for his side and Oxlade-Chamberlain has been a potent weapon in turning the ball over and distributing the ball to start off counter-attacks. Against Bournemouth, in addition to his terrific on-ball display, Alex attempted the most presses and one of those presses led to a shot at goal. It certainly was an all-around performance from The Ox!
Oxlade-Chamberlain's assist for Firmino yesterday means he has equalled his best season for goals and assists in the PL and Europe. pic.twitter.com/beROn5Y3h8

— Andrew Beasley (@BassTunedToRed) April 15, 2018
If Oxlade-Chamberlain continues to improve at his current rate, it's safe to say that Liverpool have an extremely exciting player on their hands. Jurgen Klopp's Liverpool prides itself on punishing teams on the counter-attack when the opposition gives the ball away. And the direct running of Oxlade-Chamberlain really can prove key in transition. With Liverpool set to add another aggressive central midfield runner to their ranks in the Summer in the shape of Naby Keita, suddenly the potential loss of Emre Can appears to be of much less concern than it would have been 6 months ago.
Many would have seen the acquisition of Oxlade-Chamberlain in the Summer as a signing in order to strengthen the squad rather than the starting 11. An impact sub perhaps. But if Ox continues on his current trajectory, we might just be looking at Liverpool's starting central midfielder for many years to come.