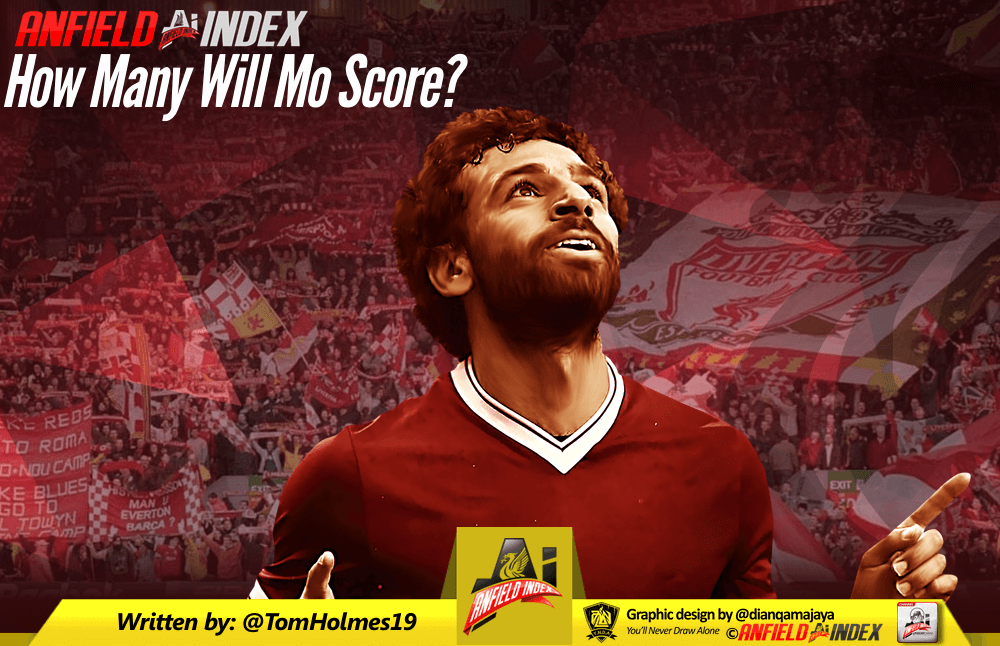 How Many Will Mo Score?
Mo Salah has now hit the 40 goal mark for the season, with 30 goals in the Premier League. The records are stacking up and the numbers are already truly remarkable. But how many will Mo Salah score? I've decided to split this article into two parts – the first contextualising some of the targets Mo could hit between the end of the season, and the second part discussing Mo's chances of duplicating his form next year.
Rush, Suarez or Shearer?
There remain some goalscoring targets for Mo to attempt to reach before the season ends. To begin, the record for the most goals in a Premier League season, which is 31 in the 38 game PL era. This is a record held by Shearer, Suarez and Ronaldo. Mo of course only needs two more goals to break that record and is expected to play at least two or three of Liverpool's four remaining league games. Realistically, he only needs one decent game to break this record, but it's not the only PL target that he might be eyeing up. The record for a 42 game PL season is 34 goals, again held by Alan Shearer, with Andy Cole. That might prove a touch out of reach, especially if Mo is rested in the run-in, but to even get close to that is a special season.
Ian Rush is the last player to score 40 goals in a season for Liverpool when he netted in 1986-7. He's also the player to score the most goals in a single season for Liverpool – 47 back in 1983-4. So the big question is whether Salah can catch that 47. He has six games to do so, potentially seven if Liverpool see off Roma.

So how many goals will Salah score in what remains of the season? Well, he's pretty much bang on a goal a game at the moment, so assuming he plays at least five or six more goals, we can reasonably expect at least five more goals. Whether or not he's able to break any records is going to be tight, but the form he's in, who knows? The Premier League Golden Boot looks almost nailed on, and becoming the PL's top goalscorer in a single 38 game season looks probable, but beyond that, your guess is as good as good as mine. If I were to predict, I'd predict him to net a couple against Brighton on the final day to put it beyond any doubt – and there are plenty of free football predictions sites that you could use too!
Nevertheless, even if he doesn't end up breaking more records, this remains a truly remarkable season for Salah and one that will go down in the history books.
One Season Wonder?
The title of this section is misleading. There's no way that Salah is in any way, shape or form a one-season wonder. He is a genuinely remarkable player whose scoring and assisting record over the last few seasons has been exceptional for a player who plays in the position that he does. There's absolutely no doubt in my mind that Salah will have another brilliant year next year, especially if he's playing alongside Bobby Firmino and Sadio Mané, who play so brilliantly to his strengths. Klopp has figured out a way to utilise the Egyptian King that makes him almost unplayable, and we can expect that to continue.
But will we see another sensational, record-breaking, unprecedented season from Salah? That's an entirely different question. There's plenty of evidence to suggest that in terms of expected goals, Salah isn't drastically over-performing. His Premier League goals to expected goals ratio is only just above his career average, and even then it's not starkly different, with his thirty goals coming from an xG of 22.59.
Moreover, the fact that Salah keeps getting into those positions underlines that his core strengths are simply not going anywhere. His speed is not going to diminish without a serious injury, his positioning and intelligence are almost unrivalled and certainly not likely to change, and as long as the service into him remains top quality, which with the addition of Naby Keita looks likely, he will continue to score goals.
That said, he is on a bit of a hot streak and is scoring simply outrageous goals. It would be unfair to suggest that everything he tries is coming off, given that against Bournemouth he attempted a lot that simply wasn't working before he scored his truly remarkable goal, but he is scoring a lot of goals that a man in lesser form might not be able to pull off. So whilst there isn't necessarily scope for a significant downgrade, there certainly is scope for a downgrade. If Salah scores 20 goals in the league next season, and maybe 25/30 in all competitions, it could not be considered a huge surprise, but even then it would hardly be considered a gross disappointment.
A big part of Salah's form will hinge on how well Liverpool are playing, and in that respect, as Liverpool fans we have every reason to be encouraged. Klopp has his side playing like a well-oiled machine, and with Salah the attacking focal point, we will be expecting greatness from him. The likes of Bobby Firmino, Sadio Mané, Naby Keita and even Andy Robertson will hopefully be able to hit top form again next season, which means that Mo will still have the bullets supplied for him to net the goals, but also that Mo will able to contribute with one underrated element of his game – his creativity. With nine Premier League assists, Salah has the most league assists of any Liverpool player, and an xA only marginally lower than Bobby.
So the signs are there that Salah can keep this elite level form going, and all Liverpool fans will be hoping that he does – both in the latter stages of this season with silverware still to play for, and next season with even more to play for.