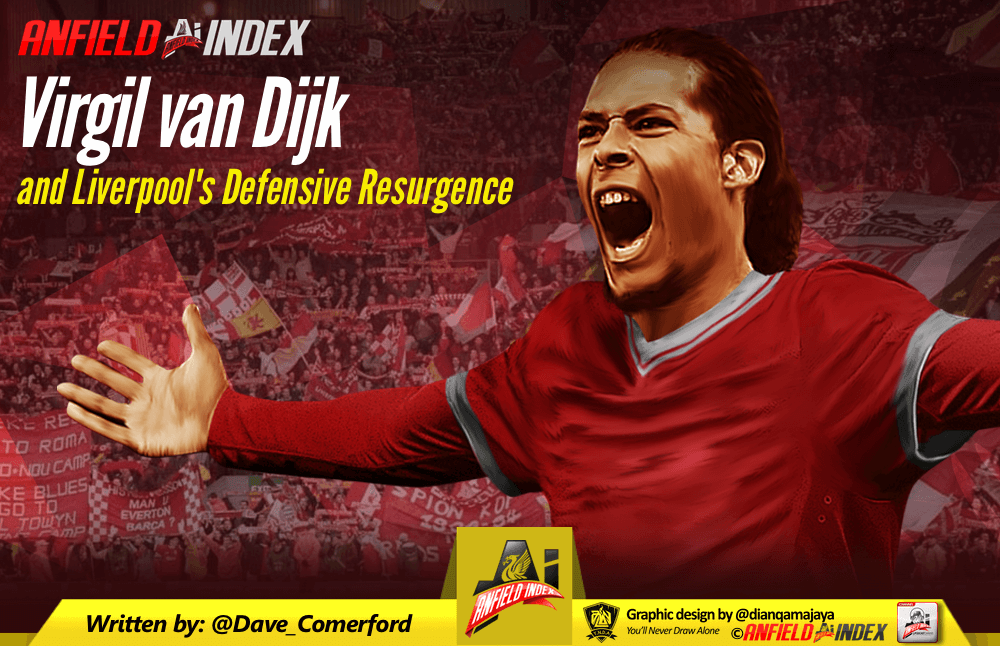 Virgil van Dijk and Liverpool's Defensive Resurgence
Liverpool's bumbling back-line was the subject of intense, often deserved, criticism in the early part of the season, but improvements since the turn of the year have been drastic. Now the much-maligned individuals, and indeed the manager who was slammed for supposedly failing to address this debilitating weakness, are due some considerable praise.
It's important to emphasise two points. First of all, these long-term problems are, of course, some way from being solved. Still, this defence seems prone to the occasional, costly slip-up. Against Manchester United, for example, the back-line was unravelled in frustratingly basic fashion as a long ball over the top was headed into the path of goalscorer Marcus Rashford.
Later in March, the Reds were reliant on Christian Benteke's woeful finishing to spare their blushes after an erratic first-half display against Crystal Palace.

Second, the recent strides can't all be attributed to the arrival of Virgil van Dijk. In reality, he's just one of four equal parts. Both full-backs have recently excelled in both departments, feistily hounding out top-class wingers like Leroy Sané and Raheem Sterling and delivering some sumptuous crosses for the prolific front three.
Van Dijk's defensive partner Dejan Lovren, meanwhile, might just be in the form of his life. The Croatian dealt a truly brutal psychological blow after a catastrophic performance in October's gut-wrenching 4-1 reverse at Spurs, has magnificently turned his season around and all of a sudden looks assured rather than ragged. It would be unfair to attribute the superb form of three defenders to a single injection of quality, but it has undoubtedly helped.
The statistical improvements we've observed since the New Year are anything but a coincidence. In Liverpool's 24 league games without Van Dijk over the course of the campaign, they have shipped 28 goals – an average of 1.28 per game.
By contrast, in ten league games with the towering Dutchman at the heart of the defence, the Reds have allowed just seven, nearly halving their game-by-game average. Half of those games, moreover, have ended with the coveted clean-sheet still intact.
The explanation for Van Dijk's significant impact is twofold. In part, it can be put down to his calming presence. One of the main problems with the defence in 2017 was the undeniable air of anxiety and the almost tangible fear of slipping-up, an apprehension inevitably shared by supporters in the stands and on sofas. As a consequence, the timid back four could often be bullied and even dismantled by ruthless opposition attacks.
Yet Van Dijk's composure, arguably his important asset, when dealing with set pieces, halting an attacker in their tacks or confidently clipping a ball downfield, makes him a naturally calming presence. Every time we conceded a corner in the early part of the season, the heart would rattle the ribcage, but now that atmosphere of nervousness has faded and Reds fans needn't seek refuge behind their couch.
His impact is also the result of his vocalness. Van Dijk is widely considered one of the best defenders in the division, and he seems to be actively transferring the impressive knowledge he has amassed to the rest of the backline. Watching from the Anfield Road end as the Reds looked to ensure a shutout in the second half of Saturday's victory over Bournemouth, you could see Van Dijk in constant communication with his goalkeeper, his defensive partners and skipper Jordan Henderson, who occupied a deep-lying role just in front of him. There were constant commands and gesticulations, and his team-mates appeared to take heed of the advice as they enjoyed largely trouble-free evening. The ex-Saints skipper is constantly demonstrating his leadership skills, spearheading the defensive resurgence.
Perhaps it's a case of selective memory, but this level of dialogue and mutual improvement was rarely visible when Lovren and Joel Matip lined up alongside one another. Van Dijk has emboldened Lovren, and as a result, he's leapfrogged the injured Matip not only in the pecking order but also in fans' estimations.
All of this serves really to justify the hefty price tag. Supporters thought they were paying £75million for a player, but Jurgen Klopp understood that he was also paying for his transformative presence and influence.
And now, Liverpool's defensive record, earlier befitting of a mid-table outfit, is right up there with best in a division, a recovery which demands a greater degree of recognition. Liverpool have now kept 15 clean-sheets, one fewer than the ultimate best of the revered Manchester United defence, equal to the tally of runaway champions Manchester City and more than the Spurs and Chelsea back-lines which looked impenetrable at points last season.
Any acknowledgement of this turnaround has certainly been disproportionate to the earlier torrent of criticism.
Suffering supporters know that this is a weakness which has handicapped Liverpool for a number of years, but if the present resurgence continues, along with that of the goalkeeper, it might just be one of the final pieces of a complex jigsaw.
The example is a clearly a unique one, but Man City have shown this season that if you can establish a reasonably solid defensive base and combine it with an electric attack, you have yourself a recipe for genuine success. And right now, with a pair of ever-improving young full-backs and two centre-backs set to enter their theoretical prime, the only way is up.