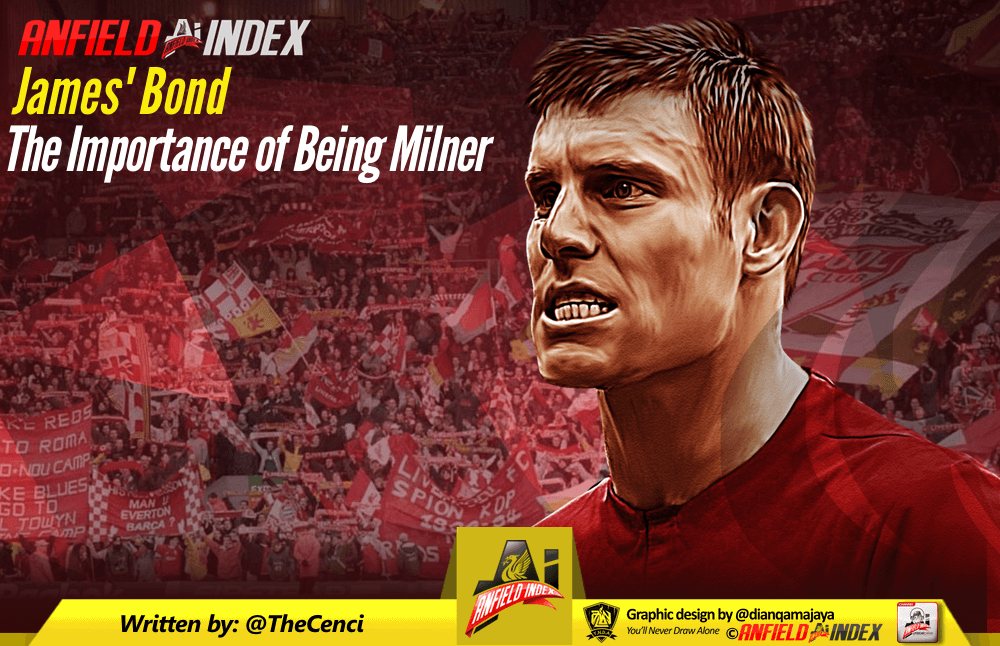 James' Bond: The Importance of Being Milner
It's the 79th minute of the hectic league game between Liverpool and Manchester City. The Reds had fought City in the early exchanges before going a bit mad with second-half goals from 'the trident' of Mane, Salah and Firmino. They lead 4-1. On the Anfield touchline, Jurgen Klopp decides to swap Emre Can for former City player James Milner.
No one argues at this. City are coming back into the game and seem annoyingly undeterred by the score-line. Furthermore, Liverpool are knackered. Beating the future champions takes a good deal of effort and the minerals are low. Milner will use his experience to shore up the line screening his overworked centre-backs and push them out to relieve the pressure. Wise heads are needed to see the game out.
It doesn't go to plan. Kevin de Bruyne and his mates run rings around him and his already florid complexion darkens as he is forced to dig deep time and again as Liverpool desperately hold on. The game ends 4-3 with firstly Bernardo de Silva and then Ilkay Gundogan scoring late. Anfield is ecstatic at the final whistle and not a little relieved. Another ten minutes and things might have been different.

Some viewed that cameo as a turning point in James Milner's Liverpool career. Maybe the years were slowing his legs a little too much and it was time to reduce his time on the pitch. Give him the odd ten minutes here and then, say, rather than a full 90 minutes.
There would be no shame to this. Great players slow down. That's a fact of life. In some instances, it's possible to pinpoint exact game where things become too fast for our heroes. Steven Gerrard's performance at Selhurst Park in November 2014 was one such. A few months earlier he was the power behind the Suarez-Sturridge-Sterling throne, but here he was looking like he'd borrowed someone else's legs. Miles off the pace, Palace – a side which contained the abysmal Marouane Chamakh, let's not forget – targeted him and found an easy route to goal. We lost 3-1 and the kindest thing that can be said of the Liverpool legend was that he was on the pitch. Sadly, he was an empty shirt.
Emre's injury and the decision not to replace Coutinho left the Reds short of midfield options and some fans (me) furious, but cometh the hour cometh the Yorkshireman. He was a completely different player to the one who looked bewildered at that City game. Since that fifteen or so minutes Milner has 'reversed the signs of ageing' as the old skin cream ads used to say, and become the dominant man of Liverpool's central three.
Milner is an unfussy man and has no problem with playing wherever his manager puts him. Last season he answered the left-back problem when it was decided that Alberto Moreno was too reckless to play there regularly. He prefers midfield, of course, but was a first rate left back until his legs finally ran out in the final weeks of the season.
My friends Trev Downey, Kam Brainch and I discussed 'Millie's' role in the side around the time of that City game. We decided that his role should now be restricted to games against the lower sides – Stoke and West Brom, say – rather than in big Champions League games.
There is nothing better than being proved wrong in football.
It's now the opposite.
Imagine going to Rome without him. Unthinkable.
Now I hope he sleeps in an ice bath and wears only cotton wool when not playing.
And it's not just the football where he is needed. He has won medals in his time, including two league titles, and has the experience to help his teammates over the line.
I was by the Main Stand/Anfield Road corner flag at the Bournemouth game and watched the match over Milner's shoulder as he warmed up as a sub along with Danny Ings and Ben Woodburn. It was noticeable how often he spoke to Ben and seemed to enjoy his company with lots of laughing and back slaps between them. There was no player hierarchy on show here. You could forgive Liverpool's vice-captain for being a little dictatorial in his manner given his career and Woodburn's, but, of course, Milner was once a teenage prodigy like Ben. Milner was once the youngest goalscorer in Premier League history before Everton's James Vaughan took over. Mind you, I bet Vaughan's goal was offside. I mean, I've never seen it but…
As valuable as Milner's play is, a club will always need a Gary McAllister role. Someone to keep boots on the ground at the dizzying highs of the season or to lift the squad when a bad result arrives. Milner is 32 and the oldest member of the squad ahead of Mignolet (30) and Lallana (29) so not all of his duties are on the pitch.
And it's clearly working. This is a side high on camaraderie and togetherness. We wouldn't be where we are without it. It's a rare club that does well with two or three factions in the dressing room.
There is still so much to do this season and not all of it revolves around Roma. Klopp will demand a strong finish to the League campaign to keep the momentum going for next year's title challenge.
Milner may not be here to take that on, but I'd like to think he has more games in him before he takes an inevitable backroom role.
And, of course, we need someone to flame Harry Kane on Twitter. I'm all for that.