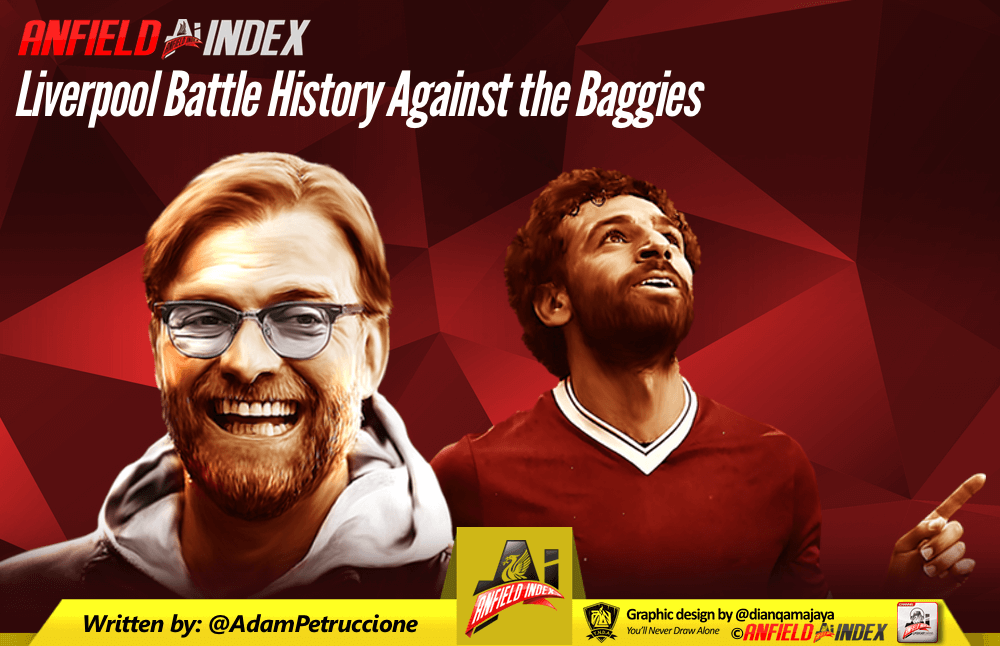 Liverpool Battle History Against the Baggies
Liverpool head out to face bottom dweller who has recently changed managers. Liverpool head home having improbably dropped points and all positive vibes go out the window.
Surely we're now performing so well that this type of almost predictable disappointment is no longer possible. West Brom has rescued 4 points from their last two matches, and for all of that hard work against Swansea and Manchester United, they still sit effectively 3 wins from safety with four to play. Swansea have a game in hand and are ahead in goal differential with Southampton, Bournemouth and Stoke coming up on their schedule.
For all intents and purposes, the Baggies are done. Thanks for embarrassing United, but they are at this point playing out the string. Even if Jurgen Klopp decides to rest a few, there is really no excuse for dropping points here. If West Brom park the bus having been effectively eliminated already, they should be sent down to League One instead of the Championship. Even if they don't venture forward and try to give their home supporters some kind of enjoyment, Liverpool will find a way to send West Brom down officially.

RACE AGAINST TIME
The most intriguing matchups don't involve Liverpool's actual opponent. The match against the Baggies falls on Saturday the 21st while the home leg against Roma is on Tuesday the 24th. That is enough time for players to recover, but it isn't an extended amount of rest and any minor knock suffered at the hands (feet) of a crap side would seriously jeopardize any Red's chances of playing in the Champions League.
Dejan Lovren is trying to recover from a groin injury while Joe Gomez is back in training but likely won't be ready for the weekend. That would leave Ragnar Klavan and Virgil van Dijk as the only remaining centre-back pair that is available. Will it matter who we start with against a side that scores less than a goal per game? It really shouldn't.
PHARAOH AND WIDE
West Brom's less heralded Egyptian, Ahmed Hegazi, will have the job of trying to lock down his countryman, Mo Salah. Good luck to you, sir.
Hegazi has been a bright spot for an otherwise awful team, but Mo has tossed aside far more talented foes than him. The only man who can stop Salah from scoring this weekend is Jurgen Klopp.
In the last 22 matches, Mo Salah has only been left without a goal or an assist 4 times and Hegazi was the man of the match in one of those, way back in December.
With @22mosalah just two goals away from becoming the highest scoring player in a @premierleague season in history, it's hard to see him not setting a new record. He's got left to play:

• West Brom (A)
• Stoke (H)
• Chelsea (A)
• Brighton (H)#LFC #YNWA

— Scott Groom (@ScottCGroom) April 16, 2018
DHARMA & GRZEG
Not long ago Grzegorz Krychowiak was a top target for Europe's elite clubs. After a disappointing start to life in Paris, he was a surprise loan signing by West Brom. Unfortunately, like so much else for the Baggies, it hasn't gone to plan. In their last two matches he has had to come off the bench, but if someone was going to punish Liverpool for playing an undersized support striker in central midfield it would be him.
OH DANNY BOY
Daniel Sturridge can't play against his parent club under normal circumstances, but if an exception could be made it would be a nice story. There was a 'Studge' sighting last weekend as the former Merseyside darling was on the bench against Manchester United. The way he went down so soon after taking the pitch in his last appearance you just hope he can find a stretch of good health sometime soon in his career, but this weekend isn't going to be it. The dynamic striker who went goal for goal with Luis Suarez in '13/14 is a distant memory now. It would take a miracle for him to even worry the Reds. In 18 total appearances, he's only managed 4 goals and will be left with tough decisions over the summer. If Sturridge could show anything in the remaining three after Saturday it would be great for him and positive for Liverpool.
LIVERPOOL VS HISTORY
The Reds have already put up the 4th highest scoring campaign (121) in the club's history with six or possibly seven matches left to play. 1985/86's club record 138 goals is a high bar, but only nine more would put this squad in second all-time. In terms of goals per game, this year's team is sitting 3rd at the moment (2.47 goals per game) and would only need 21 more over 6 or 23 more over 7 to leapfrog the '13/14 team (2.56). 1895/96's 3.22 goals per game will have to remain a target for next season.
The three goals against Bournemouth mean that Liverpool have now only scored more goals in a season three times in their history. pic.twitter.com/wmSAjDFnD3

— Andrew Beasley (@BassTunedToRed) April 15, 2018