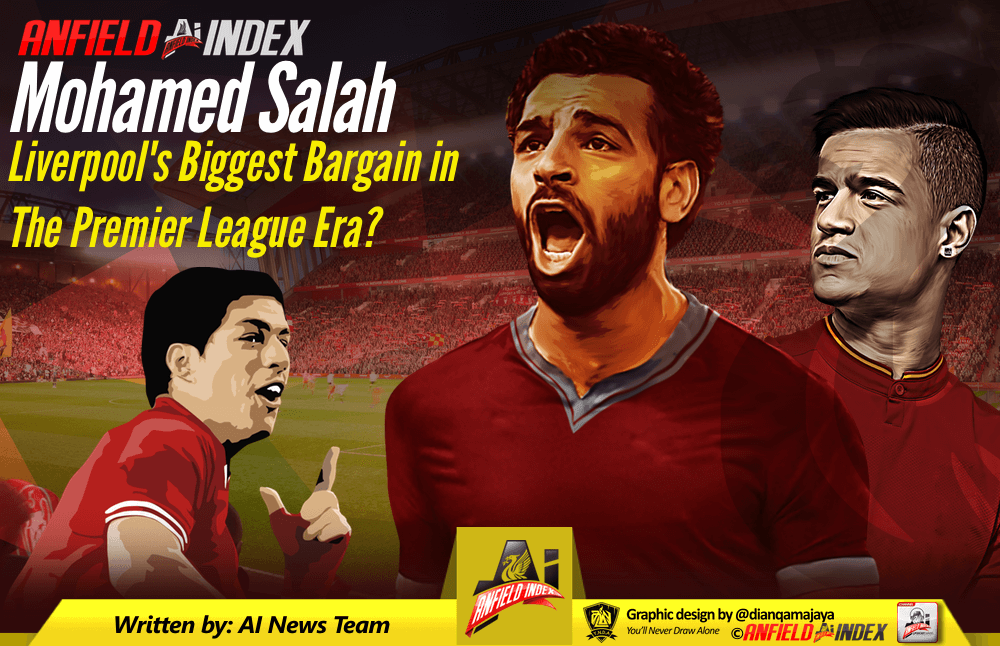 Mohamed Salah: Liverpool's Biggest Bargain in The Premier League Era?
Where Does The Egyptian Rank Among Liverpool's Best Premier League Signings?
The sensational Mohamed Salah has been a revelation for Liverpool this season, but where does he rank among Liverpool's best value signings in the Premier League era?
There are a number of contenders in the running for 2017/18's various player of the year awards, and Mohamed Salah certainly stands among them. However, if there was an award given out each year for the best signing of the season, Salah would, without doubt, be the most deserving recipient. Already, the figure of circa £37m Liverpool paid Roma for the Egyptian looks a snip and Mohamed Salah is on course to smash the 40 goal mark in his debut season for Liverpool. But where does the Salah transfer rank for Liverpool in the Premiership era in terms of the 'best value for money' signing? Let's take a look at the other contenders.
Mohamed Salah: Do Any Signings From the 1990s Come Close?
Rumoured to have acted on the recommendation of a TV cameraman, Liverpool paid around £2.6m to land the virtually unknown defender Sami Hyypia from Willem II in the summer of 1999. In a period where good signings were few and far between for Liverpool, Gerard Houllier landed a gem in the Finnish man mountain. Hyypia was eventually made captain and left Anfield a club legend after ten seasons and over 400 appearances in red, counting Liverpool's Champions League win in 2005 among the trophies he won.

Liverpool's Bargain Transfers From 2000-2010
While the 90s produced more misses than hits in the transfer market for Liverpool, the next decade would see an improvement in talent identification. In 2004, young Spanish midfielder Xabi Alonso arrived at Anfield from La Liga side Real Sociedad. New manager Rafa Benitez paid just £14.4m to land Alonso, whose burgeoning reputation in Spain had yet to translate in worldwide notoriety. Alonso's exquisite range of passing helped Liverpool to their unlikely Champions League triumph in 2005 and the Spaniard developed into one of the world's most complete midfielders during his five years at the club.
Two years later in 2006, Dutch striker Dirk Kuyt arrived from Feyenoord for the reasonable sum of around £16m. Although Kuyt made less of a spectacular impact than anticipated, his work rate, endeavour and willingness to put it all on the line of the shirt ensured he left a cult hero after six seasons at Anfield. Kuyt will be forever remembered for his hat-trick against Manchester United in March 2011.
Rivals to Salah's Crown? The Contenders From 2011 Onwards
In January 2011, controversial Uruguayan striker Luis Suarez arrived from Ajax for £23.85m and although the fee was a club record at the time, the impact Suarez would make dissolve any notions of financial overreach. During his three and a half seasons at Liverpool, Suarez hit the net over eighty times, many of which defied belief. El Pistolero formed part of a quicksilver attacking trident alongside Raheem Sterling and Daniel Sturridge and the trio almost fired Liverpool to Premier League title glory in 2014. Liverpool were brilliant to watch during that period under Brendan Rodgers and if you're looking for similar entertainment then the games at Pokies free games are sure to get you equally excited. With tonnes of amazing casino games to choose from, you're sure to have the gaming experience of a lifetime. Having just missed out on the title, Rodgers' Liverpool team started to dismantle and Suarez angled for a move away. Although his eventual departure to Barcelona in July 2014 was gut-wrenching for the fans, the fee of £70m+ received for Suarez at least helped to fund the rebuild.
The January transfer window in 2013 saw the arrival of enigmatic teenager Philippe Coutinho from Inter Milan. Liverpool paid a paltry £8.5m for the Brazilian who had shown his talent in flashes during his stint in Italy. Coutinho would prove an instant hit with the Anfield crowd, dazzling supporters with his fleet-footed craft and eye for the spectacular. After nearly five years at the club, Coutinho exited to Barcelona for a sum that could reach as high as £142m. It's lamentable that fans didn't get to see Coutinho play with Mohamed Salah a little more often.
Best Value For Money: Where Does Mohamed Salah Rank?
Obviously, longevity has to be a factor in determining the success of a signing for any club. However, in terms of instant impact, there's been nobody quite like Mohamed Salah. When you compare his transfer fee of around £37m to some of the prices other clubs have paid for their star players, Salah has got to rank number one for value. Liverpool have nabbed a 2018 star at a 2010 price. Liverpool's best players always draw covetous eyes from Spain's big two, Barcelona and Real Madrid and Mohamed Salah is no different, though the Egyptian seems far less likely to move than his predecessors. He looks like he is loving life at Anfield and if he can follow up his phenomenal debut season with another next year, he could be out on his own as Liverpool's best ever signing in the Premier League era.
Liverpool's Best Value For Money Signings in The Premier League Table Rankings:
Mohamed Salah from Roma for £37m in 2017
Luis Suarez from Ajax for £23.85m in 2011
Sami Hyypia from Willem II for £2.6m in 1999
Philippe Coutinho from Inter for £8m in 2013
Dirk Kuyt from Feyenoord for £16m in 2011