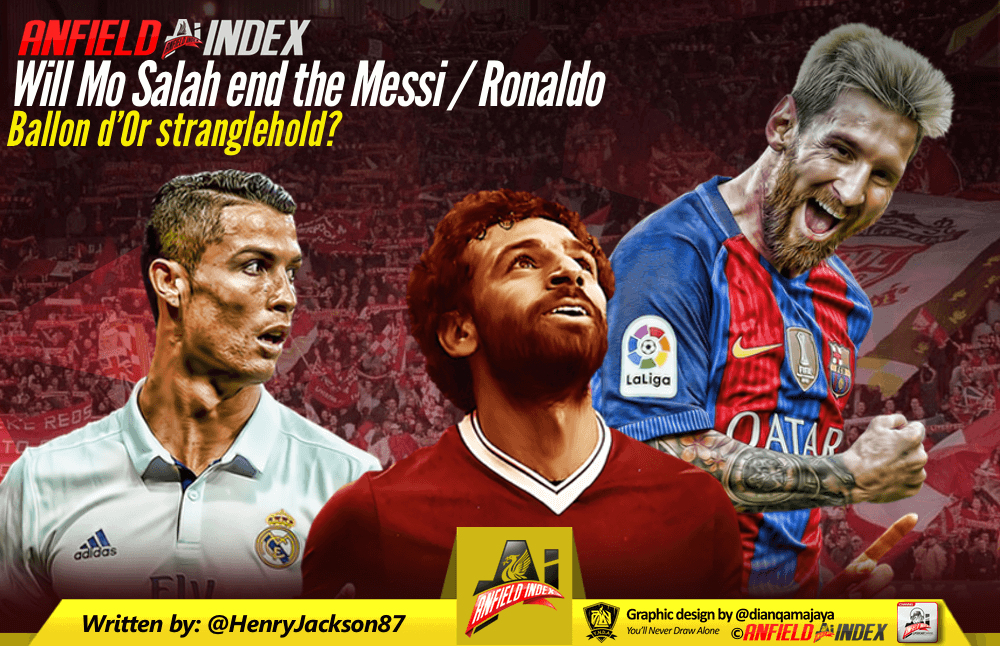 Will Mo Salah End the Messi & Ronaldo Ballon d'Or Stranglehold?

As Mo Salah sent that outrageous looping header into the Bournemouth net last weekend, you were left stunned by yet another piece of individual genius from the Egyptian King.
It also clocked up a notable milestone for the 25-year-old, who took his incredible goal tally to 40 for the season, despite not even being an out-and-out striker.
Only Ian Rush and Roger Hunt have achieved that feat in the past, which sums up how prolific he has been.
Luis Suarez didn't, and neither did Fernando Torres. Or Kenny Dalglish. Or Robbie Fowler. Or Michael Owen. Or Kevin Keegan. Or John Aldridge. Or Ian St John. None of them.
What Salah is doing in a Liverpool shirt in nothing short of astonishing, and we have never seen a more impressive first season by a Reds' player in history.
He is expected to be the named the PFA Player of the Year on Sunday night, even if Kevin De Bruyne will provide stiff competition, and it will be richly deserved, following a joyous year of goals, assists, breathtaking pace, consistency and vast influence.
The likeable forward now has to be eyeing up an even more prestigious personal accolade, however – one that has been enjoyed by very exclusive company for 10 years.
For a decade, Lionel Messi and Cristiano Ronaldo have dominated the Ballon d'Or award, handed to the world's best player each year, outlining their status as quite comfortably the two best players of their generation.
Not since 2007, when Brazilian legend Kaka deservedly took home the prize, has another player triumphed over the best footballer of all time, and arguably the second-best ever, depending on your stance.
There have been endless individuals tipped to be the next winner of the Ballon d'Or after Messi and Ronaldo's unprecedented era of dominance eventually ends, whether it be Neymar, Antoine Griezmann, Kylian Mbappe, Suarez, De Bruyne or someone else.
That moment has taken longer to arrive than many predicted, and those mentioned are still desperately searching for a maiden crown.
From nowhere, however, Salah has emerged as the standout candidate in 2018 and leapfrogged the lot of them, and is the current third-favourite with the bookies, behind Messi and Ronaldo.
Now the thing is, the Ballon d'Or has become something of a misleading award.
Where once it was given to the undisputed best player, regardless of team success, it is now dished out to the one who has won the biggest trophies.
For all Ronaldo's greatness, there is no way he has been better than Messi in five of the last 10 years, but their Ballon d'Or count is currently tied at five apiece.
He won it in 2016 because Real Madrid won the Champions League and Portugal triumphed at Euro 2016, but in the latter he was way below-par, and even got injured early in the final against France.
Last year was also Ronaldo's year, but that was again because Madrid lifted the Champions League instead of Barcelona. Messi was comfortably better.
On the flip side, you could probably pick out occasions when Messi has prevailed, mainly because of Barca thriving and Real struggling.
My point is, Salah's hopes rest almost entirely on Liverpool winning the Champions League in Kiev next month, which doesn't seem particularly fair.
If the Reds come unstuck against Roma, or fall agonisingly short in the final, there is simply no chance Salah will be the toast of Europe come the end of 2018.
Has he performed better and more consistently than Messi and Ronaldo, in a tougher league? Quite possibly. That won't matter a jot, though.
Should Liverpool fail in their quest for glory, it will again be all about the battle for supremacy between Messi vs. Ronaldo.
If Madrid win a fourth Champions League crown in five years, the Portuguese all but has it in the bag, but equally, Messi winning the World Cup for the first time would change everything.
Should neither of those things occur, Messi's performances in what looks like an unbeaten La Liga title win with Barca is likely to make him favourite.
It's a bit mad, isn't it? How about just giving the Ballon d'Or to the footballer that merits it most.
Liverpool Football Club is about far, far more than one player, and nobody should care in the slightest about Salah not winning an individual prize if the Reds clinch European No.6, but what a staggering achievement it would be for him.
Imagine someone saying to you last summer, upon Salah's arrival, that he would be third-favourite for the Ballon d'Or by the time April rolled around. It's insane.
It is testament to just how special the Egyptian has been at Anfield, and his performances have clearly reverberated around the world.
The upcoming weeks will make or break his hopes of taking home the most respected individual award in football – he could win the World Cup with Egypt, but let's be honest, he won't – and he would be such a fitting winner.
That Messi-Ronaldo stranglehold has to end at some point – go on Mo!