 Why Rúben Neves Would Be Liverpool's Midfield Conductor
There will always be archetypes that footballers fit into. Creators, destroyers, poachers, leaders, midfield maestros.
That "maestro" trope will be overused, as is the tendency of footballing media. It's natural to categorise, but what exactly does that trope mean? Maestro? Is he a magic-wielding passer of the ball? Is he tricky with his feet, guiding defenders one way while fully intending to go the other? Does he possess trickery or guile? Is he selfish or will he play others in? Is he patient and silky or driven and direct?
In reality, the word "maestro" is termed to mean a conductor, someone who will make things happen for a collective, to get a group of people all functioning in sync.

Enter Rúben Neves.
Style
The youngest ever player to captain a side in the Champions League, it's quite evident that Rúben Neves has been groomed to be something of a prodigy since he first made his way through the Porto academy, debuting at the tender age of 17 and becoming the youngest ever goalscorer for the club he holds dearest to his heart.
But a breakdown with then-manager Nuno Espírito Santo forced his departure from Porto, and he arrived at Wolves for a cut-price deal worth £15 million. The Championship was suddenly a lot classier, and his season as the General of the Wolves midfield has seen him flourish under the very same manager who once refused to play him at Porto.
Liverpool have recently been linked by Lisbon-based journalist Marcus Alves, on top of the numerous reports linking Neves to Liverpool in the past. Plus, they'll have likely received a glittering recommendation from former Liverpool assistant Pep Ljinders, who once described Trent Alexander-Arnold as "My Rúben Neves … the main guy, the pivot, the lighthouse of the team, guiding the rest."
Really, Neves fits into the mould of the modern midfielder; able to play a variety of ways, in multiple positions. He's just as comfortable screening the back four and exhibiting his improved physicality as he is surging forward with the ball and unlocking a defence with a cutting-edge pass. He's often deployed in both, partnering either Roman Saiss, a more traditional box-to-box midfielder, or Alfred N'Diaye; the combative tackler of the team. Whoever he partners, the Portuguese conductor makes it all function smoothly.
Strengths
First and foremost is obviously his passing ability, but his development in the Championship has seen him become an expert at avoiding the press and getting out of sticky situations. Arriving from Portugal was always going to be difficult given the difference in styles, but the Portuguese adapted to the different tempo of the game instantly.
He told the Guardian in September:
"It's a more aggressive, more physical type of football, and the big difference that I've noticed so far is the competitive rhythm of the game. The first two games here were physical and fast for the whole 90 minutes. You're running as much as you can for the whole game. That's a huge difference with Portugal because, unfortunately, there's a lot of time-wasting there"
He makes more interceptions than the man he would likely replace should Liverpool pursue him, Emre Can (1.7 to 1.1) and makes a similar amount of tackles (2.2 to 2.6).
His adaptation has been tremendous, able to battle his way through physical challenges when the need to cease a counter-attack arises, and then follow up with a vital pass to set Wolves' electric front players on.
As aforementioned, that direct passing is a tactic which excels at unseating high lines, putting defenders on the back foot as pacy wingers get the freedom to roam in behind. He makes 8.5 long balls per game, which is almost three times that of Emre Can and Jorginho, neither of whom necessarily play with the same composure. One would think that a more direct style of passing would see the success rate suffer, and yet not only does Neves make more attempted passes per game than Emre Can, he has a similar success rate (84.6% to 85.5%.)
The numbers tell the story of a player whose brain and feet conduct those around him. His dribbling ability is strong for the first few touches – and often that's all he needs to set himself up to see the pitch unfold before him. Give him space, as Burton Albion did, and he will pry open your defence.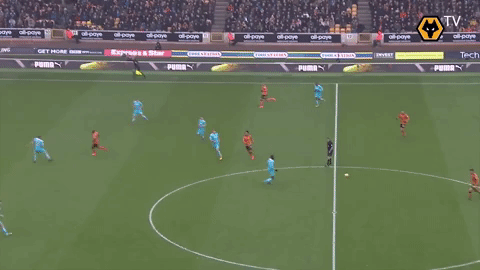 And, yes, if you've heard anything about Rúben Neves this season, it's likely his tendency for the spectacular strike, such as his ludicrous goal against Derby.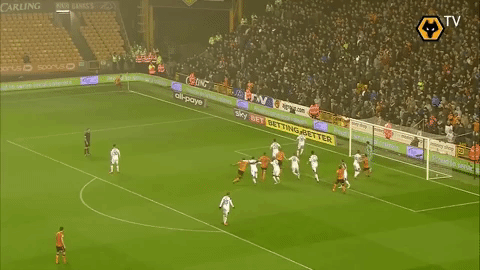 That is simply the tip of the iceberg: he managed to double his tally at Porto in a single season with Wolves (scoring six times) and they're all pretty special. That goalscoring ability and potential to pull out his lethal incisor of a right foot when near the goal only adds to the danger of Neves' presence as a midfielder:
He's also incredibly composed, not to mention skilful.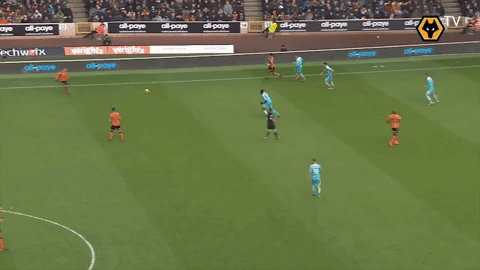 And can inventively pry apart an opening with a ball over defenders, like he did in Wolves' 5-1 hammering of Bolton.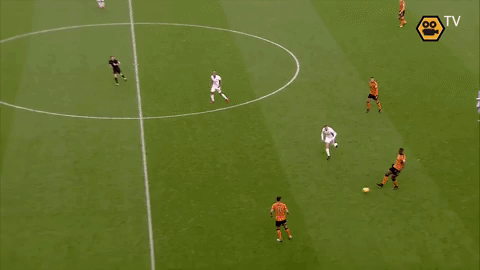 When he's not threading a pass through the eye of a needle, he's showing off with a roulette.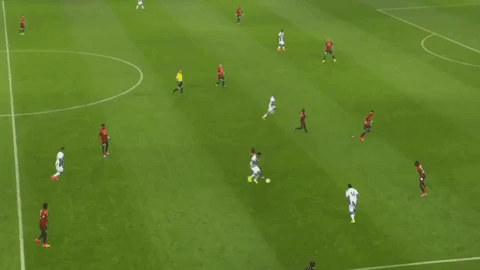 The most promising thing that the 21-year old possesses, though, is the desire to do something with the ball. It's a showcase of his mentality off the pitch too – unfazed and determined. Classy and composed often doesn't matter when the chance to display such traits is passed by, and a knack to try passes – even those that have a greater likelihood of failing than succeeding – makes Neves a unique midfielder in that he's comfortable in sitting at the base of a midfield without being conservative, he's always looking to make things happen.
And to those that believe that trait to be down to youthful exuberance – be reminded that he is the youngest player to Captain a side in Champions League history. The man has a firm head on his shoulders, able to command his side as any conductor should.
"People talk of his technical and tactical talent, but Rúben Neves has extraordinary talent in terms of his mentality." Porto's B-Team coach, Luis Castro, said of his prodigy.
Weaknesses
At Wolves he's been graced by an effective setup, a clear style of play and most importantly, a fluid front three always moving for him, but Wolverhampton have been streaks above of any team in the Championship (despite Cardiff getting to within three points of them) and though the season has been seen as something of a prep-course for the Premier League, there are still those who doubt whether Neves will be able to have an instant impact in the intense cauldron that is England's top flight.
He may also be transitioning towards a more advanced role in a midfield, if his goalscoring and influence around the box is anything to go by. In which case, a more combative defensive midfielder could allow Rúben Neves the freedom to stamp his influence on Premier League games.
There's also the tender issue of his agent, and the reason Wolves were able to pull off the coup of his signing in the first place: Jorge Mendes. The agent's links to Wolverhampton, who are now loaded with cash courtesy of their Chinese conglomerate owners Fosun, means any transfer would likely be an expensive one. Somewhere upwards of £30-40 million, probably.
Still, that seems a pittance when you consider the potential.
Where Would he Fit in?
Put quite simply, a midfield of Neves, Naby Keita and Alex Oxlade-Chamberlain would devastate teams that look to park the bus, containing the creativity that Liverpool's front three have at times not been given, and the link-up play to unseat those pesky defences.
But another possibility would be signing a pure defensive midfielder: someone like Leicester's Wilfried Ndidi, to allow Neves the freedom of creating for the front three.
With Emre Can departing, Neves would be an ideal solution to Liverpool's impending midfield problem, and there is absolute no doubt that he's up to that task.