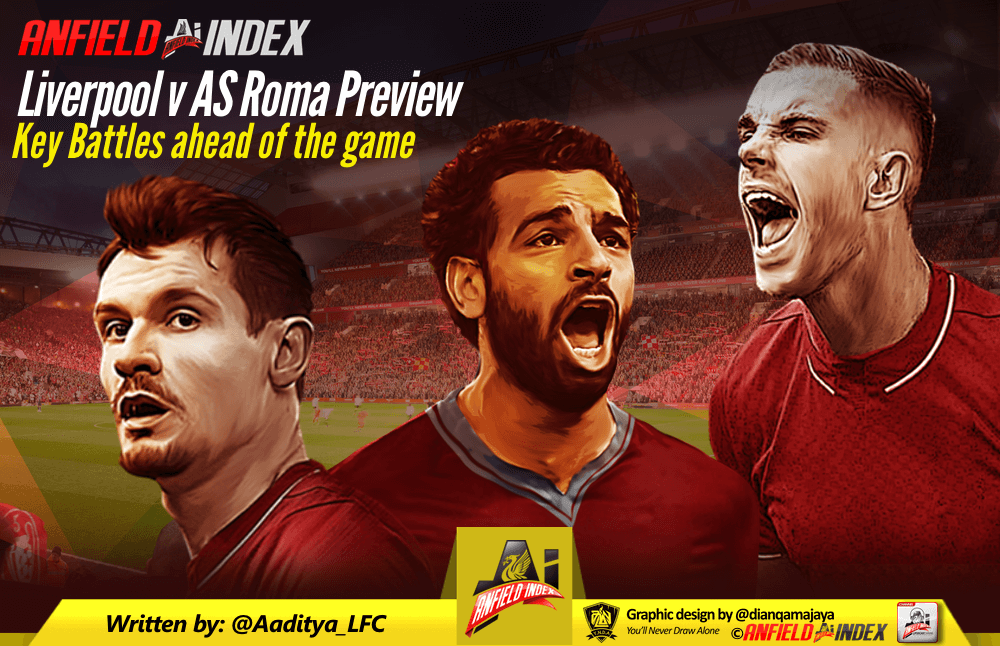 Liverpool v AS Roma Preview - Key Battles
Let's get the cliche out of the way first – These are the nights that we live for! 
A Champions League semifinal night is coming to Anfield for the first time in ten years, and even Roma would be daft to expect anything other than a raucous, relentless night in the stands.
Liverpool slipped up at the weekend though, as shoddy defending cost them two points, as the Reds let a two-goal slip, with shoddy defending at the end of the game against West Brom at The Hawthorns.

Roma will be coming into this game on a high, even though it has been a fortnight since that amazing night at the Stadio Olimpico when they overturned a 4-1 deficit from their quarterfinal first leg against Barcelona.
Here are the key individual duels that could decide the outcome of the game.
Mo Salah v Federico Fazio
The King of Egypt will be on a high. He's had a weekend that he's not going to forget easily for the rest of his life. He was declared the PFA Player of the Year on Sunday night, a day after he equalled the Premier League record for the most goals in a single 38-game season.
But, that would be irrelevant for him and for the club if he fails to turn up for the two legs against his former team.
Liverpool's attacking route will not be too complicated. If their game against Barcelona was any evidence, Roma play a high defensive line, and they will look to use the pace of Sadio Mane and Salah at every given opportunity.
The timing of Salah's runs will be crucial because when he gets a clear route in behind a defence, there are very few players in the world who can stop him.
That is why Fazio's positioning is going to be critical. He's not the most blessed when it comes to speed of foot, so he's going to have to nip Salah's threat in the bud, not allowing the runs in behind him.
Alisson Becker in the Roma goal will be happy if he's not going to have deal with the most potent Liverpool threat face-to-face, so Fazio is going to have a big game for Roma if they are to get a positive result at Anfield.
Jordan Henderson v Radja Nainggolan
The skipper seems to have hit a positive run of form just at the right time of the season for Liverpool. But he didn't have a good game at all at The Hawthorns, and a repeat has to be avoided at all costs on Tuesday.
Nainggolan, on his day, is as good a midfielder as anyone in the rest of Europe. He's got a strong engine on him, he's a strong man capable of shrugging anyone off the ball, has a fantastic passing range, and his hammer of a right foot is capable of spelling doom for any goalkeeper in the world.
Henderson will be looking to channel his performance from the last big European night at Anfield when he made all the right noises against Pep Guardiola's rampaging Manchester City side.
On that night, Henderson was bright. He was closing down spaces, snapping into tackles and not giving a moment's peace to the City midfield.
But there is always one concern with Henderson – his ability to keep the ball or play a meaningful pass when put under pressure by the opposition.
He can rest assured that Nainggolan won't let him have time on the ball. Nainggolan is going to be snapping at Henderson's heels at all points, so it is crucial that the skipper has his wits about him at all times.
Dejan Lovren v Edin Dzeko
In Roma's quarterfinal, Dzeko got them their priceless away goal at the Nou Camp. In general, he's enjoyed playing at Anfield, having scored a few times during his time with City.
For Lovren, the build-up to this game has been far from ideal. He came on for the last bit of the game against West Brom, with Jurgen Klopp looking to protect the lead and leave the Midlands with three points.
Instead, Lovren lost his composure and made some elementary mistakes. None of those will be on the agenda for Tuesday night, especially given the stature of the man facing him.
Dzeko's ability to test the goalkeeper even with the slightest of opportunities being presented to him is what sets him apart from a lot of other strikers.
The likes of Cengiz Under have been a fantastic foil to Dzeko's work, but the Bosnian does carry the biggest threat that the Italian side pose.
He's already had a happy return to England in the Champions League, scoring a brace in a thrilling 3-3 draw at Stamford Bridge earlier this season.
Upwards of 50,000 people will be willing him to fail and lose his shooting boots on Tuesday night. Will their wish be granted?