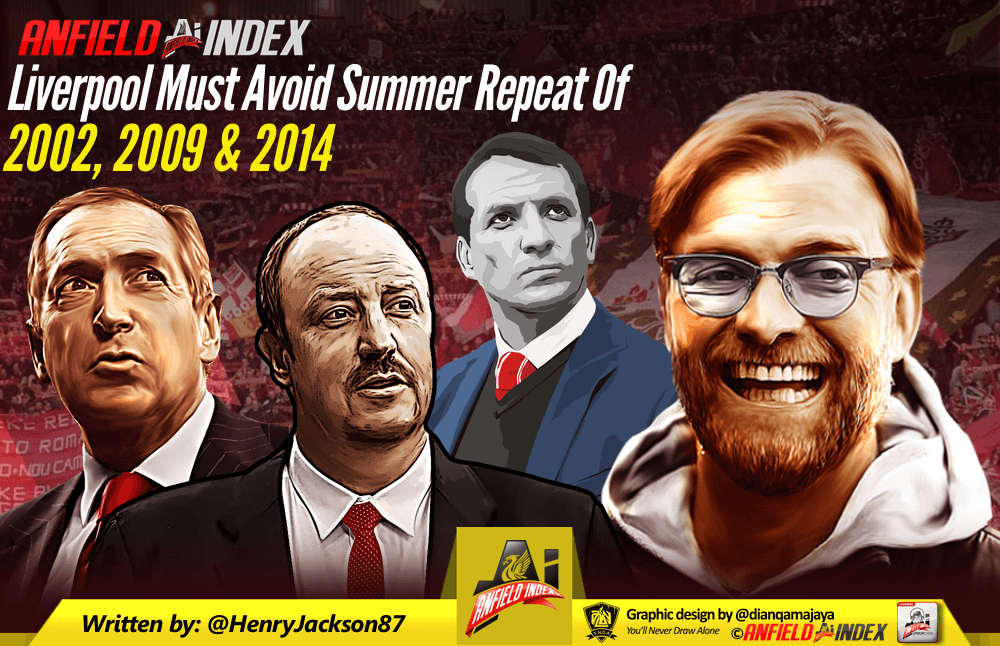 Liverpool Must Avoid Summer Repeat Of 2002, 2009 & 2014
What do the summers of 2002, 2009 and 2014 all have in common? Liverpool ballsed up every one, that's what.
On those three occasions, the Reds had a wonderful chance of kicking on after near-title-winning campaigns, only to come crashing back down to reality after recruiting poorly and allowing rivals to pull clear again.
Gerard Houllier started off the trend 16 years ago, after a fantastic Arsenal team were forced to win their remaining 13 matches to clinch the Premier League title and hold off a strong Liverpool side who acquired 80 points.

A terrible time of things in the transfer marker ensued, however, as El Hadji Diouf, Salif Diao and Bruno Cheyrou spearheaded a group of signings who have gone on to be considered some of the worst in Reds history.
Houllier never recovered from that summer, and it would be seven years before Liverpool mounted a genuine challenge again.
Rafa Benitez's class of 2008/09 remain the Reds' most complete team since the last title came the club's way in 1990, even though Jurgen Klopp is doing his very best to change that with this current outfit.
Again, it took a superb Man United side to have too much for Liverpool, but it really felt as though the Merseysiders were going places, and that it was their moment in the sun.
Cue another woeful summer, as Xabi Alonso broke our hearts and departed for Real Madrid, Alberto Aquilani came in as an inadequate, injury-ravaged replacement, joined by Glen Johnson and Sotirios Kyrgiakos.
Liverpool finished seventh in 2009/10, and Benitez went the same way as his predecessor Houllier.
If that excellent 2008/09 side did everything in measured, ruthless, efficient fashion, Brendan Rodgers' class of 2013/14 were a bonkers bunch. Luis Suarez and his able deputies came so painfully close to ending the wait for glory, only for a cruel twist of fate to rob them of that moment.
Still, it was just the beginning under Rodgers, right? Wrong.
Suarez, maybe the most talented footballer ever to play for Liverpool, headed to Barcelona, Daniel Sturridge's injury woes started, Gerrard's legs completely went and Rodgers lost the plot.
Ten signings may have felt promising at the time in the summer of 2014, but too many were disastrous, most notably Mario Balotelli, Rickie Lambert and Lazar Markovic.
Emre Can is the only genuine success story from that transfer window, with Adam Lallana having his moments, Dejan Lovren improving of late but still making too many errors and Alberto Moreno still being Alberto Moreno almost four years later.
Unsurprisingly, the Reds came nowhere the following season, eventually sitting sixth in the table and losing 6-1 at Stoke on the final day.
These three false dawns were all incredibly tough to take, especially considering just how desperate we all are for a league title, and the same cannot happen this time around.
Admittedly, this team hasn't come anywhere near as close to being champions as the aforementioned trio, but there is a definite feeling that something special is on the horizon.
Klopp is doing a magnificent job as manager, and in the space of two and half years, he has taken them from a horribly mediocre Reds outfit to Champions League semi-finalists.
How about that 5-2 win over Roma, by the way? My goodness. Has there been a better attacking display during Klopp's tenure?
Almost every single signing the German has made has been a success, with Sadio Mane, Mo Salah and Virgil van Dijk all genuinely great purchases.
The addition of Naby Keita from RB Leipzig this summer is going to make a seismic difference to Liverpool's midfield, and there are young/young-ish players such as Loris Karius, Trent Alexander-Arnold, Joe Gomez, Andrew Robertson and Alex Oxlade-Chamberlain who are only going to improve in the coming years.
Despite all of this, it is impossible not to look back at 2002, 2009 and 2014 and feel concerned that history will go and repeat itself.
Of course, the club feels in a very stable place right now, and Klopp's transfer business so far should suggest we rest easy, but we as football supporters don't always think logically.
There are tweaks to be made within the squad that are vital if Liverpool are to go toe-to-toe with Man City next season, and possibly even Man United.
This is a very good Reds team, and an addition here or there can turn them into one of the club's greatest ever.
A better alternative to Simon Mignolet must arrive – Karius has done enough to justify being No.1 next season – and a superior centre-back is needed to partner the colossal Van Dijk, regardless of Lovren's admirable turnaround.
Enticing a top class deep-lying midfielder to come in and thrive alongside Keita is also paramount, with the current first-choice options feeling a little one-dimensional.
Anybody who follows my writing closely, or follows me on Twitter – thank you for doing both, by the way – will be well aware of my admiration for Jordan Henderson, but that doesn't mean he should be a guaranteed starter moving forward. Far from it.
In attack, depth is called for, both in terms of providing back-up for Roberto Firmino in central areas and bringing in another option out wide to add competition for Salah and Mane.
If these changes happen, Liverpool can go all the way and win their first ever Premier League crown.
It's a big 'if', though.
We have seen these promising situations end in tears too many times before, and now would be a particularly crushing time for it to occur again, with so much momentum built up with Klopp in charge.
Lessons must be learned and Liverpool must get even better.