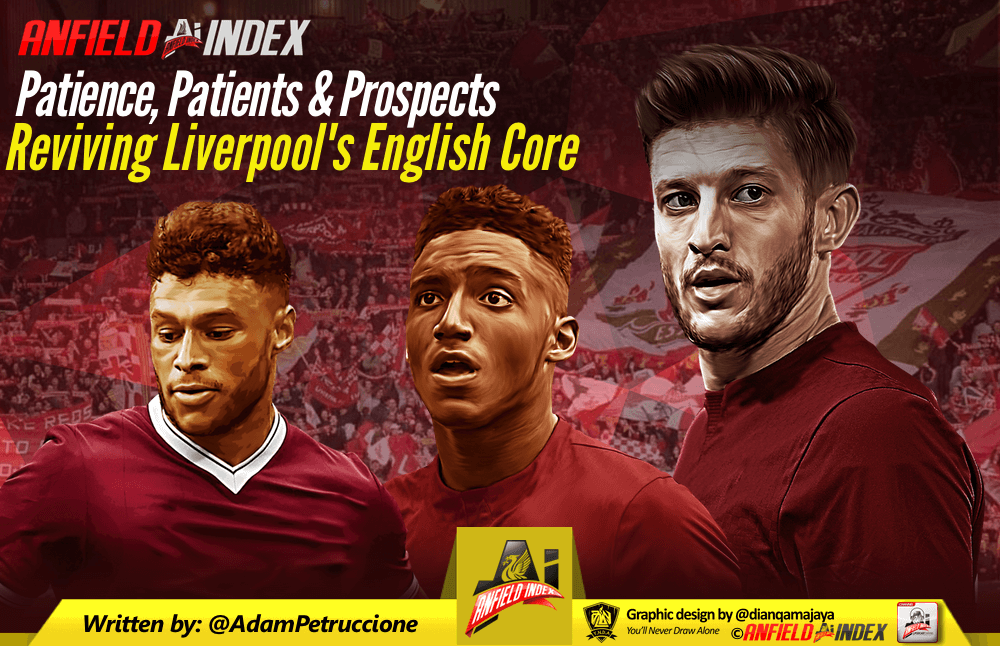 Patience, Patients & Prospects: Reviving Liverpool's English Core
Aside from the last ten minutes of the past two matches, everything is looking rosy in Liverpool-land. Sunday night Mo Salah was awarded the PFA Player of the Year award and, of course, Tuesday night ended with Liverpool holding a 5-2 advantage going into the Champions League semi-final away leg. Things are going so well in fact that we're not satisfied anymore with just a Champions League semi-final victory. It has to be decisive. It has to embarrass the opposition. We're getting greedy as fans and that's a good thing. After all of the kung-fu kick celebrations and individual accolades, there is still one football festivity that the Reds didn't get the invite to. How could that be? It feels like this Liverpool side should be handed all the trophies, Big Ears, the caribou thing, the Ryder Cup, I want it all and you do too.
Liverpool rivals, Manchester United and Chelsea are on their way to the FA Cup final, a competition we exited many moons ago, and it seems that as a club we've resigned ourselves to only competing on certain fronts. We're ecstatic about Salah's domestic awards, and rightfully so, but the domestic team competitions are seen as a distraction. In the end, that's just a mental trick we're playing on ourselves, isn't it? The 9th most valuable club in the world should be able to have a real go at its domestic competitions rather than treating them as a side-show. Will we ever have the depth again to compete on all fronts or will we have to forever pick and choose what to care about?
The league and European competitions neatly dovetail together. Finish in the top-4 and you play in the Champions League. Progress in Europe and you can recruit better talent to finish higher in the league. The FA Cup and the League Cup function in parallel rather than in conjunction with the rest of our schedule and we don't seem to have the resources in recent years to make a real effort on all four fronts.

The problem is, for a club that is built to win trophies, if we're eliminating the domestic tournaments we're leaving ourselves two incredibly difficult title tracks and maybe that's why we've been on such a prolonged drought when it comes to silverware.
Why don't Liverpool have the depth to match their rivals? Why aren't we able to go for all of the trophies? Your first inclination is going to be to say that the club hasn't spent the cash required to have a deep bench. Liverpool's overall depth though matches up just fine with the likes of Spurs, Arsenal and Chelsea. The problem is that our squad players tend to pick up injuries at an incredible rate, leaving the manager to fill in with half-fit senior players or fill-ins from the U23's. Loans are a gamble. Keep Grujic and Wilson in the team and you might stunt their development. Send them out and you leave yourself open to problems when the inevitable injury crisis crops up.
THE ENGLISH PATIENTS
Prior to the West Brom match on the weekend, AIPro's Simon Brundish noted on the "Fatigue Index" podcast that he would be very surprised if Jurgen Klopp put out Joe Gomez given his lack of training or game fitness… yet there he was, doing his level best, but ultimately being involved in the sequence of errors that culminated with the Baggies' equalizer.
Gomez shouldn't have started, but Trent Alexander Arnold needed rest ahead of the Champions League match with Roma and Nathaniel Clyne was out with another injury.
This really has gone on all season and has been a problem for the previous few as well. The players who should make up the depth in our squad, are consistently out of action. It's an issue that ultimately keeps us from competing in domestic cups and if we're not careful it just might cost us even more than that in the closing weeks of this season.
Joel Matip came to the club with a history of the types of knocks and ailments that have persisted through his time as a Red and he's out for the season with a thigh injury. Adam Lallana, in his four years at Liverpool, has averaged 19 starts per Premier League season. He was brought in to be more than a squad player. His injuries are becoming so frequent that we'd be fortunate if he could make the squad at this point. Jordan Henderson has averaged even fewer starts per season since he started having issues in the 2015/16 season. Danny Ings, Daniel Sturridge, well we're all familiar with what has happened to them in the past two years.
No matter supporters thoughts on Lallana, his injury record throughout his time at Liverpool makes him impossible to rely on. The same applies for several others, who I'd happily replace.

— Rory Greenfield (@RoryGreenfield) April 22, 2018
Carrying injury prone players creates a situation where you can assume some of this group of five will be injured at any point in time so any additional injury creates a serious depth crisis. We see that now with Nathaniel Clyne and Emre Can being out with injuries that are uncharacteristic for them and now, piled on top of that, Oxlade-Chamberlain was carted off against Roma and Sadio Mané has a thigh problem.
Coincidentally, Liverpool's chronic injury problems stem from their English core. Lallana, Henderson, Sturridge, Chamberlain, Gomez and Ings have long injury histories and Clyne is catching up fast. God knows why this group has been hit so hard, but it is particularly annoying for a club and a manager who has placed such importance on having a strong core of English players. Among these names are some of the most loved personalities. Everyone would love to see them succeed. But at the heights that Liverpool are now trying to reach, sentimentality is not a common trait. The Reds can keep rolling the dice, keep hanging on to this group, but it means they'll never have the numbers to make serious runs at the domestic cups.
LFC injury history, last 3 years pic.twitter.com/sG0R1o8UEP

— SimonBrundish (@SimonBrundish) January 19, 2018
NEW KIDS ON THE BLOCK
The truth was evident last summer and it is still staring Edwards and Klopp in the face; that they need to rotate out the English core for fresh blood, preferably with a pristine injury record. Thankfully, help may be on the way. The links with the most legs so far this spring have been to three rising English stars, Ryan Sessegnon, James Maddison and Jack Butland.
Sessegnon and Maddison are currently fifth and sixth in goals scored with 15 and 14 respectively. They are outscoring most of the league's strikers while playing on the left wing in the case of Sessegnon and on the right side of the midfield for Maddison. More importantly, they've both made over 40 starts this season with no signs of slowing down.
The competition will be fierce for the Fulham flyer with our top rivals as well as clubs on the continent registering their interest. £40GBP is the latest eye-watering number quoted for Sessegnon, who just turned 18. While 40 million is an extraordinary number, so are his stat-lines for a teenager and the plain truth is that one of our rivals will be happy to pay it. When you think about the way we projected production from the likes of Markovic, Origi, Lallana and even Oxlade-Chamberlain in past windows while none of them had ever come close to Sessegnon's goal return, pushing the boat out for this prodigy seems rather safe. A left-sided attacker would rotate best with Mané, Firmino and Salah and there is only a handful in Europe with production to match Sessegnon's.
https://twitter.com/super6/status/984717831550857218
Less has been leaked about Maddison's price tag, but he's scoring at roughly the same rate while flying under the radar. The Norwich man has become something of a long-range merchant, something we've lacked since a certain Brazilian left town. Operating centrally and on the right side, he mirrors Sessegnon positionally and could rotate with Oxlade Chamberlain who has been on a strict minutes limit since he arrived in Liverpool and will need a caddy as he recovers from his knee injury. That is, of course, the spot that Adam Lallana is supposed to occupy if he could get himself on the pitch.
Last time I was apprehensive to Tweet that we were going to sign a player was Ox. That one worked out well as he is probably my favourite player. Let's hope it works out again.

Butland will more than likely sign for LFC. #LFC

— Graeme Kelly (@GraemeKelly1) April 23, 2018
Jack Butland is the curious one as he comes with an injury history of his own, but Michael Edwards may just be grasping an opportunity here. With Stoke likely to be relegated and Butland only a year removed from a lengthy spell on the sidelines he will cost a fraction of our dream goalkeeper targets; Allison and Oblak. Financially it would make sense to be able to move Mignolet on and replace him with Butland for a negligible difference, but how he would fit with the emerging Karius is a bigger question.
Awkward fit aside, if Liverpool are able to bring in Sessegnon, Maddison and Butland to replace Lallana, Sturridge and Ings we would completely revolutionize our English core along with the squad depth. Add to that the talents following Trent Alexander Arnold's path out of the Academy, the soon to arrive Naby Keita, one or two other possible senior signings and Jurgen Klopp should find it much easier to field a squad that would march through the early rounds of the domestic cups without impacting their options in the league or European competitions.
Liverpool is a club built to win trophies. We've just been short a few pieces… for a decade or so. If these rumoured deals are as close as the ITK's say, next year and seasons to come should be much different. With real depth, Klopp can count on rather than names on a roster that aren't available when you need them the Reds should truly be back to their trophy hunting best for the rest of the manager's tenure.
Up the Reds!