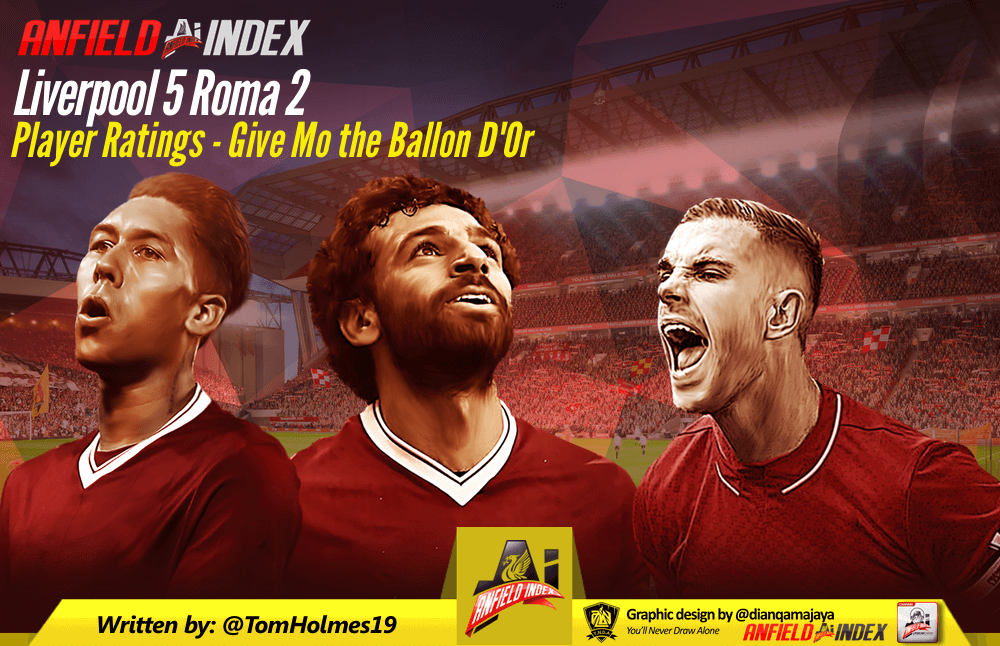 Player Ratings from Liverpool 5-2 Roma. Give Mo The Ballon D'Or

At the end of an absolutely unbelievable game of football, Liverpool took the first leg against Roma 5-2 at Anfield. With all three of the Fab Three on the scoresheet and Edin Dzeko keeping things interesting, how did each player rate in Liverpool's biggest game in years?
Loris Karius – 5/10: Flapped at one ranged shot in the first half and got away with it, but was punished in the second half when he was beaten at his near post by Dzeko. Overall, a patchy performance at best.
Trent Alexander-Arnold – 9/10: Amongst everything else going on, and there was a lot of it, Trent once again stood out, coming of age on the big stage with an absolutely stonking performance. Intercepted everything, didn't give Kolarov much joy at all and at the other end played some terrific passes, including for the third goal. Exceptional.
Dejan Lovren – 6/10: I was so ready to give Dejan a 9 as well. I thought he was really strong tonight, got Liverpool into a great position with his solid defending all night, and was unlucky not to score. Then he dropped a howler to let Dzeko score and Roma back into the tie. If ever a player's career was summed up in 90 minutes…
Virgil Van Dijk – 8/10: See ball. Head ball. Occasionally clear ball. He maybe could have done more to stop the slide late on and there were one or two hairy moments but overall, he was excellent tonight.
Andrew Robertson – 7/10: Robbo was another who had a couple of scary moments early on, but once Liverpool started playing he was excellent. Bombed on down the left, was heavily influential in an attacking sense.
Jordan Henderson – 9/10: Liverpool's captain and he turned in a captain's performance. Made tackle after tackle, dominated the midfield, pressed phenomenally. Didn't give Roma a sniff for the vast majority of the match. Led from the front and I thought his leadership was terrific too.
James Milner – 8/10: Potentially unlucky to have a penalty given against him but he made great moves and stretched Roma's defence brilliantly. Worked as hard as anyone and was a critical part of Liverpool's domination of the midfield.
Alex Oxlade-Chamberlain – N/A: Harsh to even try and give Ox a score here. Absolutely gutted for him, as his injury looks potentially devastating.
Sadio Mané – 8/10: Kept putting himself in great positions. Worked exceptionally hard. Missed some chances but ultimately they were consigned to history as he put in the third goal. Not the main man today though…
Roberto Firmino – 10/10: Mind-blowing. Fantastic performance. Two goals, both of which were proper centre-forward goals, along with two assists, the second of which was breath-taking. All night he held the ball up well, kept moves going, pressed well. A perfect performance from him, gave you absolutely everything you'd ask of him.
Mo Salah – 11/10: I'm out of superlatives. I'm speechless. Give this man the Ballon D'Or. An absolutely staggering first goal, veins of ice for the second, and then gave Sadio and Bobby absolute sitters to cap it off. Almost single-handedly got this team four goals. And that's just the stuff that ended up with the ball in the back of the net. The best performance I've ever seen from a Liverpool player, put into the context that this was a European semi-final against a good team.
Substitutes:
Georginio Wijnaldum: 8/10: Missed a sitter at 5-1. Damn him. But other than that Gini was an absolute machine in the middle of the park, to the point where we didn't even miss Ox. Cruyff turns, dynamic runs, great stuff.
Danny Ings – 6/10: Asked to be Mo Salah for fifteen minutes. Wasn't Mo Salah for fifteen minutes.
Ragnar Klavan – N/A: I had to check to see if he touched the ball. He did not.