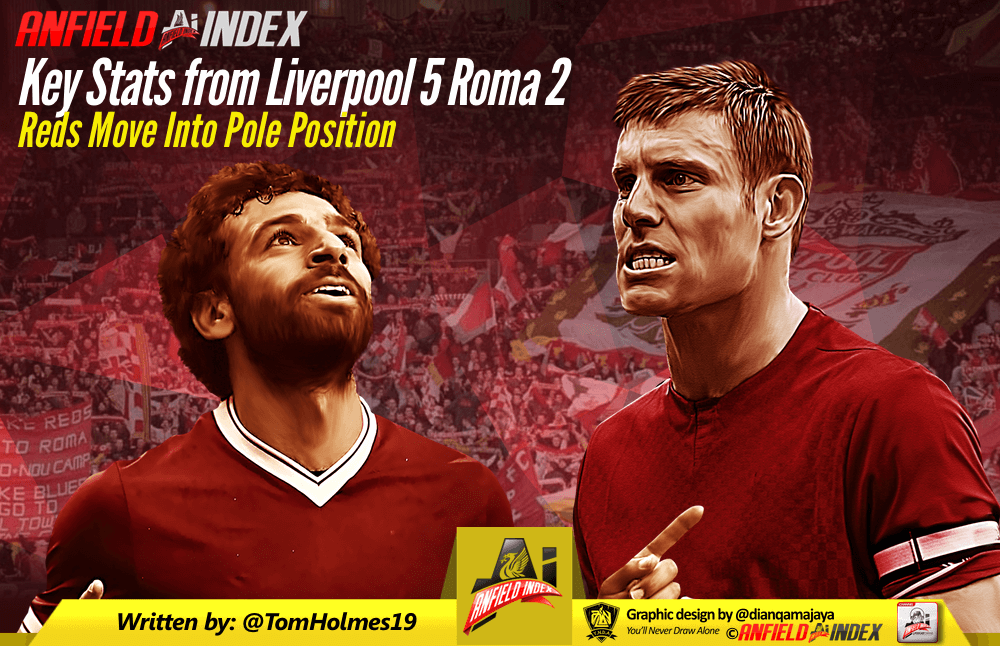 Key Stats as Reds Move Into Pole Position - Liverpool 5-2 Roma
Liverpool ran riot at Anfield, putting five past Roma before a couple of late goals for the visitors took the gloss off a brilliant and explosive European night, and gave the Italian side half a chance of reaching Kiev. Here are the key stats.
Magnificent Mo Leads The Charge
In an attacking sense, this was an absolutely perfect Liverpool performance, spearheaded by a majestic Mo Salah, but admirably supported by the brilliant Bobby Firmino. Both players now have ten goals in the Champions League proper, more than everyone except Ronaldo, and both notched five key passes on the night to go with their goals. Mo Salah is now on 41 goals in PL and Europe, ahead of Ronaldo on 39 for the two. Top of the European pile right now.
Mo became the first player ever to score twice and assist twice in a UCL semi-final. A few minutes later, Bobby became the second. Liverpool created an xG of 3.8 on the night, with five big chances, three of which were scored.

But, this isn't the first time the Reds have run riot at Anfield this season. That now means the Reds have scored 44 goals in 11 games in this season's UCL (including Hoffenheim). With Mané also on eight, this is the first time in UCL history that a team has had three players score at least eight goals in the UCL. Madness. And here are two more absolutely mad stats to finish on, courtesy of Andrew Beasley.
Liverpool have scored five-or-more goals 24 times in their 376 match European history.
20 times in the first 367 matches.
Four times in the last nine matches.

— Andrew Beasley (@BassTunedToRed) April 24, 2018
27% of the European Cup/Champions League semi final goals ever scored at Anfield occurred tonight.

— Andrew Beasley (@BassTunedToRed) April 24, 2018
Can Roma Comeback Again?
I guess this is the big question. What are Roma's chances of getting back into it? Again, Beasley has the answer: not very likely.
CL semi-final first legs from the past 14 years where the home side has won but conceded an away goal(s). pic.twitter.com/uTzq9JZrka

— Andrew Beasley (@BassTunedToRed) April 24, 2018
Looking back at Liverpool's UCL semi-final history, there's plenty of good news there. Liverpool have won seven of their nine UCL semi-finals, and you have to go back to 1965, Liverpool's very first European Cup semi-final to see them win the first leg at Anfield (3-1 against Inter Milan), only to lose the tie 4-3, with a 3-0 defeat at the San Siro. Okay so maybe that example wasn't as helpful as it could have been, but hey: seven UCL wins out of nine, and they're six out of seven when winning at Anfield. Unfortunately, four of those wins were with Anfield as the second leg.
Win The Battles, Lose The War?
Roma struggled to dominate the game, despite having more possession (51% of the ball), dribbling better (13 dribbles to seven, only Bobby and Mo completed a single dribble for Liverpool), winning more tackles (19 to 15), with a better passing percentage (76% compared to 74%) and winning nearly two-thirds of the aerial battles (64%).
And yet Liverpool dominated where it mattered, registering more shots (21 to 14), more shots on target (11 to 6), a higher xG (3.8 to 1.2 plus a pen) and of course, on the scoresheet, with five of their chances going past Alisson. In many respects, this was a tactical game, but it was a tactical game where Roma for the majority of it simply had no answer.
James Milner, Corner-Taker Supreme
Milly loves a corner, doesn't he? No player has secured as many as his nine assists in a UCL campaign before, with plenty of those coming from set-pieces (and to be fair plenty of them not). Milner has a good history of notching key assists in big European games and it's good to see him doing it again this season.