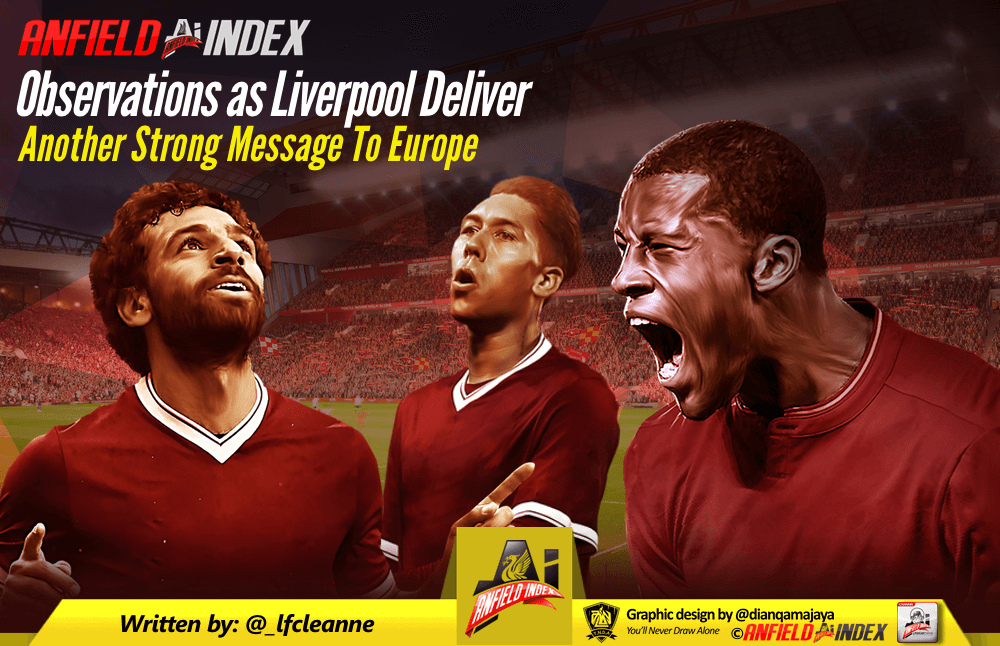 Observations as Liverpool Deliver Another Strong Message To Europe
Two late goals for Roma may have taken the gloss off the scoreline, but they shouldn't take away from what was a truly special performance from Jurgen Klopp's side.
Mohamed Salah made the biggest statement for Ballon d'Or imaginable, notching two world-class goals in the first-half to make yet another mark on Europe's elite competition. Sadio Mané and Roberto Firmino were also on the score-sheet, acting as a very suitable accompaniment in Liverpool's 5-2 win.
One big step closer to Kiev and a memorable night for all in red, here are the observations from the match.

Mohamed Salah for Ballon D'or
Just two days after being crowned PFA Player of the Year, Mohamed Salah produced another faultless performance. There are no superlatives in the English language that would do justice to what the Egyptian has achieved in this campaign; goal 42 and 43 for the season were an indication of the skills in his repertoire. First came a stunning curling effort from outside the box, perfectly placed in the top corner to give Alisson no chance in goal.
The next was just as majestic; Firmino's perfectly weighted ball put the 25-year-old through on goal. In a perfect stroke of Messi-esque genius, Salah produced the deftest of touches to loft the ball over the goalkeeper and double Liverpool's lead before the interval.
On present form, there's just no stopping Mo Salah. He really could end Messi and Ronaldo's stranglehold on the Ballon d'Or.
Firmino the talisman to Mo Salah's show
Salah will take the plaudits and rightly so, but Roberto Firmino's role shouldn't be forgotten. Everything Liverpool produced went through him. Showcasing his creative mind, the Brazilian added another two assists to his name as he became the fourth highest player in terms of assists in a Champions League campaign (7) behind Milner (9), Rooney in 13/14 (8) and Neymar in 16/17 (8).
His two goals were the mark of a ruthless striker, too. Salah was the provider for the first, drilling the ball into the danger area where Firmino was on hand to steer home from close-range. An equally well-taken header came through great movement inside the area, wriggling free of the Roma defence to put the hosts 5-0 up.
What he offers this side can't over overstated; defender, midfielder and attacker rolled into one, Firmino's creative genius and a stark improvement in terms of final third contribution make him the most complete striker in the Premier League and the perfect fit for Klopp's energy-driven system.
10 goals and 6 assists in 11 games; the lad is a phenomenon.
Wijnaldum makes his mark after hammer blow for Oxlade-Chamberlain
Oxlade-Chamberlain has been instrumental for Liverpool in recent weeks, adding drive and ingenuity to the midfield, culminating in his best ever goals contribution tally. An unlikely twist of the knee resulted in an early exit for the former-Arsenal man – a hammer blow with big domestic and European games to play, alongside the World Cup.
His replacement was more than up to the task, though.
Gini Wijnaldum, often ridiculed for being on the periphery of games, was outstanding alongside James Milner and Jordan Henderson, fulfilling an integral role in Liverpool's rampant second-half performance.
Flooding balls in behind the Roma defence, the Dutchman was also on hand with some terrific defensive work, pressing high up the pitch to keep the Reds on the front foot. There were even some attacking runs for the Anfield crowd to feast their eyes on, testing Alisson and adding fluidity to a ruthless front three.
With fears that Oxlade-Chamberlain's season may well be over, Liverpool could use some more performances of this ilk in the coming weeks.
Complacency gifts Roma a glimmer of hope
5-0 with ten minutes to go, Liverpool had the tie all but wrapped up. Yet, two quick-fire away goals for Roma have given them a brief glimpse of another inspired turn-around in the second-leg.
Lovren, who was terrific for the most part, had a lapse in concentration that saw Nianggolan's long-ball reach Eden Dzeko to reignite the tie for the away side. Further drama ensued after James Milner was judged to have handled the ball, but it looked an awfully harsh decision from the referee.
Still, two goals shouldn't take away from what Liverpool produced. Outdoing even themselves, this was a strong message to Bayern Munich and Real Madrid. Stopping the front three will be extremely tough for Roma; one away goal would surely seal a date in Kiev.