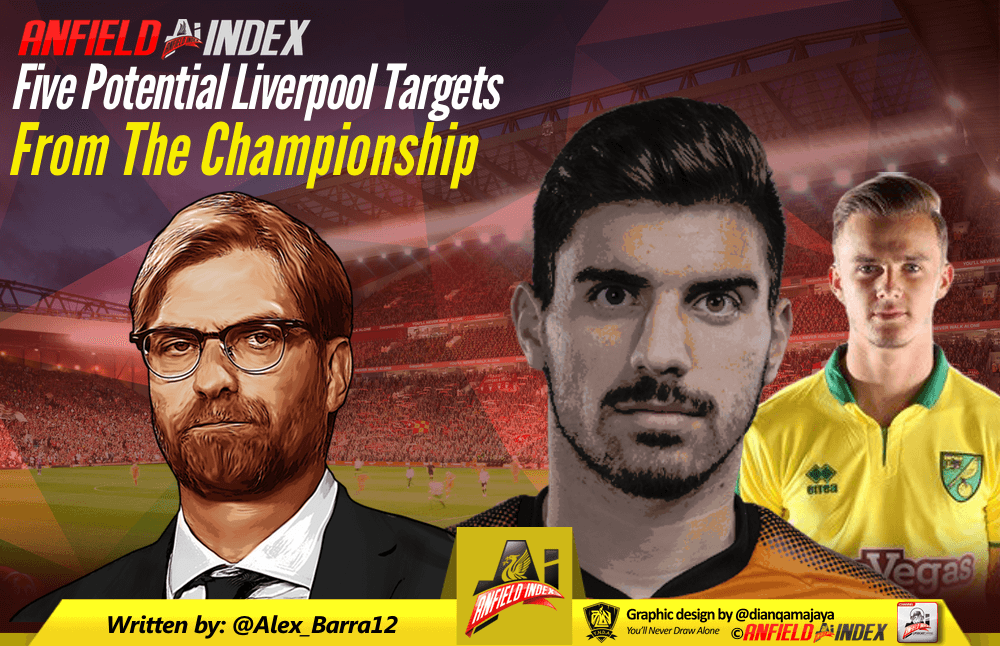 Five Potential Liverpool Targets from the Championship
With the summer fast approaching and Liverpool's march towards Kiev in full effect, injuries are shining a light on Jürgen Klopp's worrying lack of depth. A devastating long-term injury to Alex Oxlade-Chamberlain, Danny Ings' glaring lack of cutting edge in comparison to the men he usually replaces off the bench and Emre Can's likely departure (and current injury) have many pondering who Klopp will look to in the summer to bolster the ranks of his squad.
That this year's Championship season has seen the meteoric rise of some potential stars isn't particularly surprising, given the current state of the competition (with two games remaining, 11th placed Sheffield United could still mathematically make the playoffs) so should Liverpool cast their eye towards England's second tier, here are some names who might jump out as potential signings.
Rúben Neves
Of course, we start with the potential Championship player of the year, and a man who would solve a lot of Liverpool's current midfield problems. Namely; a lack of control from deep in midfield, a lack of creativity against deep-set teams, and the ability to both create chances for the dynamic front three and score absolute "worldies" from midfield.

Neves is a hybrid of a deep-lying playmaker and more forward-thinking number eight, whose primary role for Wolves this season has been to get everything moving swiftly and with swagger. He averages 8.6 long balls per game while still maintaining a pass success rate of 84.6% – an impressive correlation when you consider Wolves high-tempo, all-action style that isn't too dissimilar to Liverpool's when you look at the types of goals they score when they get space: Neves is at the heart of that.
The 21-year old would bring leadership, control and a drive to Liverpool's midfield, combining the goalscoring threat of Emre Can with a more refined passing game. Having already played in the Champions League (he's the competition's youngest ever Captain), he also possesses the maturity above his years to step in immediately and improve the Reds.
James Maddison
Norwich's 21-year old starlet has enjoyed quite the rise to prominence in the Championship this season. Comparisons to Dele Alli have run rife; not merely due to the number of high profile clubs reportedly tracking the lower league player, but also because of the effect he's had on the goal charts from an unconventional position.
Playing as the number 10, or as the most attacking of a midfield trident, Maddison has been simply remarkable for Norwich this season, acting as both their fulcrum and their sword. Comfortable on the ball, he never seems to take too long to make a decision, perhaps evidence of wisdom above his years when on the ball, but it's the numbers that stand out: he's not just scored 14 goals this season, putting him equal-seventh on the golden boot tally, but he's also made more key passes per game than any other player this season (2.9).
With Adam Lallana coming towards the twilight of his career and Liverpool one of the teams recently linked to Maddison, he'd be quite the shrewd acquisition.
Adama Traore
A perennial highlight reel in the Premier League, Adama Traore's Barcelona beginnings seem a world away. And yet, it's Tony Pulis who seems to be turning the 22-year old Spaniard into the more multi-faceted winger that many hoped he'd become.
Classed as nothing more than a fancy dribbler, Adama's pedigree (he came through Barcelona's youth system, joining them in 2004) has been tainted by the unfortunate clubs he played for in the years following: Sherwood's Aston Villa and Karanka's Middlesborough were both relegated from the Premier League, and yet in 2016/17, when playing for 'Boro, he averaged more successful dribbles per game than any other player (5.) More than Wilfried Zaha, Eden Hazard, Alexis Sanchez. You name it.
And this season he's made even more, averaging 6.8 successful dribbles per game. Only Neymar beats that number in Europe's top five leagues.
For all that he has been maligned for awful decision making, his ten Championship assists this season bely his improving maturity; gone is the player who'd beat six defenders, get to the edge of the box and fire off a shot into row z. He's been encouraged to cross the ball earlier on the counter-attack and look to run into the space behind the defence, rather than simply get the ball in front of them and say "Go on, stop me."
If that's what Tony Pulis can bring out of one of the world's best dribblers, imagine what Jürgen Klopp could do with such a weapon?
Ryan Sessegnon
Perhaps the most heralded and hyped Championship player this season, much of the noise surrounding Ryan Sessegnon has moved from how impressive he's been as a 17-year old kid to exactly where his next move lies. Teammate Stefan Johansen is "99% certain he will be one of the top left-backs in the world", though at the rate he's going, his career at left back may merely span his teenage years.
Much like a famous Premier League player who made the switch from left full-back to left wing in Gareth Bale, Sessegnon was played at left-back on debut purely because of the talent he possessed as a wide player. At 16 years old he was playing in the Championship for Fulham, proving that he was just as capable as those fifteen years his senior. This season, he's proved than he's more than just "as capable" – he's lightyears ahead. He's scored 15 times and assisted 6 in 44 Championship appearances, and there's a lot to unpack there.
For one, he's made 44 appearances (only one of those was off the bench) for a side that may well be playing Premier League football this season and has been one of their system's most vital cogs (perhaps secondly only to captain Tom Cairney); showing he's ready to be a Premier League player. Secondly, his ability to play essentially a third of his games at left-back is an asset that will only endear him to any potential suitors (Liverpool especially, if they were to sell Alberto Moreno in the summer), and of course there's the incredible goal tally (he's sixth in the Championship golden boot tally, and his 15 goals are the most of any player who hasn't played up front this season.)
He's got all the promise in the world, and Liverpool would be foolish to pass up the chance if the reports that he's a boyhood Liverpool fan are true.
Hélder Costa
Ask any football fan, following his loan at Monaco, where Hélder Costa ought to be playing at age 24, and few would doubt the answer of "The Premier League." What they ought to doubt is that he spent two seasons in the Championship with a side who'd but three years prior been in League One.
A versatile, tricky winger with pace for days, Costa was Wolverhampton's first real statement signing under the guidance of Jorge Mendes (who also just happens to be Hélder Costa's agent) and the funding of Chinese conglomerate Fosun. He won the club's player of the year in his first season and was immediately linked to a bigger move, having scored 10 goals in 30 appearances. This season he's only managed 5 goals and 6 assists in an interrupted season that's seen him make just the 19 starts.
With a curling left-foot strike and deft touch to glide past a defender, it's not uncommon to see Costa bearing down on goal – he's the kind of winger that feeds off the space provided by a mobile number nine and ghosts in behind with good service. The Reds will likely need back-up to Mohamed Salah next season, to ease the dependency on the illustrious Egyptian, and in terms of playing style; Wolves' Portuguese winger fits the bill.