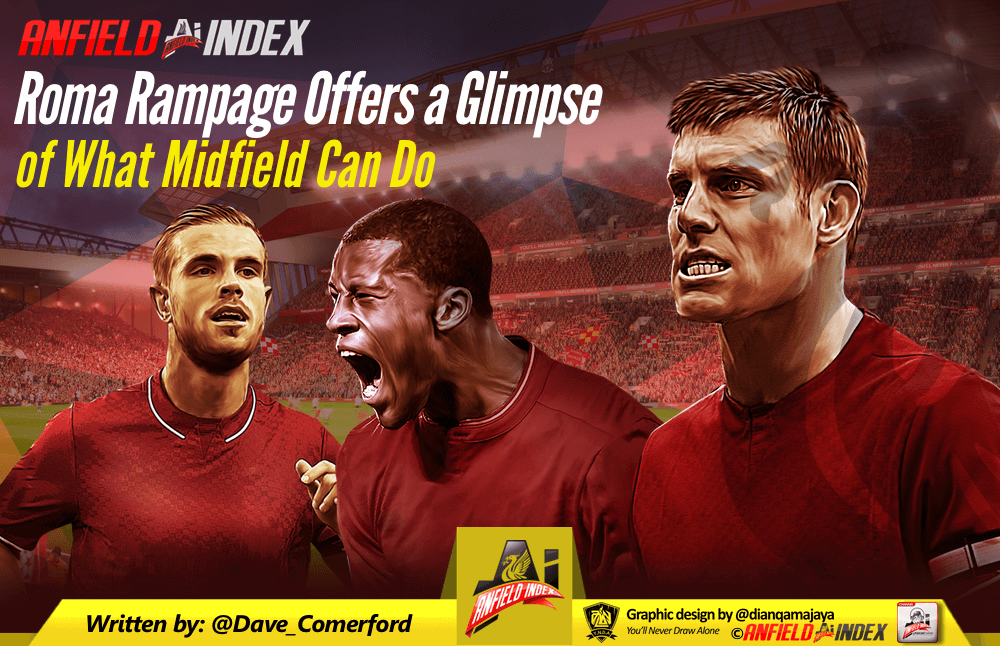 Roma Rampage Offers a Glimpse of What Midfield Can Do
Liverpool's irrepressible front three once again stole the show as the Reds gloriously ripped Roma apart in the first leg of their Champions League semi-final but, for 80 minutes at least, it was close to a perfect team performance.
As so often under Jurgen Klopp, a manager who licks his lips rather than quakes in his boots on the big occasion, the Reds raised their level for a massive game, unlocking the frightening extent of their offensive capabilities as the Anfield faithful entered their customary European frenzy.
Liverpool's front three have found the net relentlessly in their record-breaking Champions League campaign, but, staggeringly, we've seen it all before from Mohamed Salah, Roberto Firmino and Sadio Mane. On Tuesday night, it was skipper Jordan Henderson and fellow midfielder Georginio Wijnaldum who were truly different beasts.
Henderson may operate under the radar in the majority of games but still, he is one of the most divisive players amongst the Liverpool fan-base. Those defending him are typically keen to stress his subtle, underappreciated role in the midfield and his controlling presence.
But, even in light of that fully legitimate response to the waves of criticism, his performances so often leave something to be desired. Recently-uncovered statistics have dispelled the sideways pass myth, but still, Henderson seems to take the 'easy' option far too regularly and in the process display a dispiriting lack of ambition.
The consensus, then, is that the captain is usually pulling strings behind the scenes. But on Tuesday night, he valiantly led his troops into battle and was in the thick of the midfield scrap from start to finish. It was chest-thumpingly good.
Henderson, in truth, was dominant up against three continentally-renowned midfielders and demonstrated the kind of leadership skills many have accused him of lacking in decisive moments, leading to brazen calls for Klopp to redistribute the armband. This time, the 27-year-old set an excellent example to each and every one of his team-mates.
There was also a marked increase in Henderson's physicality and energy, as he repeatedly wrestled the ball from opponents, and an effective utilisation of his superb range of passing as he played several incisive long balls. This all seemed a product of his incredible desire and a response to fans' oft-cited grievances.
The same, in many ways, can be said for Georginio Wijnaldum. Perhaps it would be slightly harsh to label this an 'average' season for the Dutchman, but his displays of late have been far too 'comfortable', as it were.
Often there'll be a few instances of neat footwork and clever play which earn a polite ripple of applause, and other than that Wijnaldum will be largely peripheral.
The Dutchman's work-rate has earned him many backers who may view this criticism as excessive, but the notable decline in Wijnaldum's attacking involvement has certainly been frustrating. It falls upon Henderson and Emre Can to protect the back four, and yet 'Gini' does not seem to grant himself the offensive freedom necessary for him to thrive.
Yet just his like captain, Wijnaldum oozed passion after being introduced in place of the injured Alex Oxlade-Chamberlain. Many Liverpool fans felt Chamberlain's injury would affect Liverpool just as much on the night as it would in the long term, but Wijnaldum, encouragingly, more than compensated for his absence.
He was constantly attempting delightful turns, executing the majority of them, and surging forward, almost resulting in his just his second goal of the season. It was as if a weight had been lifted off his shoulders; Klopp simply unleashed him.
Just like Henderson, he played a number of beautiful balls in behind, acting as the real driving force behind a stunning rout. If he'd tucked away his opportunity, you could justifiably say he'd done his complex job perfectly.
This was possibly Wijnaldum's best game of the season, just when his team needed it most. Since his arrival at LFC, he has been something of a paradox, performing according to the standard of the opposition, and Tuesday night was one of the finest examples of that.
What's crucial now, though, is that this doesn't become another flash in the plan. The injury to Oxlade-Chamberlain, who joins Can and Adam Lallana on the treatment table, makes these two absolutely crucial, alongside the ever-reliable James Milner of course (he got his mention eventually).
With Naby Keita on his way and more additions expected if indeed Can fails to sign a new contract, they may well be playing for their places.
Their efforts against Roma were so promising and yet also so frustrating, indicating the ability their cautiousness so often conceals. Every game demands a different approach – Liverpool won't always go quite so hell-for-leather – but there is definitely scope for more ambition in domestic matches, and for some attempts to carve through inevitably deep-lying defences with the kind of exquisite passing we saw on Tuesday.
It's down to the manager to encourage that if he chooses, but a psychologically freed-up Henderson could defy his many, many doubters, while Wijnaldum could produce the attacking outputs he really ought to in the world's most explosive football team.
They won't always have the motivation a Champions League semi-final brings, but it's more a matter of confidence in their own capabilities.
And confidence will need to be coursing through the veins of each and every Liverpool player if indeed they come through the second leg unscathed and, in all likelihood following Wednesday's night's result, take on the European kings Real Madrid for the ultimate prize.