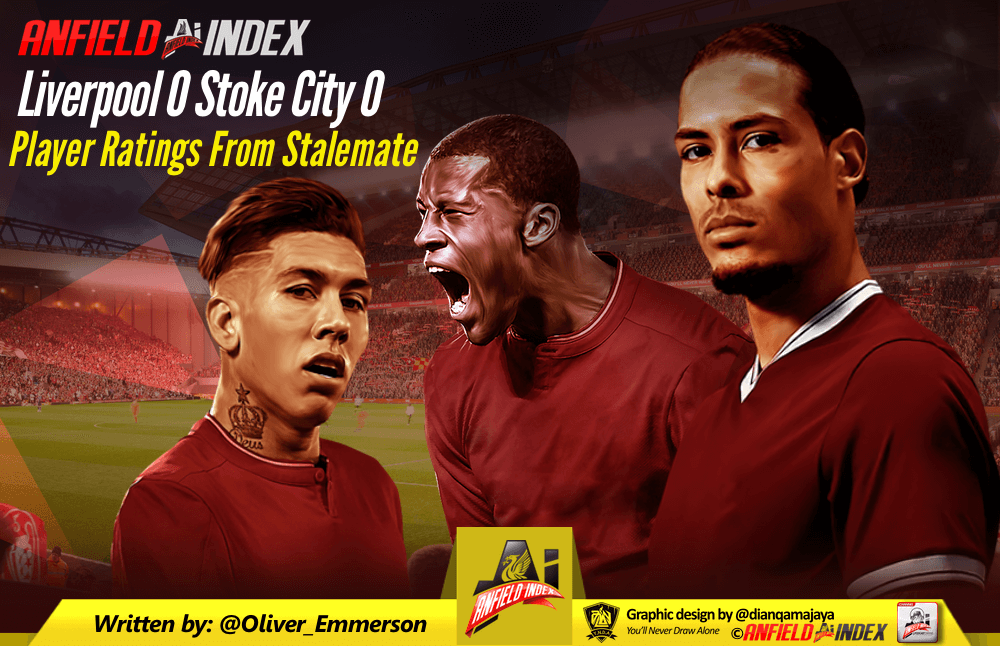 Liverpool Player Ratings From Stoke Stalemate
A performance that makes you wonder why you bothered getting up for it in the first place.
Yes, Liverpool have got bigger fish to fry at the moment, but in a season that's been defined by European nights it seems a little odd that we're not more worried about making sure we're in the Champions League next season.
Onto the ratings where I was tempted to give them all 'N/A' which would today stand for 'Not Arsed'.

A clean sheet, just
Loris Karius (6): One awful pass in the first half but some nice bits too, including a lovely throw out to Alberto Moreno late on. Would love to analyse his actual goalkeeping but there wasn't really any.
Joe Gomez (4): I do like Gomez but the biggest thing he's ever done to convince me Liverpool should play him at centre-back is play game after game with unbelievably bad distribution from full-back. You normally let it slide as he's a powerful runner and good at defending, only to be neither against Stoke.
Virgil van Dijk (6): Sensational dive to try and win a penalty late on.
Ragnar Klavan (6): The game was played at his pace, which isn't a good thing for Liverpool.
Alberto Moreno (6): Actually thought he was alright, didn't get run ragged by Shaqiri, a couple of nice crosses into the box. One shot that was begging to just drop inside the corner but ran wide.
Henderson's passing fails to please
Jordan Henderson (5): Makes a decent pass to Salah for our opening chance and from then on it's absolutely dire. We've seen the best and worst of Henderson this week, today was the latter. Little creativity, the poor weighting of passes and kept doing his annoying habit of screaming at whoever passed it to him when he gives away the ball, despite him having demanded the pass originally.
Georginio Wijnaldum (6): Not his best display but he scrapes a six for looking the most arsed out of anyone.
Trent Alexander-Arnold (6): Interesting seeing him in midfield, I thought he did fine for a first outing there at senior level. Will feel he should have scored but didn't get the best pass from Salah. Praying he's not injured after Gomez's showing.
Salah miss bizarre
Mohamed Salah (5): I never really celebrate goals before the ball goes in the net but I leapt up when Salah burst through early on, only for him to miss. His performance didn't get better, looked as if he was trying too hard to score, some poor passes too, such as the lay-off for Trent's chance.
Roberto Firmino (6): Used his body beautifully at times to fashion an opening but little was happening around him.
Danny Ings (5): Average, best thing he did was beautifully convert the ball from an offside position. Liverpool missed Mané as the playmaker dropping in from left wing, that's no criticism of Ings but it was clear to see.