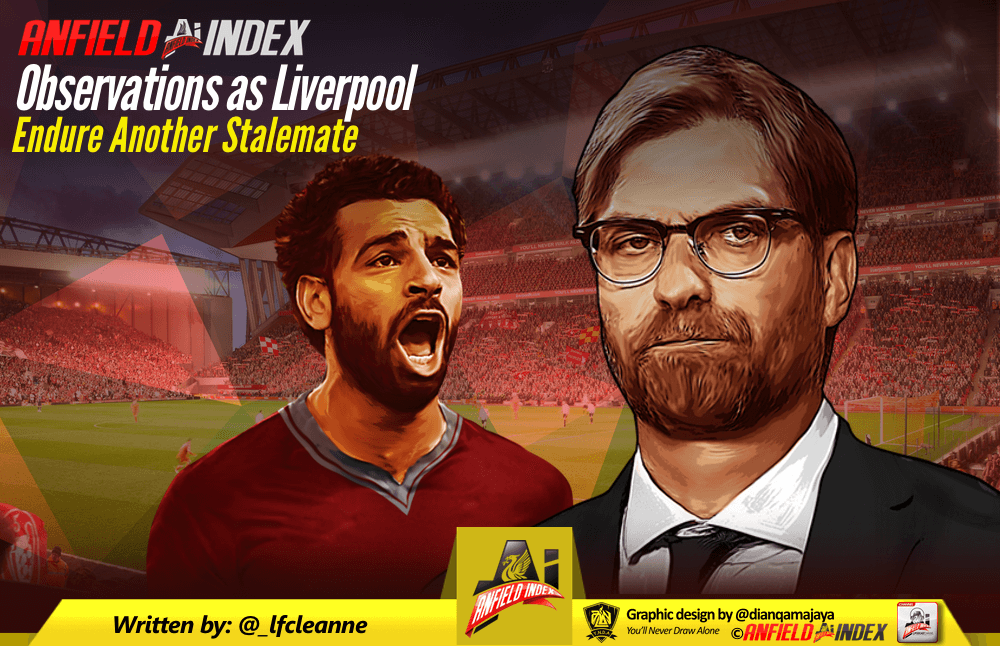 Observations as Liverpool Endure Another Stalemate
Funny isn't it. Tuesday night saw one of the most free-flowing attacking performances Liverpool have produced this season, possibly ever under Klopp. Running riot against Roma, five goals in the Champions League semi-final was no small feat; an indication of what this side are capable of in the final third.
The contrast between that performance and Saturday's couldn't be starker.
This was not a semi-final contest with the possibility of a trip to Kiev and a chance for Klopp to claim his first trophy at Liverpool, in fact, the affair seemed rather anti-climatic; a lunch-time game against a relegation-threatened side not known for their eye-catching football.

Yet, Liverpool must remember their domestic season isn't over yet. There is still work to be done to ensure a top-four finish and with two games to go, what once looked like a comfortable league position could well be under threat after another stalemate.
Here are the observations from the match.
Salah is human after all
When Jordan Henderson found Mohamed Salah through on goal inside the opening exchanges, you'd have bet your house on the ball hitting the back of the net. It seemed like destiny; Salah's clipped effort was set to make him the highest ever Premier League goal-scorer, surpassing Suarez, Ronaldo and Alan Shearer.
Yet, the Egyptian proved he's human just like the rest of us, failing to convert his golden chance to put Liverpool in the driver's seat. Dragging his chip wide of the goal, there was a collective sense of disbelief around Anfield – had Salah actually just missed?!
A free-kick inside the side netting saw him come close on a second occasion, but there was to be no goal number 44 for the season, marking the first time since Boxing Day that Salah has started a game at home and not scored.
For once, it just wasn't his day.
Referees just love the limelight
I can't think of a single Premier League game this season that has been free of a gross error in judgement from the referee, but this was the worst of the worst.
Last weekends drab draw with West Brom was a lesson in how not to officiate; Danny Ings was hauled down inside the area by Craig Dawson but nothing was given before the forward received a punch in the stomach from Hegazi – no punishment and no retrospective action taken.
This was no better, though.
Erik Pieters' manhandling of Salah somehow went without punishment before Liverpool were denied another stonewall penalty after Gini Wijnaldum's cross struck the defender's arm. It was clear as day in comparison to James Milner's alleged handball in the Champions League just days earlier.
Since 2003, Liverpool won only half their PL penalties at Anfield. EVERY OTHER PL PERENNIAL CLUB WINS 60-75% AT HOME. Refs go into matches saying to themselves "don't be swayed by Kop"; i.e. ignore everything. Refereeing is mostly guesswork anyway. Too quick to see.

— Paul Tomkins (@paul_tomkins) April 28, 2018
Liverpool have been awarded no penalties at the Kop end this season, with Spurs earning more spot-kicks in a 10-minute spell at Anfield than Klopp's side have in 17 home league games. Even Calvert-Lewin has had more penalties go his way than The Reds.
Of course, blaming the officials holds connotations of a 'get out of jail card', but a late chance for Milner from the spot kick would have more than likely sent all three points to the home side and gone a long way towards cementing top-four.
This was most certainly the purest advert for VAR you'll ever seen.
Rocky audition for Butland won't win him any admirers
With more and more links emerging between Liverpool and the Stoke goalkeeper, Saturday very much felt like an audition for the Englishman.
It wasn't passed with flying colours, though. In fact far from it; Butland was very fortunate not to be caught out by Salah's early chip, needlessly retreating back to his line rather than coming out to pressurise the forward. A later fumble was indicative of a nervy afternoon that saw him pass the ball into touch under no pressure.
Given Liverpool's philosophy of playing out from the back, Butland's performance raised far more questions than it answered. Rest assured, he didn't win any admirers on Merseyside.
Lack of depth evident again
Liverpool's ongoing injury crisis has made questions over squad depth all the more poignant of late. With Premier League games sandwiched in between big European ties, Klopp's need to rotate the side has seen a notable drop in intensity.
A relative decline in quality is to be expected, but recent games against Everton, West Brom and Stoke reflect the lack of a goals source outside the usual starting eleven. Investment is needed in the summer to ensure Liverpool have the depth to deal with both domestic and European commitments. Until then, rotation will likely play hand to frustrating checks in momentum.
Top four isn't settled yet
Liverpool undoubtedly have bigger fish to fry at the moment, with a crucial game in Roma the last hurdle to overcome before a Champions League showdown in Kiev, but top-four is still yet to be rubber-stamped.
A maximum of three points in their last two games would be enough to see them over the line, but with Chelsea next on the horizon, what previously appeared a comfortable league position could get a little nervy for the Reds.