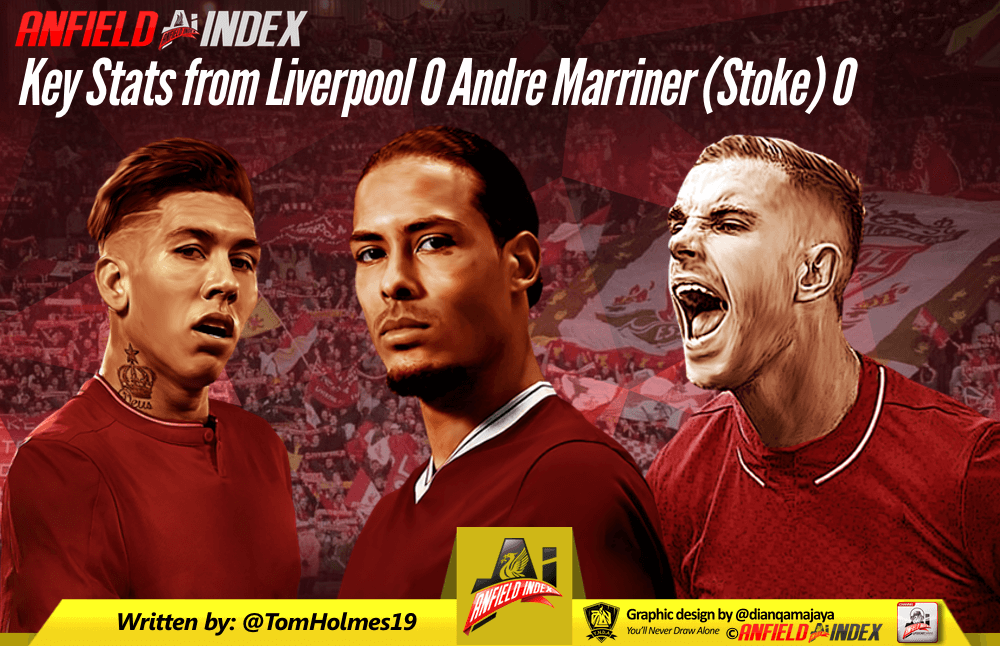 Key Stats From Liverpool 0-0 Andre Marriner (Stoke)
Liverpool suffered another Champions League hangover as they were unable to score past Stoke at Anfield. But what are the key stats from a frustrating 0-0 draw?
Reds High-Flying Attack Brought To Earth
Liverpool's normally scintillating attack ran into a brick wall against Stoke. On paper, there was nothing wrong with their attacking performance, with twenty shots being mustered and an xG of 2.12 more than high enough to suggest a comfortable win.
But Liverpool created two big chances, with Salah's xA 0.43 and Hendo's 0.56, and everything else was pretty pitiful. 18 shots for the remaining 1.13 xG meaning that 0.063 xG per shot is nowhere near good enough. Two big chances in itself is low for this LFC team, with Milner and Moreno creating three chances each but neither generating a good opening. Moreover, only 2 of LFC's 20 shots hit the target, with Mo failing to hit the target in seven attempts, Gini failing to hit from five and Firmino not even getting a shot.

In terms of other attacking metrics, and general game metrics, the Reds were surprisingly poor. They completed just 3 dribbles, attempting only 9. In terms of sharp turnover, the Reds made just four tackles, compared to Stoke's 17, were dispossessed 11 times but Stoke were dispossessed just once. Stoke's 56% passing accuracy indicates that they kicked the ball back to the Reds, who were unable to get their pressing game going, the fact that they had 72% of the ball backs that up.
Defensive Solidity Continues At Anfield
Liverpool's colossal defensive improvement at Anfield continued in this game, as they kept their 11th home clean sheet in the league and their eighth from nine games against teams in the bottom half. The Reds have conceded just 10 goals at home in 18 games this season, with three of those coming against Man City. Only one goal has been conceded at home to teams in the bottom half.
This is certainly contributing to an overall defensive improvement from the Reds as the season has gone on. With 37 goals conceded and two games left to go, the Reds might concede less than 40 goals in a season for the first time since 2010 – and their defensive record is better than at this stage than every season since then.
Whilst many will rightly attribute the addition of VVD and the form of Loris Karius, the Reds have been improving massively ever since the Spurs defeat in November. Since that game, they've conceded 21 goals in 27 league games, which at 0.778 is 30 conceded over a 38 game season. Nobody has a better defensive record in the league since then, as it's the same as Man City's and better than Man United's. (With thanks to Mo Chatra for help with those numbers).
Penaltypool is Dead – Long Live Penaltypool
As yet another scandalous penalty decision (which one, some of you may be asking, there were multiple) went against the Reds, the myth that the Reds get too many penalties is dying a hard, hard death. Liverpool have picked up just one penalty at Anfield this season (less than Spurs ffs) and just three pens overall. Man City have had eight penalties, as have Everton, and Palace have had nine.
For more stats about the state of English refereeing when it comes to penalties, and how refs have an English bias, check out Paul Tomkins on Twitter.