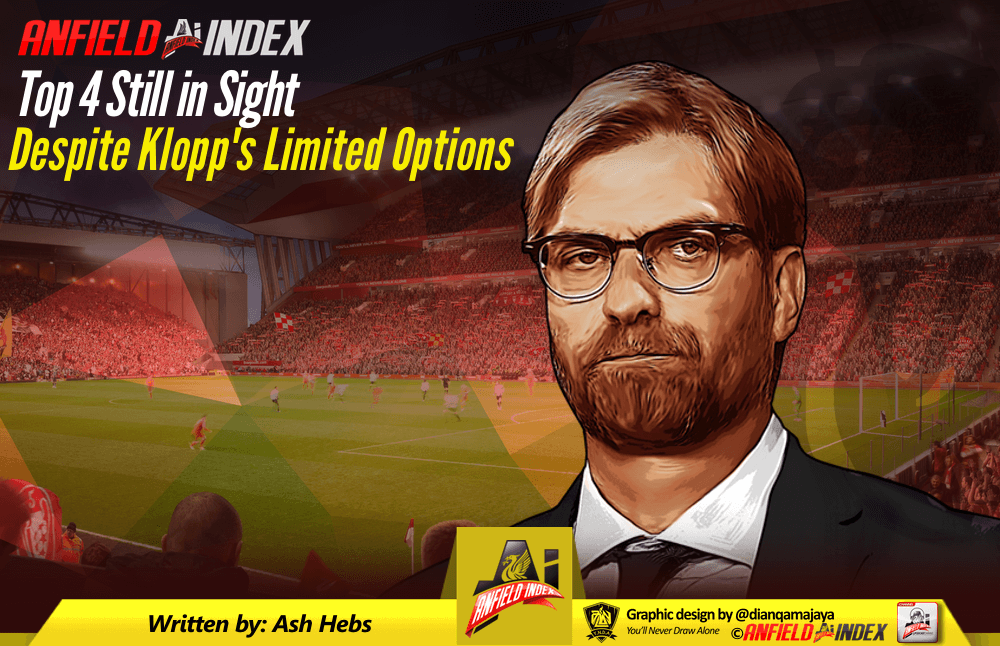 Top 4 Still in Sight Despite Klopp's Limited Options
A disappointing goal-less draw at home to Stoke following the Lord Mayor's show, as Lineker put it last evening. But a point nonetheless and a point which should go a long way to securing top 4, come the end of the campaign. The real pressure is on Chelsea and that's ready-made for our approach. The opportunity is there to capitalise on that next weekend.
Yet it could have been so different had the mercurial Mo Salah nailed his chip over the error-prone Butland after 5 minutes. But a battle-ready Stoke, with a full week prep under the belt and with so much to play for. The game was always going to be a tough test.
The sheer number of injuries that severely limited Klopp's options, only served to make the early kick-off (we're not good at those, are we?) a tricky one. Add in another referee hell-bent on denying us the breaks and a point is not a bad outcome despite Chelsea's win.

Mitigating factors
The full-backs didn't offer the same attacking threat as the first choice pairing. But they haven't had many minutes of late. Lack of confidence and sharpness naturally inhibited their performances in a nervy and perhaps expectedly disjointed affair.
Our midfield is knackered and as thinly spread as it could get with the recent spate of injuries. Could Klopp have foreseen an injury crisis considering his exacting pressing style? Yes, he could, but he has been a little unlucky. He gambled in the January transfer window but his gamble is oh so close to paying off.
It would seem his plan was justified, but perhaps the injury to the Ox was the final blow which means the race for top 4 will go to the wire.
The importance of match sharpness
The Stoke game saw rusty players coming in to rotate with those that had given their all in midweek. Our midfield was, and is generally, light on creativity. Klopp has an opportunity to address that in the summer.
Those that had played against Roma were in a certain self-preservation mode. A draw with a weakened XI, a biased referee and a team of thugs who were battling for their Premier League lives. This was more a must not lose than a must win.
It would have been nice to have top 4 wrapped up by now. Had it not been for sudden and unforeseen injuries to so many key players, the job would probably have been done by now. But get through this Roma tie and there is recovery time to fully focus on the league again.
In fact what is evident is our players need rhythm. With either Madrid or Bayern in potential wait in Kiev, we will need our boys to have match sharpness to give a proper account of themselves. That sense of urgency, that fluidity and dynamism that has served us so well this season.
Top 4 the Reds' to lose
All the same, a draw against Chelsea will be enough. Even if we lose to the Londoners, a win against Brighton will be enough. A break for key players would have been nice. But we've seen that this team sometimes needs the pressure to get the job done.
The parallels with last season's run in are uncanny. The lack of fluidity and verve in our play was reminiscent of that frustrating nil all draw at home to Southampton last season.
But Jurgen Klopp has brought us this far; let's trust him to finish the job of securing top 4. It's still firmly in our hands. Klopp knows it, the players know it. For now, it's all about getting through Wednesday.
Then we go again.