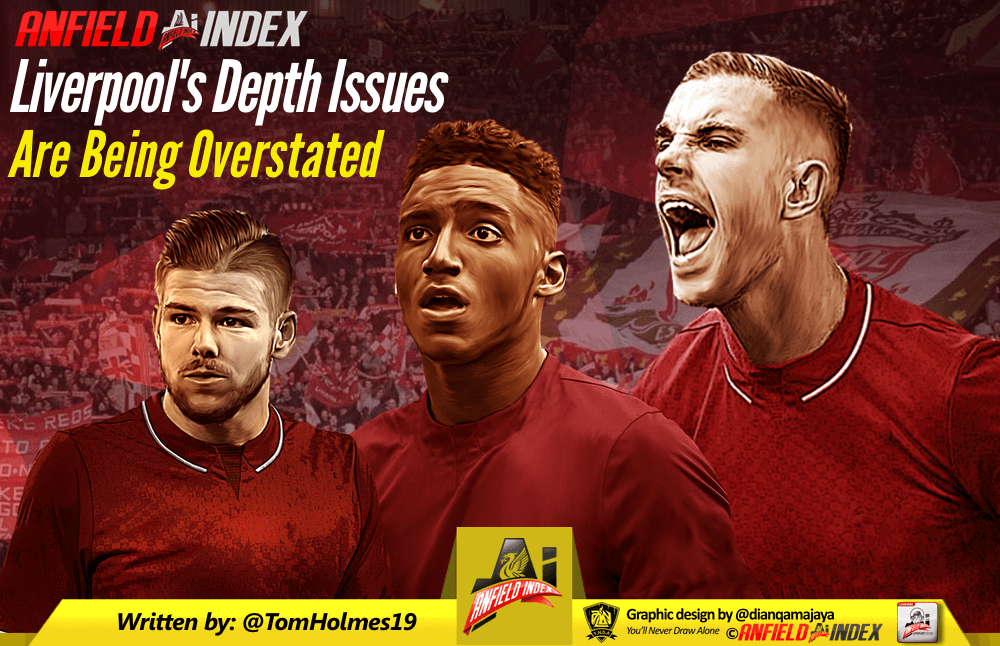 Liverpool's Depth Issues Are Being Overstated

A lot has been made of Liverpool's depth issues recently, and particularly in attack. There are good reasons for this, as Liverpool have drawn three of their last four league games, two of them 0-0, as they attempted to balance crucial Premier League and Champions League fixtures. I myself wrote an article on the topic just a few weeks ago, after the goalless draw at Goodison Park.
With the Reds 90 minutes away from a Champions League final and one point away from a top-four finish, there's an argument to say that Klopp has balanced his squad and his games pretty well, especially considering that Liverpool have had some rotten luck with injuries – particularly to the midfield, although the defence threatened to fall apart with three centre-backs injured at one point.
Nevertheless, the counter-argument remains that this Liverpool team requires more strength in depth, to ensure that at this stage of the season, we are able to maintain our strength across multiple fronts. The easy point to make is that we're one Mo Salah or Bobby Firmino injury away from Danny Ings and/or Dom Solanke playing in a Champions League final, and that is a damning indictment of Liverpool's squad depth.
This article then is something of a response to this, as I believe that our depth issues have been overstated. I want to separate what I see as two separate issues: the need to add quality to our starting eleven; and the need to add quality outside of our starting eleven. And the reason I want to separate those two issues is that I believe that they're being conflated as the same issue when people discuss the problem of depth.
I believe that in the majority of positions in this Liverpool team, we have adequate cover, but need to strengthen the starting eleven. That for me is not the same thing as adding depth but adding quality. I want to go through the team position by position to elucidate this point.
Starting then in goal, it's obvious we have enough depth, but not necessarily as obvious that we have enough quality. Mignolet is certainly adequate as a number two. If we decide to sell him, because he wants to be a first team starter – and for a player on his wages that's certainly not unreasonable – then Liverpool have Danny Ward, who remains highly rated amongst LFC fans and is probably good enough to be a number two. Whether or not Karius should be our number one, and whether or not we should spend big money on a keeper to relegate Karius to number two, is an entirely different question and one which deserves its own article.
Moving on to defence. Full-back is an area that LFC are clearly very strong. Whilst Gomez and Moreno are both currently a bit rusty, having both played very little football since Christmas and both having picked up injuries, it would be unfair to suggest that neither is a good enough backup, given that both have been first choice for long spells of this season. And of course, Clyne is back, which offers more depth in that area.
Centre-back is an area we cannot claim we don't have depth. With our fourth choice Ragnar Klavan often impressing given the chance and Joe Gomez a young and talented fifth choice in that area too, the only time Liverpool have had issues in that area this season was when three of our CBs were injured, and even then we were still able to send out VVD and Lovren. If you take three centre-backs off any of the top six they will struggle to have options in that area.
Do I think Liverpool need to sign a centre-back in the summer? Yes, because I don't think that Matip or Lovren are good enough to win us the Premier League title, but that's not the same thing as saying I don't think we have enough depth there, as I think if we do sign a central defender we'll need to sell one. One in and one out would be my preference for that position, not strengthening the numbers or even the quality of the depth, just improving the starting eleven.
Moving onto midfield then, where I think the situation has summoned up the most debate. Again, I'm going to make the same argument. We don't need to improve our depth in midfield. We have currently got six central midfielders, all of whom are of a reasonable level of quality. Having a potentially second choice midfield of Milner, Wijnaldum and Lallana is not an issue in terms of depth, especially with Naby coming in in the summer.
Rather our problem with midfield is two-fold. We have three injuries to our central midfield area, which as I pointed out with centre-back would be enough to cripple any top-six team. Man City's sixth choice central midfielder is Fabian Delph or an out of favour and potentially past his past Yaya Toure. Taking two or three of Gundogan, Fernandinho, Silva and De Bruyne out of City's midfield would leave even the best team in the country with a problem. And none of the other top-six have three midfielders to spare.
So seven central midfielders, in my view, is too many, especially given that all will demand minutes. The issue is that so many of our midfielders are injury prone. With a midfield consisting of Lallana, Ox, Hendo and Emre Can, is it any wonder that three of those players are injured? As with defence, Liverpool need to adopt a one in, one out policy, to improve the quality of the starting eleven, but it's not necessarily a case of adding depth, so much as adding quality and buying less injury prone players.
Moving on to attack then, where the case can more justifiably be made that Liverpool desperately need to add quality in depth. With Coutinho sold, and both Oxlade-Chamberlain and Lallana injured, Liverpool are effectively down to three quality attackers.
And so back to the start – we're one Mo Salah injury away from playing Danny Ings in a big game. Which, you'll note, I've not and will not dispute. It would be nothing short of folly to try and claim that the Reds don't need to sign a new attacker of some description in the summer. Whether that's a striker, a winger or even a versatile attacking midfielder, all of that is debatable, and again I won't debate it here. Liverpool need to add an attacker; that much I will not argue.
However, I think that the impact that lack of an attacking option has had on our season is being slightly overstated, particularly by our last two Premier League results – draws. However, I would argue that neither of these results came about by our lack of depth.
Starting with the 2-2 draw with West Brom, in which backup attacker Danny Ings scored. It's hard to argue that a 2-2 draw in which our rotation option scored is a problem with depth. Defensively, as I argued above, both Moreno and Gomez are adequate backups, so the issues defensively in that game, whilst absolutely the result of those players being rotated in, were more down to a rustiness and lack of fitness than inherent damnation of those two players as rotation options.
Moreover, once again rotation and a lack of attacking options were blamed for our 0-0 draw with Stoke, a game in which Liverpool created two big chances, one of which fell to our best player, and could have had multiple penalties, not to mention Danny Ings being several toes offside when he once again netted with a good finish. Clearly, we did miss Sadio Mane, as well as Robbo and Trent at full-back, but to suggest we didn't do enough to win the game is simply untrue objectively.
In fact, of our recent run only the 0-0 draw against Everton can really be attributed to a lack of attacking depth, which again, I wrote about at the time. So I think that whilst we do have an issue in the sense that we need another attacking player, and it does place a certain pressure on Firmino and Salah not to get injured, these are two players that generally don't tend to get injured anyway.
I also think the impact that our lack of depth is having, and indeed how much depth we actually need, is being massively overstated, particularly off the back of two frustrating results. Naturally, it would be fair to argue that if we had a Coutinho type to rotate in, then we might have had more luck against Stoke and West Brom, and certainly would have against Everton. But equally, if the referees – or our 43 goal striker – do their jobs properly, we end up with six points out of six.
It's also been three months since the "we needed Coutinho today" narrative has been trotted out so make of that what you will.
As far as I'm concerned, improving our starting eleven in the summer is much more important than adding depth, although certainly, we need at least one more attacker to improve the depth in that area, as it is still lacking. I just don't think that that lack of depth has had as big an effect as some might claim. I certainly don't think it's the overriding reason we dropped points to Stoke or West Brom.