 Do Liverpool have too many 'injury-prone' players in their squad?

With several key players currently sidelined because of injury, many Liverpool fans have been bemoaning the lack of depth in our squad. If any of our electric front three gets injured or needs resting then there's no-one who even comes close to replicating their effectiveness in Klopp's system. Of course, it's next to impossible to replicate what Sadio Mane, Roberto Firmino & Mo Salah bring to this Liverpool side – they're the most feared front three in Europe. However, next season we'll need viable alternatives who can produce performances somewhere close to their replacements levels. Because of long-term injuries to Emre Can and Alex Oxlade-Chamberlain as well as the 'injury prone' Adam Lallana the Reds only have three fit centre-mids – a big concern. But, does focussing so much on our lack of depth actually mean we're overlooking the most obvious problem of all. Jurgen Klopp's squad contains too many 'injury prone' players.
Personally, I don't like the term 'injury-prone' – playing football at a decent standard myself and labelling a player with this marker just doesn't feel right. Having said this, there can be no doubt that Liverpool have too many players who can't be relied upon when it comes to staying fit on a consistent basis. In another system which physically demands far less from a player, some of our lads may be able to be relied upon more consistently. But in Klopp's high energy system he needs players who he can trust and rely on physically. At the minute, there aren't nearly enough players where this is the case.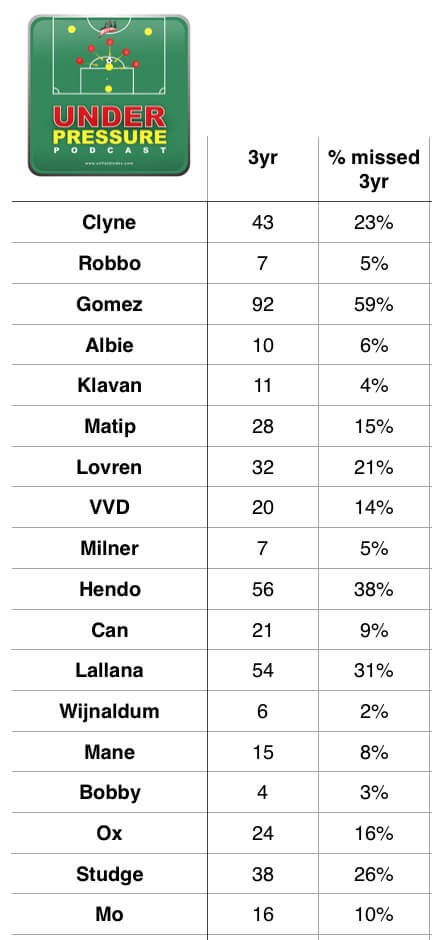 Let's take a look at Adam Lallana. Personally, I love him as a footballer – his close control in tight spaces and the way he links play in the half-spaces are qualities very few of our players' possess, however, as you can see from the table below Klopp can't rely on him to be available when he needs him. As the brilliant work done by AI's Si Brundish shows, Lallana has missed a staggering 31% of games over the last three years which equates to 54 games. As we've seen this season, when it's looked like Lallana is slowly getting back to full fitness, his body breaks down again. Coming on as a substitute against Crystal Place last month it looked as though the Englishman was returning at a crucial point in the season. Despite not being in Klopp's favoured starting line-up, with Champions League knockout games approaching and crucial games in the Premier league ongoing Lallana would get the opportunity to play an important role in Liverpool's end to the season. Not only would this have been a big boost to the team because he adds real quality but it would've meant midfielders who had played a lot of game time like James Milner could be fully rested for when Klopp most needs them. Just minutes after coming on against Palace, Lallana pulled his hamstring and he could be struggling to return to the side before the end of the season. If the Englishman would've missed 54 games over a three year period because of one serious injury and maybe one or two other niggles then doubts over his fitness issues could've wavered slightly. However, he always seems to pick up these niggling injuries which keep him out for weeks at a time. Lallana is becoming a real problem for Klopp
Another midfielder with his fair share of injury problems is Jordan Henderson. Ever since he picked up his heel injury which kept him out for several months at the start of the 2015 season our captain has battled various injuries. Of particular note was a foot injury he sustained in February last season which kept him out until the start of pre-season. Henderson has missed 56 games over the past three years which equates to 38% of games we've played. Although more recently Henderson and the medical staff seem to be managing his fitness issues more effectively his lack of reliability is still a huge concern. Because of this, I don't believe Klopp can trust him to be his first-choice number 6 next season. Whether our captain is good enough to start is a separate debate but in terms of reliability, Henderson has shown he doesn't have the durability to play 40 games in a season. There were also questions marks over Alex Oxlade-Chamberlain's fitness when he joined Liverpool as he always seemed to be plagued with injuries at Arsenal and has missed 16% of games in three years through injury. Klopp and the medical department seem to have managed his body extremely well since joining and he has rarely been asked to play more than one game a week. Having to manage Ox's body so cautiously could be a concern for the future, however, the medical department deserves time to understand how far they can push his body.
Another key area of concern when it comes to fitness problems is Liverpool's defence. One of Dejan Lovren or Joel Matip always seem to have an injury so let's take a look at their records over the past three years. Lovren has missed 32 games and Matip 28 which equates to 21% and 15% of games missed respectively. For two of your best three centre-backs in the squad to have missed a combined 60 games in 3 years through injury is extremely concerning. As mentioned, you can rarely rely on both to be fit at the same time and both players performances can be extremely inconsistent. As a result, can you really afford to keep both of them at the club knowing their past injury problems and inconsistencies on the pitch? For me it's always been pretty clear that we need a top class centre-half to partner big Virg next season, however, you need your backups to be ready when called upon. Lovren and Matip have both shown neither can be relied upon. Surely one of them will have to leave at the end of the season.
If Liverpool were a team who could spend unlimited money on wages then keeping several of these players with fitness problems perhaps wouldn't be such a big issue. Having said this, under FSG's leadership it seems pretty apparent we're never going to have a huge squad, therefore, the majority of the payers we have in it need to be trusted to be fit when called upon. At the minute this just isn't the case. Of course, it's not the players themselves or the medical department's fault that certain members of our squad pick up a lot of injuries. Every player's body is different and can take a certain amount of workload at a particular intensity. Some people would argue selling a player because they're 'injury prone' isn't a valid reason but if we want a team who can challenge effectively on several fronts next season, Jurgen Klopp needs a squad he can trust.
Klopp has always been very loyal to his players and he won't find it easy to sell any in this current squad but in the future, a players reliability is going to be key. This shouldn't solely be judged on performances though, reliability in terms of fitness is equally if not more important. I'm not suggesting for one second we should sell every player I've mentioned above because of their fitness issues but keeping all of them would be a huge mistake. It will hinder our ability to challenge on both domestic and European fronts next season. Just look at how our league form has suffered from an extended run in the Champions League. One of the biggest reasons our squad lacks depth is because several of our players who need to be relied upon to come into the side have far too many injury problems. Our manager needs to be ruthless in the summer and recognise that the lack of durability of certain players is becoming a huge problem. Klopp needs to favour reliability over loyalty.