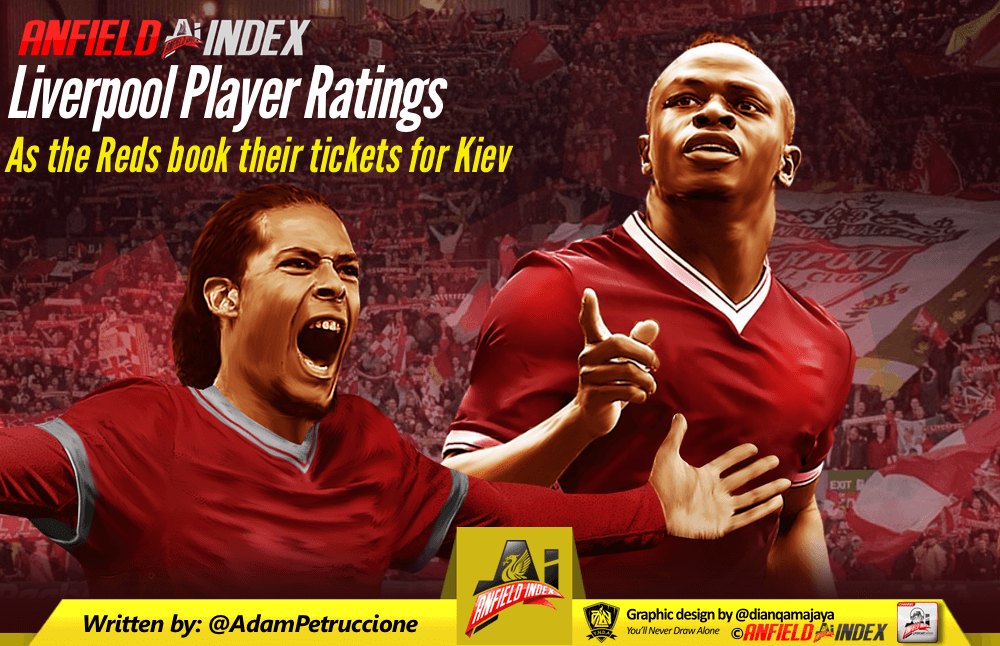 Liverpool Player Ratings as the Reds book their tickets for Kiev
Allez, Allez, Allez!
I'm tempted just to give them all 10's.  OK, we lost the actual match 4-2, but one was a wacky own-goal and another a last second, questionable penalty.  Bottom line is that we didn't look overly nervous as a collective and we had enough players with supreme performances to get us through.  A couple of penalty shouts that went in our favour, maybe this is what the pundits have been talking about all season when they said it would even out. Here's how each of them rated as Liverpool booked their ticket to the Champions League Final.
Loris Karius – 9/10:
How can a 'keeper who surrendered four goals pick up a 9?  When he's the most proactive, alert, ready for the moment player on the pitch.  The goals Karius allowed were no fault of his.  The only one that you could be slightly upset about was his deflection to the waiting Dzeko who turned the ball back into the net.  We can talk about penalties that could have been called and balls off the post, but this stylish man is not graded on style points.  The plan was to absorb pressure for large stretches which has been a challenge for our defenders all season.  Karius, more than anyone else, was up for that challenge and saw us through to Kiev.
Trent Alexander-Arnold – 7/10:
El Shaarawy was Roma's brightest player in the early going and young Trent had the assignment of chasing him all over our right side.  In moments Trent did reveal that he is in-fact a teenager, stopping one El Shaarawy attempt with his palm, but overall he won his battles and was one of the better players on the pitch.

Dejan Lovren – 5/10:
Dejan's gotta Dejan.  For Lovren, this was a 8/10 performance.  He was composed by his standards, headed away quite a bit and didn't really embarrass himself.  However, by Champions League standards he was shaky at times, mistiming an early lob into the box that was eerily reminiscent of his error in the home leg, but thankfully it didn't lead to anything and walloping a clearance into poor Milner's head for an own-goal that seemed innocent enough at the time.  He came through in the sense that he performed above his average, but grading fairly he is a drag on the rest of the Reds' squad.
Virgil Van Dijk – 7/10:
A battlecruiser, a star destroyer, pick your massive analogy, the guy is absolutely vital for Liverpool, but I came away wondering if he was a little bit too calm in certain situations like the Dzeko goal where he may have been a step slow in reacting.  We'll need the centre-back pairing to be at their absolute best to deal with Real Madrid in the final.  If Dzeko was this tough for them, levels will need to be raised to deal with Benzema, and Cristiano Ronaldo.
Andrew Robertson – 8/10:
Roma never really threatened from his flank.  Whether that was by design or by his doing, he eventually used it to start floating around and winning balls back in different areas.  His energy and ability to combine with Mané was absolutely vital tonight.
Jordan Henderson – 6/10:
Liverpool's captain was there.  If the entire squad was at full health you wonder how the story of his season would have been written.  He's had a long stretch to shine for the Reds.  At times he's been a force, tonight he just kept us clinging to Kiev.  Real's midfield will present the challenge of his life.
James Milner – 6/10:
You hope that age isn't catching up to him with two huge matches remaining, but he was more boring James than the 'Hames' that we've seen of late.  Probably should be a little more alert to Lovren's clearance, but only shares some of the blame there. What is he capable of giving us for Chelsea away and in the final?
Gini Wijnaldum – 7/10:
Gets a better grade than his midfield mates here because of his goal, which was a vital one, equalling Roma in away goals.  It was his first ever away from Anfield for Liverpool. Nice timing. His first half was very effective, showing much of the midfield skill he displayed at City, but he faded as the match went on and couldn't wrestle control back when Roma got on the front foot.
Sadio Mané – 9/10:
Sadio was at his absolute best tonight, not just a speedy outlet, but causing chaos for Roma as he drove his team forward on the left.  He had some other chances after his first strike, but the fact that he put the first one home was huge.  Getting the first goal is always vital for Liverpool.  He gave us that and really controlled the match more than any other player until he was subbed.
Roberto Firmino – 6/10:
Perhaps the deep stats will tell us that he was doing a different job, but Bobby didn't seem at his best tonight.  He was having trouble combining with Salah and generally couldn't find any openings.  When we're not in full attack mode, Firmino seems to suffer more than most.  A winner take all battle against Real should see him back to his best.
Mo Salah – 6/10:
Salah was a constant threat, but once he got the ball he never truly looked dangerous.  Roma roughed him up and had bodies all over him.  It would have taken something spectacular for Mo to score given the tight marking, but at this point we expect just that from Salah.
Substitutes:
Ragnar Klavan: 6/10:
I have no idea what a hand-ball is anymore.
Dom Solanke – 6/10:
Came on for Firmino and took a yellow almost immediately in a time-wasting attempt.  Must still have some of that Chelsea training in his muscle memory.  Did Dom things, pressed well but didn't score.
Nathaniel Clyne – N/A:
Nice moment for him to come on late.  Nothing of note from his few minutes.
https://twitter.com/livecholfc/status/991773630341271558