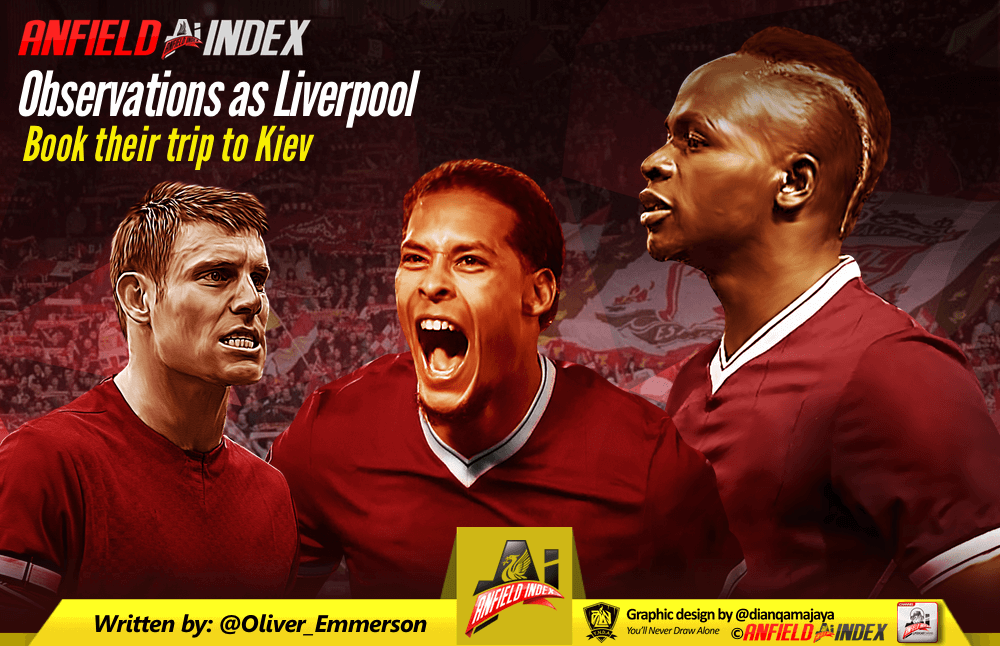 Observations as Liverpool book their trip to Kiev

KIEV BABY! Get in you beauty, up the Champions League final Reds.
We didn't really do it the hard way if you think about it, there was no comeback needed for us and even when Roma scored to bring the gap back to one there was no time.
Of course, watching the game I was fully convinced that Liverpool did it in the hardest way possible.
Here are some other things I saw!
Sadio Olympico
Whoever's gone and renamed that Wikipedia page needs a statue built, somewhere. In honour of course of the great Sadio Mané, who's had quite the impact on Liverpool's Champions League campaign if you hadn't noticed.
Another top drawer performance from the winger, easily the best of Liverpool's front three in the Italian cauldron. Composed in front of goal for an opener that brought my arse back into within a 10-mile radius for a few minutes and great after, didn't waste the ball and was good tracking the maverick that is Florenzi.
Countless (well you could count them) group stage goals, a hat-trick against Porto and then strikes in the quarter-final and semi. I've got a semi on for this lad. Oh, Mané Mané…
Salah saving his goals
Good of Mo to drop a 5/10, really. He's an unbelievable human being. When he's not scoring goals he's being everyone's mate. Whether it's setting up an anti-drug program, popping into the chippy or seeing some old mates, he's always striking the right chord.
He didn't want to score tonight, he's saving his goals for Kiev. 'I'll let my mates have their night, their win' he thought. He didn't let them have the final though, thanks to those two boss goals and two filthy assists picked up last week.
A hat-trick on Sunday against the Plastics, feet up against Brighton and onto Kiev for Liverpool's main man.
James Milner, god of all men
What a hero Jimmy Milner is. Glass of Italian Red is it, Jimmy? No boss, I'll be having a Ribena, he chuckles after another top showing to put Liverpool on the brink.
I won't lie to you, I still think Milner's 150k p/w wages haven't really been justified over the last few years but my word he's doing his best on and off the pitch to change my mind.
Another who has seen his finest moments of the season come in Europe, you can't help but feel he'll have a huge role to play in the dressing room ahead of the final, never mind what he's got to do on the pitch to stop Kroos, Modric and co wielding their magic.
Van Dijk, lord over all attackers
The absolute size of this man's FOOTBALLING ABILITY. Footballing ability is exactly what I'm referencing. Plucked the ball from the air and swerved round an oncoming foe just seconds after Roma's first equaliser and I couldn't help but imagine the absolute power of his FOOTBALLING ABILITY. That hairstyle too, wow. Pulls it off with such audacity.
He was a colossus, though. Won more headers than I've purchased bottles of sun-cream and I'm ginger so that tells you all you need to know. Get the feeling that Liverpool could concede 12 in a game and I'd still think he'd been boss. Going through the goals, can't remotely blame him for any of them.
Whisper it quietly, but I'd rather have Salah injured for the final than VVD.
Liverpool progressing to the Champions League final
Observations, is it?
I observed Liverpool move into just their eighth European Cup final, just their third in my life-time. I can't really remember the other two.
Watch it, drink it in.
Sorry for going all Martin Tyler on you there, up the Reds.