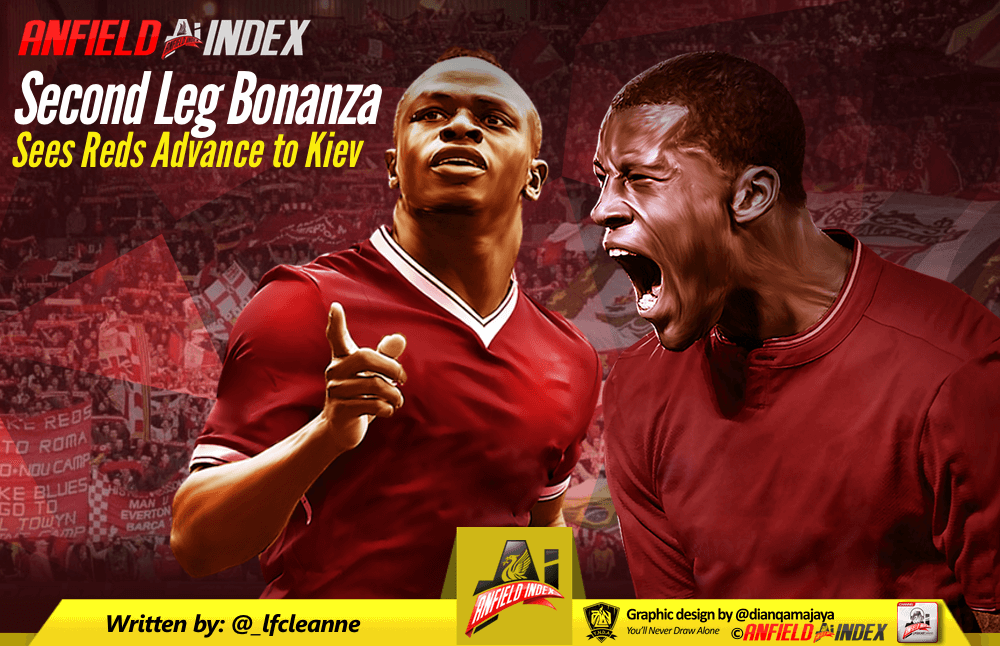 Second Leg Bonanza Sees Reds Advance to Kiev
So, Liverpool are a bit good.
Jurgen's Reds booked their place in the Champions League final following a 4-2 defeat in Rome (7-6 aggregate win) with another supreme performance among Europe's elite.
Only Liverpool fans would have been worried walking into a second-leg tie three goals to the good, with two late goals for the Italians gifting a glimpse of hope ahead of Wednesday's tie.
This was far less about the individual genius of Mohamed Salah, but more the accumulation of team cohesion and ethic towards one goal. Mo, voted Player of the Year and Writers Player of the Season, winning almost every individual accolade imaginable, was a relative bystander,  but the talent of Roberto Firmino and Sadio Mané shone through to ensure Liverpool continued their path towards trophy No.6.
Roma hadn't conceded at home in the Champions League all season, yet it took Liverpool just 25 minutes to score two. Breaking another club's record with ease, it's clear to see why they're top scorers in the competition.
Mané was certainly the man of the night, providing the fuel to the fire as Liverpool booked their place in the Champions League final for the first time in 11 years. Naingollan was caught in possession, delivering a square pass to Jordon Henderson in midfield. A neat ball to Firmino soon saw the Brazilian with time and space, allowing him to deliver a perfectly weighted ball for Mané. Then came the killer away goal; the first goal conceded by Roma at home in the Champions League this season. The goal marked Mané's ninth in the competition, equalling a Champions League record for most goals by a player in his first 10 games.
An unlucky deflection off poor old Jimmy Milner caused the heart rates to rise, but there was to be no ending of Liverpool's fairy-tale story.
Wijnaldum, arguably the player of the first-leg having come on for the injured Oxlade-Chamberlain in the opening forty five before adding control and incisive movement to the midfield, recorded his first away goal in 1,081 days since May 2015 and his first for The Reds.
What a time to get your first away goal, ey?
2-1 Liverpool and the tails were up again.
The scene of the first-half certainly came via the Dutchman, who non-nonchalantly strode across the park as if it was nothing more than a Sunday league kick about with his mates. This was Gini at his absolute best, establishing complete control over the midfield and putting Liverpool in the driver's seat wherever possible.
The second-half saw Roma come out all guns blazing, looking to exploit Liverpool's youthful looking right-hand side. At 19 years of age, Trent Alexander-Arnold has made some mark on Europe. Dominating Young Player of the Year Leroy Sane, the young full-back has shown far more maturity than his youthful years would suggest, showcasing his talents on the biggest stage and subsequently, his undeniable talent.
Under the cosh in the second-half, the 19-year-old endured a tough second-half as Roma looked to pile on the pressure to instigate another historic comeback. Yet, Trent stood firm to the challenge, albeit alongside a rather fortuitous handball decision that saw the right-back stake a claim for Liverpool's No.1 next season.
Great save, though.
As a Liverpool fan, I'd almost lost the feeling of getting a refereeing decision our way, but this was definitely that. On another night, Trent would've been sent for an early bath and Liverpool would have undone even more of their own groundwork to make their task just a little harder.
Roma's second goal could well have been attributed to the full-back, but it was a collective effort as Edin Dzeko was left unmarked to steer home from Loris Karius' save as the Italians refused to lie down.
As it was though, Liverpool came relatively through unscathed, with Trent seeing out a torrid spell of pressure before responding in due course with some positive forward thinking to reflect he's far more than just a usual 19-year-old, able to do it on the finest stage with the biggest pressure.
A stunning strike from Niangollan and another dubious penalty aside, Roma were never going to get near to Liverpool. Ragnar Klavan can be attributed no blame for the referees call having kept his arms close to his chest, but just as in the first-half, the officials sparked further late drama with the home side eyeing another unexpected turnaround.
Henderson, Milner and Gini – fantastic. The trio ran their hearts out once again as they fought Roma's midfield head to toe in the biggest fight of their lives to push Liverpool on their way to a historical tie in Ukraine. Then there's Firmino and Mané; often overlooked due to the superb form of Mohamed Salah, the duo showed their class on a night when Liverpool needed them the most to reflect just how detrimental the front three can be to any back-four.
Robertson? From Hull-City full-back to playing in the Champions League semi-final, the Scotsman has taken to the competition like a fish takes to water. Cannoning past the Roma defence, Robertson was a huge outlet for the Reds as they looked to continue pressurising Roma in the dying embers of the match.
Safe to say the old saying of 'Liverpool never do things the easy way' came true again. Jurgen's Reds, tremendous again, showed that they're more than capable of taking the fight to the ever egotistical Real Madrid in Kiev.
Bring on Real and the underdog status of May's crunch tie.